We are blessed by the great Sahyadri mountain ranges .. providing you immense opportunity to enjoy monsoon .. greenery everywhere …. mesmerizing waterfalls … look anywhere while you drive through western ghats and you can see numerous waterfalls .. Keep driving in the misty roads and walk through the clouds … here is my list of 15 Waterfalls near Pune & Mumbai only for you.
Beauty of these waterfalls need not be spelled over .. You have to experience it … & I love to enjoy Reverse waterfalls !! where monsoon winds throws water back to you …
Nearest reverse waterfall point is Lohagad ……
Here is the list of Waterfalls near Pune & Mumbai with Google coordinates to help you planning trips on weekends 🙂
Do let me know if you wish to add unknown and beautiful waterfall you have seen around and I would love to visit it 🙂
15 Best Waterfalls near Pune & Mumbai 2019
1) Bhambavli Vajrai Waterfall (tallest waterfall of India) – Just 5 km away from Kaas plateau
Believe me just 5 kms from the most famous Kaas plateau aka Valley of Flowers of Maharashtra, you can visit this magnificent and tallest waterfall of India. Since the place is not that famous .. it is free from hawkers, guides, sellers and crowd free (till now). The mighty height of 1840 feet makes it Indias tallest waterfall !! Specialty of this waterfall is  that it flows throughout year (even in hot summer days), so you can visit it any point of time of year 🙂 The water source is from Urmodi river
How to reach :
Route 1 : Satara to Kas to Tambi – Bhambavli
Route 2 : Mahabaleshwar to Tapola to Bambnoli- Kas to Tambi – Bhambavli.
Where to Stay :
Either at Satara or Homestay at Village Bhambavli
Read more about this waterfall on MTDC website
---
2) Thoseghar waterfalls near Satara
While you think of going to Kaas – the plateau of flowers …
You have a quick option within 45 mins away drive to this beautiful Thoseghar waterfall near Satara city …
I strongly recommend not to miss this out…Mind it … The approach road is pretty good …
---
3) Prati Kokan Kada (Reverse waterfall) – Near Sandhan Valley, Samrad
Google co-ordinates 19.514277, 73.685505
Now a days everyone making replica of the famous temples like Balaji, Shirdi, Pandharpur, Shegaon and you can see them spreading all over India, Similarly nature has created mini replica of Konkan kada – Harishchandragad !
---
4) Valley of mist Amboli and reverse waterfall at Kavlesad – Kolhapur
On the way down to the famous waterfall of Amboli you will like to get down to the famous spot for reverse waterfall called as Kavala Shet or Kavle sad (कावळा शेत किंवा कावळे साद )
---
5) Katal Dhar (Near Lonavala)
As the monsoon ages to is mid… during the month of  August  my planning to the milky way of waterfalls begin …
Year over years my pilgrimage to the king of waterfalls Kataldhar ….
Deep into the Ulhas valley … Untouched by the civilization and free from pollution …
I enjoy this waterfall showers till my fingers turn soft and crinkly … You are lucky to get such magnificent location near to Lonavala … I recommend to explore it this monsoon 🙂
Do read details on how to visit on …
---
6) Barki waterfall (Kolhapur)
I was not knowing this beautiful waterfall is just couple of hours from Kolhapour .. so one must not miss this opportunity …
Now a days it is becoming hot destination .. so you must visit it before it becomes too much crowded 🙂 ..
Lai Bhari .. Kolhapuri .. chala jau ya lagich ..
---
7) Kune Falls (Lonavala-82 kms from Pune)
Get this opportunity to visit the 14th highest waterfall in India, the Kune Falls, with height of about 200 meters (approx 650 feet).
The highest drop at this three-tier waterfall is of about 100 meters.
How do I reach Kune waterfalls ?
GPS co-ordinates 18.7625, 73.381389
From Mumbai
– Take Old Mumbai-Pune highway to reach Khandala thereon to Kune.  Look for landmark "Kune Missionary Church". Do visit the Church and then takes a short walk to Kune falls.
From Pune –
Pune – Same route 🙂 use Old Mumbai Pune highway.
Alternatively you can get down to Khandala railway station and proceed using local transport. Check wiki ..
---
8) Khandi Waterfall (near Kanhe Phata, Lonavala)
Tired of frequent traffic jams near waterfalls ? So here is my special find only for you … Khandi waterfalls ..  serene & enjoyable … You can reach there in just matter of 1.5 hours from Pune …
---
9) Zenith Waterfalls  (Kopoli-79 kms from Pune)
How to reach –
Khopoli railway station, walk out on the western side of the railway station and cross a concrete bridge. From here get rikshaw which will drop you to nearby point (else walk 30~40 mins), from here one has to walk through streams and small patch of woods will get you there .. so If you prefer walking from station, it will take minimum 1 hours to reach, so you can cut down some time using rikshaw.
Also take care to wear good floaters (new one) to protect your feet.
---
10) Aadoshi Waterfall (near Khopoli-90 kms from Pune)
GPS co-ordinates 18°45'28″N 73°20'1″E
Around 10 kilimeters from Khopoli or Khandala, you can catch rikshaw to reach this waterfall
---
11) Dhondane waterfall (Sagargad fort near Alibaug- 143 kms from Pune)
Google co-ordinates "18.658088,72.93837"
on the way to Sagargad via Khandala route (Right above this fall is the Siddheshwar Temple)
---
12) Reverse waterfall at Lohagad (Lonavala-70 kms from Pune)
Google co-ordinates "18.708814,73.476602"
Fort Lohagad from Bhaje gaon
Lohagad near Pune is my favorite destination to view beautiful reverse waterfall, also since you can reach up to the fort entrance by car, it is possible for all age groups to enjoy this misty waterfall. You can get it there by car from Malavali to Bhaje caves and after caves move on to Lohagad, there is brand new tar road without any ditches till fort foothill, road is quite scenic and you can enjoy waterfalls on way …
---
Many times I had been to Tamhini ghat near Pune to see the nature and waterfalls in the monsoon season, you also might have been there number of times … but how many of you know that the Tamhini waterfall is not in Tamhini Ghat but you need to proceed further few kilometers after the ghat ends ? I am sure u will  not be aware of that !
13) Tamhini Waterfalls ("Valse, near Kolad"-106 kms from Pune)
Google co-ordinates "18.420168,73.278556"
"Hans adventure resorts, Sutarwadi after tamihini ghat, Pune"
---
14) Darya Ghat Waterfall (120 kms from Pune)
Beautiful waterfall, easily accessible for kids and senior citizens.

Read complete details of how to reach, food etc on my post https://trekbook.in/2019/07/darya-ghat-waterfall-trek.html/
---
15) Ashoka | Vihigaon waterfalls | Kasara Ghat | Igatpuri | near Mumbai & Pune
Easily accessible by train or private car this is one of the most stunning waterfall with natural swimming pool.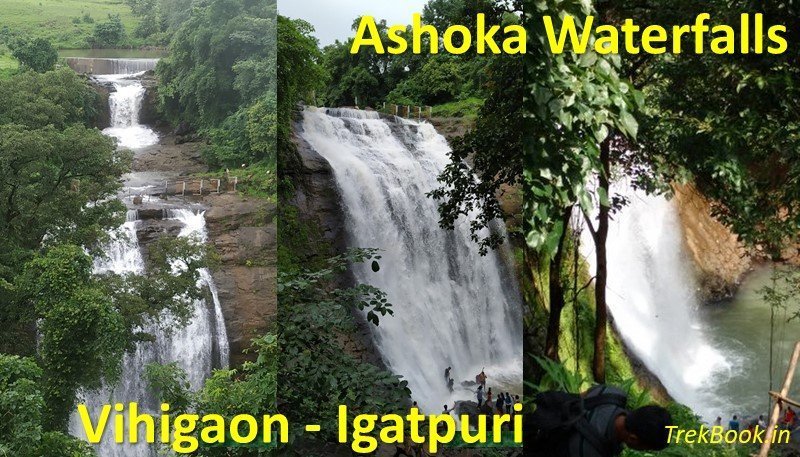 Read complete details of how to reach, food etc on my post https://trekbook.in/2019/07/ashoka-vihigaon-waterfalls-kasara-ghat-igatpuri.html/
---
Hope this List of 15 Best Waterfalls near Pune & Mumbai helps you and I will be appending it as I get time 🙂 till then enjoy with locations I have added so far,
Cheers !