As I reached Kaas plateau of flowers early morning, I finished my trip till Kaas – Bamnoli by 2 pm … So decided to goto The Tallest Waterfall in India a.k.a. Thoseghar Waterfalls.
While you drive down to Satara city from Kaas plateau, you have to take U-turn under the tunnel towards Sajjangad (ask someone after the ghat ends) …. From this U-turn it is only 18 kilometers ..  ~45 minutes of quick drive to this beautiful waterfall … (road is in good condition)
I strongly recommend to visit this series of waterfalls, some of them fall from 15 to 20 meters and one is of 500 meters in height.
Also the way drive is scenic .. just look at my photo below wherein I was driving through misty clouds… It was so dense that I decided to wait on the roadside.
So be ready to enjoy the Mist, Clouds, Roar of water, magnificent waterfall views ..
Do not forget to enjoy Hot Pakora (Bhaji) & Roasted corn … Also I was not aware that there are hotels available, so I did my lunch at Satara, but when I reached Thoseghar, I saw hotels available which provide you freshly prepared food, only you need to place order as soon as you reach there.
One more new thing of interest is visit to History museum Kashibai Gavand Museum – Tapovan Ashram, Satara
Car parking is available near waterfall and there is entry fee charged.
Best time to visit Thoseghar waterfalls
July till September (Monsoon season)
How to reach from Pune to Thoseghar?
Take Pune Satara highway
After first turn to Satara city, go further till you encounter a climbing road, at the end of this climbing road you need to take a right turn towards Sajjangad, this road further goes to Thoseghar waterfalls
There is also road available inside Satara city, but that is crowdy road so to avoid going through the city, you need to ask for this second turn on highway.
On the way – Driving down in the mist ..
Walking towards .. waterfall .. so exiting !!
While you hear to the roar of water head down to the entry point of waterfall
(This is the spot where young boys cross the border line and fall inside !!)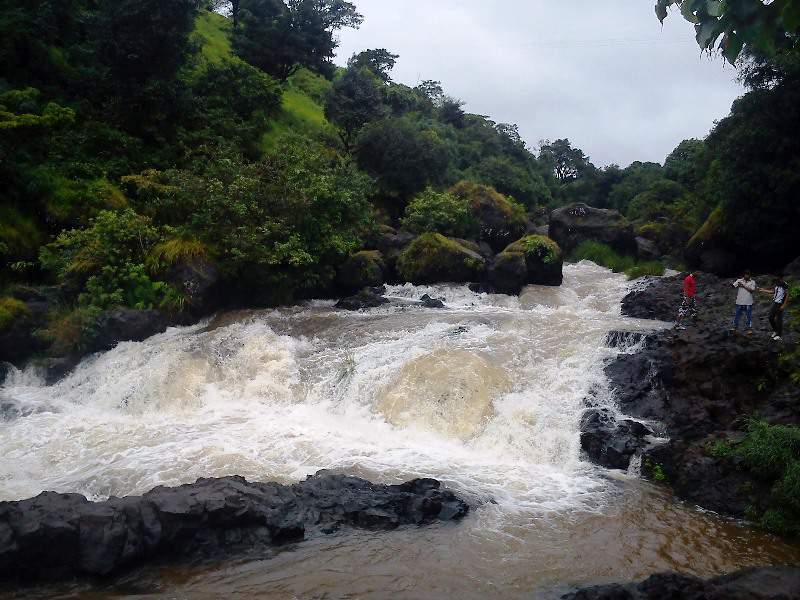 and the view of big waterfall .. water .. mist… clouds … superb !
Thoseghar waterfall Satara – near Pune
and one more view …. the mist ….
See the water bouncing to mist when it touches bottom … I wish if I can reach to the foot of waterfall !! … like we do for the Kataldhara trek … Why not ! You can easily hear the roaring water .. gushing .. falling beneath rocks and then splitting forming mist ..

But please please take care … Government has prepared safety grills, you are not allowed to cross the same, However I saw many young boys going in entry of waterfall inspite of security guard giving continuous warnings !!
To warn people government has put down a board showing names of persons died in this waterfall !! But invain … these stupid young boys !!!


Instructions displayed at the entrance by the SANYUKTA VAN VYAVASTHAPAN SAMITI KAS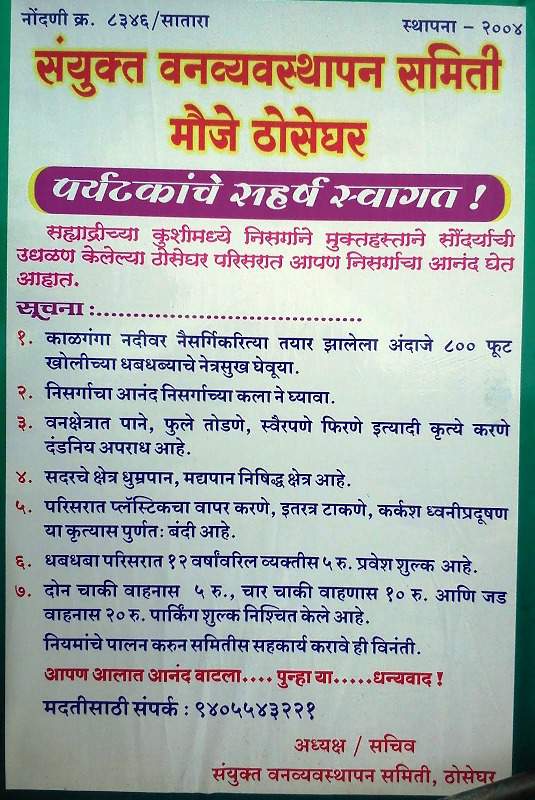 Map displayed at the entrance by the SANYUKTA VAN VYAVASTHAPAN SAMITI KAS


 How do I reach
There are regular buses from Swargate S.T. Stand (Pune to Satara) and buses or rickshaws from Satara. If you wish to get full view of the falls, you have to go to Chalkewadi, and further walk down for ~5 km.
Read more information about Thoseghar waterfall near Satara
http://en.wikipedia.org/wiki/Thoseghar_Waterfalls
Do not forget to read my detailed blog post on Kaas The Valley Of Flowers
Also I have enlisted 8 waterfalls you must visit during monsoon near Pune & Mumbai