Ashoka Waterfalls also called as Vihigaon Falls is one of the most beautiful and mesmerizing waterfall near Igatpuri. Its perfect weekend destination near Mumbai. This is a safe waterfall with natural swimming pool is surrounded by lovely scenery valley and a deep green forest.
Vihigaon waterfalls are located in Kasara ghar region and just 2-3 hours drive from any part of Thane, Navi Mumbai and Mumbai city Vihigaon is the perfect weekend getaway & one day monsoon picnic spot for those craving a break from stressed environment.
This waterfall is very safe. Location is very well maintained and safe for family outing. You will find decent crowd to enjoy with family and friends. And good thing is that you will find arrangements for washrooms and changing rooms.
Why its called Ashoka Waterfalls?
Vihigaon waterfalls is also known as Ashoka Waterfalls since some movie scenes from Film Ashoka were shot here. Remember Ashoka the famous movie film starring Shahrukh Khan and Kareena Kapoor?
Information about Ashoka waterfalls
While you drive through Kasara ghat, you will come across a 400 meter long bridge at the mid of Vaitarna lake. Vihigaon waterfall is located on the side of this Vaitarna river dam.
Once you park your car, look for entrance which has Ashoka waterfall is written on it. The waterfall is located below parking area.
A short 200-meter descend of a rocky patch takes you to the bottom of the waterfall with a  a little adventure. While walking you can enjoy the valley views and gentle touch of the crystal clear chilled water.
To get inside the waterfall you have to walk or swim through a pool. Remember that the rocks become slippery due to continuous flow of water as well as you will have barely space to stand there. But its worth taking risk to get such amazing experience and yes this is the only reason why you came here for 🙂 right?
The water is being poured like anything from top! its like emptying buckets of water in a second !! You need fully waterproof camera if you wish to have photography here. The water drops will make the mobile camera useless in few seconds.
Although there is railing and stairs, walking here can be a bit of a task for senior citizens.
Its a single stream waterfall with width of around 18 meters. The waterfall gets the water from a small dam above it, and the small dame itself gets water from main dam on Vaitarna river.
The height of Ashoka waterfall is about 45 meters allowing many to do waterfall rappelling during monsoon season.
Most interesting part of this waterfall is a natural swimming pool below (just look at the photo) where tourists enjoy bathing in monsoon rain and natural showers. The pool is about 4-5 feet deep with uneven ground filled with a lot of pebbles and rocks so be cautious while you stepping through it. I feel better to keep wearing sports shoes to avoid injury to feet.
You can also walk to the top of waterfall, however please take caution since this part of waterfall is extremely dangerous during heavy rains.
Also the small dam which is built on the top of Vihigaon falls is an interesting place to visit. However I do not recommend swimming in dam since the water is quite deep. Although you can enjoy views here but only when its raining lightly.
Notes
There is an Entry fees to the Ashoka waterfalls of Rs 15 per head
Waterfall is closed till 1 August 2019 by local authorities
Although many people bypass the main entry and visit it using a diversion road.


So do confirm that the waterfall is open before you proceed for this visit as the access is gated and locked during heavy rainfall.



Tip:
If you want to visit this place, make sure you reach there by at least 7 am due to two reasons.
First is that it becomes crowdy after some time. Second is that after 10 am local police will come and ask you to leave!!
Ashoka Waterfall, Vihigaon waterfalls, Kasara, Maharashtra
Look at the waterfall below which is quite big & picturesque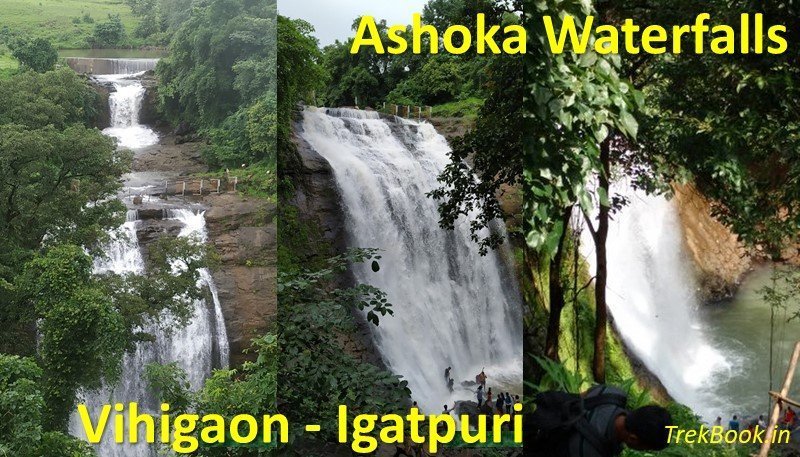 What is the best time to visit Ashoka waterfalls?
Being seasonal thing, Monsoon is the best season to visit.
During June till mid January you can really enjoy scenic waterfall views and lush greenery with mist and clouds around the waterfall.
Also since most of people visit during this period you will find good crowd and food options too.
Food & Snacks
There was a time when there was no commercialization of this place, however over the years now, locals have developed some food stalls.
So now a days you get lot of shops serving snacks like hot Maggi, Roasted Corn, Egg Burji.
Even some locals have started providing veg and non-veg meals 🙂
Also the food items are not that expensive as you find in famous places like Lonavala or Matheran. Just to give you an idea Maggi will be prices around 40-50 Rs. and for Roasted Corn you pay 20 Rs. Not so bad.
Stay
Being a remote location, there is no place to stay at village Vihigaon. So if at all you are planning to have night stay, then you can find plenty of housing options in Igatpuri. Or locate hotels on the Mumbai Nashik highway.
WARNING
Waterfall becomes dangerous during heavy rainfall due to amount of water poured in and force, water also becomes muddy and contains small stones in it .. so do not go here in heavy rains.
During peak monsoon season local police will patrol this area for checking for alcohol.
Alcohol is banned inside waterfall and fine can be levied on whoever carries such things.
How to reach Ashoka waterfalls?
From Kasara railway station it is at 13 km and from Igatpuri railway station also 13 kms. From any of these railway stations you can get private transport like a private taxi / rikshaw till waterfall. However public transport availability from waterfall to railway station can be an issue. So you need to take care of return travel in advance.
>> Catch a train from CST : Kasara Slow Train : Starts at CST 05:00 am – Get down at Kasara 07:37 am.
>> Move towards Vihigaon (Public Transport). Reach there by 8 am (You can also use Local Rickshaw from Kasara or Igatpuri Station)
The road through Kasara ghat is not that good due to heavy rainfall, however overall its a descent approach even with car like Honda City (low ground clearance).
Car Parking charges are Rs 20 per car
There is ample of parking space for your car or bus. And you can simply walk down to the waterfall in a matter of minutes without much efforts.
Map to Ashoka waterfalls
Here are some photo snaps from internet showing adventure activities like rappelling during monsoon season.
Charges from various institutes varies from 1,000 to 2,000 Rs per person due to use of costly ropes and equipment's.
But if you wish to enjoy the thrill of being washed away with tons of water, then this waterfall is a safe place. Reason being that water being controlled flow from top dam and there are railings to avoid flow of big stones from above due to water.