Khandi waterfalls and Thokarwadi dam are located just before Lonawala, so instead of going to the crowd of Lonawala and traffic jam, simple get a small diversion at Kanhe pahta to enjoy numerous waterfalls. As you move forward at last you will also see Thokarwadi dam.
The trip to Khandi waterfalls is possible in half day even on a motorcycle. You can enjoy waterfalls here like private location since this is so little known that you will find no crowd at this place, only rice fields and number of waterfalls along the route.
I like to enjoy lush green and paddy carpets lying over roadsides and mountains of Sahyadri's ….
Monsoon turning the weather mystic …moist … fresh … The Sahyadri mountain ranges holds numerous waterfalls this time … The water carries white diamonds … running through lush green background .. roaring … falling in necklace formations  over mountains ..
And if you wish to relax on weekends … Wish to get into greenery and waterfalls in simply couple of hours … here is a place of little known waterfalls near Pune …
Now a days reaching Lonawala and getting places around from Pune is very difficult due to frequent traffic jams, also even if you reach there, you will face plenty of people crowding and spoiling nature.
So here I have found place which is little known to public, serene … quiet  ..pleasant misty atmosphere … its called as Khandi Waterfalls or Wadeshwar waterfalls …
You will find numerous waterfalls on the road from Wadeshwar to Khandi, I recommend to continue round trip beyond Khandi and circle around the backwaters of Thokarwadi dam, come back to village Takve and there to Kanhe Phata.
Just remember that the road is narrow .. so do not drive fast, the road is so narrow that if you face upcoming vehicle then you need to get down the road …  but there are very few potholes making the driving still pleasant …
Of-course you cannot go closer to any of these waterfalls easily and the dam waters too are quite away from the main road. All you can do here is enjoy the ride !! However if you are ready and equipped to be off road through rice fields .. then go ahead .. you can reach the waterfalls and enjoy natural water bath ..
Little Known Waterfalls Near Pune – Khandi waterfalls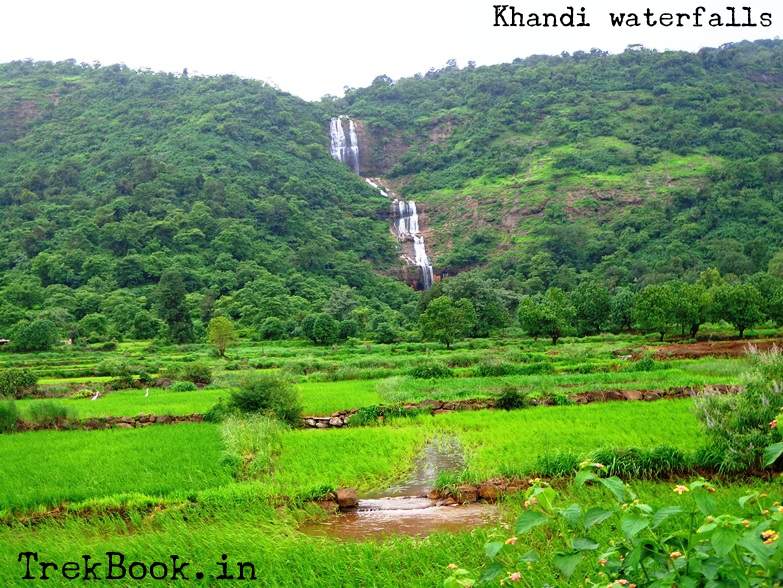 My Tips only for you
Since there is no commercialization developed around this area … You can carry your cooking items .. Put gas burner on roadside and enjoy cooking on your own. (In today's trip I saw 2~3 groups cooking and enjoying around rice fields .. in front of waterfalls)
Or at least carry food with you since there are no hotels around this area like Lonawala.
Even you can relax besides backwaters of Thokarwadi dam and cook food there.
How to reach Khandi waterfalls
Khandi waterfalls distance is ~78 km from Pune.
To reach Khandi you have to take old Pune-Mumbai road & take a right turn from Kanhe phata, the Takve – Wadeshwar Road after crossing the railway gate will take you towards Khandi Waterfalls.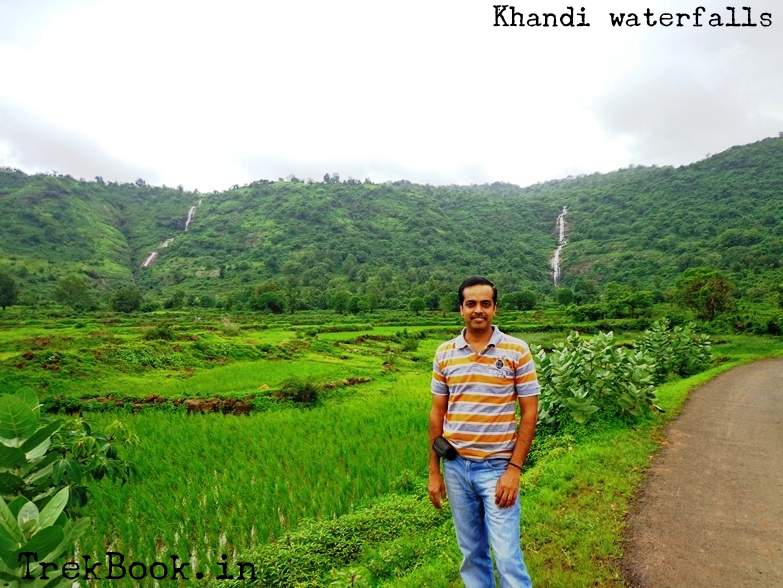 I suggest round trip encircling the Thokarwadi dam as seen in below google map –
And do not forget to get list of …