Now a days everyone making replica of the famous temples like Balaji, Shirdi, Pandharpur, Shegaon and you can see them grooming all over India,
Similarly nature has created Prati konkan kada
mini replica of the Most famous Konkan kada of Fort Harishchandragad !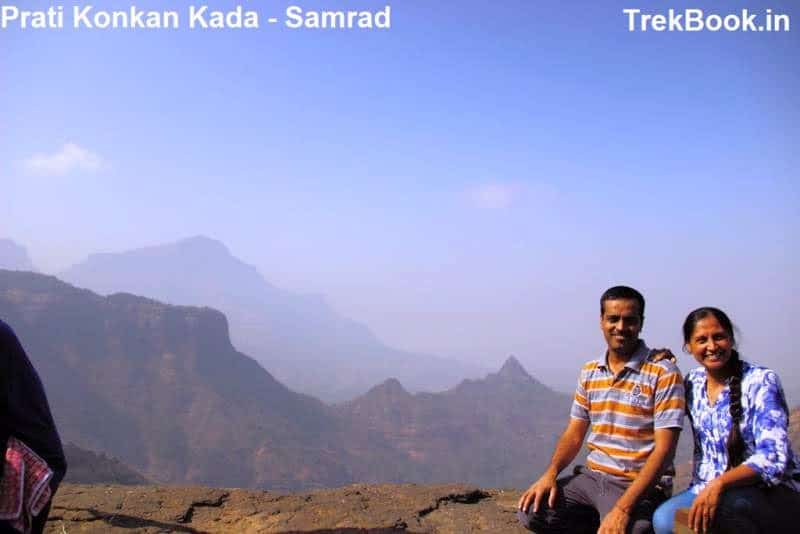 At ~15 minutes walking distance from village Samrad, without any climbing you can easily reach Prati konkan kada …. and enjoy magnificent views of Sahyadri mountain ranges
I will say that this replica of Konkan Kada is a Boon to those people who can not afford to climb Harish Chandra Gad to see the original Konkan Kada …
How to reach : See map at end of this post
Distance from Pune to Samrad ~190 kms
Please refer to previous post on details of how to reach Amruteshwar, from there Samrad is ~6 kms
Village Samrad, GPS co-ordinates – 19.526326, 73.683219
Prati Konkan Kada, GPS co-ordinates – 19.514277, 73.685505
What to see from Prati Konkan Kada :
Ratangad cha khutta
Ratangad (रतनगड)
Baan Pinnacle
Aajoba hill & Seeta Palna
Bhimashankar
Machchhindragad
Right time to visit :
Monsoon season gives you opportunity to see the famous reverse waterfall of Samrad
Where to Stay :
Basic stay facility is available at Samrad, however if there is crowd then better to stay at Amruteshwar temple, where there is plenty of space available around the temple.
Alternatively, you may also select to put tents near village
Game of Shadows – Prati Konkan Kada
So stay at Ratangad, have morning walk or drive to village Samrad, move on to Prati Konkan kada .. complete trek to Sandhan valley … enjoy the day …. at the Valley of Sparkling water (I do not like it calling valley of shadows !!)
Places to see nearby…