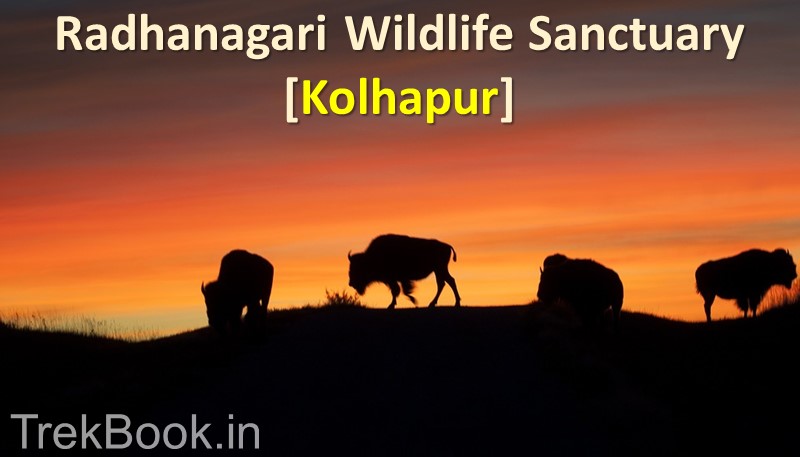 Located in the Western Ghats, the Radhanagari Wildlife Sanctuary, blessed with a rich and diverse flora and fauna, is a must-do weekend break for wildlife enthusiasts in Maharashtra
Radhanagari Wildlife Sanctuary Kolhapur

State
: Maharashtra
Distance
: 475 km SE from Mumbai
Right time to visit

The sanctuary is closed between 1st of June till 30th of September.
November-December is good time to visit, super weather where you can feel really wet, hot & chilly as per the season.
Its quite possible to get rains in November!
Summer seasons will be hot, April & May, however they are the best for animal sightings

Visitors time

: 6.00 am to 6.00 pm

Tourist Office: MTDC Kolhapur
Tel: 0231-2652935
ID Proof
Do not forget to carry Xerox & original of your ID proof
---
Booking the game drive is a must in India, you may use online facility. Since the drives per day are limited one has to ensure booking well in advance.
How to reach
By Railway

Nearest railway station is Kankavli (54 km/1 hr)

By Road:

NH17 to Tarele via Chiplun and Rajapur. Take a left turn at Tarele for Phonda Ghat (18 km) – Dajipur (12 km)
You can also drive down via Pune and Kolhapur.
Special Tips only for YOU : 
If you wish to drive inside the Jungle [with permissions] then go with your SUV and not small car
Remember that jungle life begins early morning and the animals retire before it gets too hot.
Start early morning to get inside the jungle, to watch animals & birds. The Bison point, is about 25 kms inside the interior of the reserve, and it will take ~2.5 hrs of being driven on dirt road tracks to get here.
If you start late then prepare to spend your entire time on the jungle watchtower aimlessly staring at your jeep in the empty grassland, without a single sighting.
ATM machine is available at Radhanagari, however we suggest to carry sufficient cash with you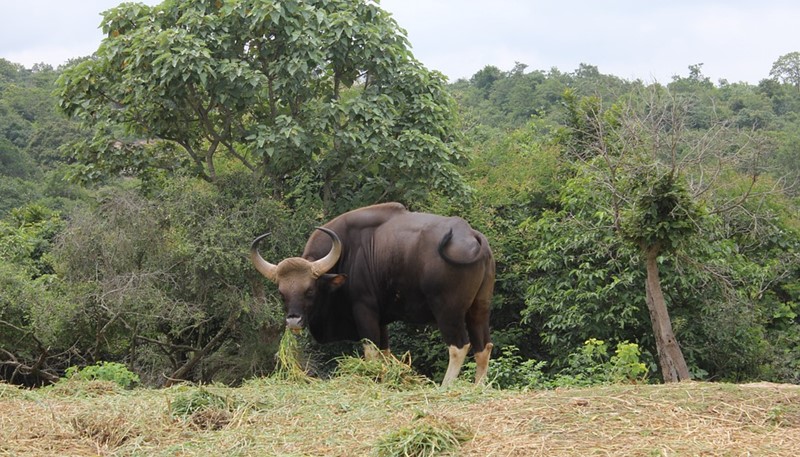 Special and must known important facts about Radhanagari Wildlife Sanctuary
Two endemic species to the Western Ghats are spotted here

Small sunbird and
Malabar grey hornbill

Its favorite nesting place for:

Speckled piculet
Malabar crested lark
Some species of Himalayan birds such as the Indian blue robin during the winter months.

Threatened species of reptiles and amphibians:

Malabar pit viper,
Deccan ground gecko,
Gunther's cat skink,
Beddome's lacerta,
Bombay bush frog
Humayun's wrinkled frog
Birds species
Vultures, eagles, Jungle fowl, Quails, Plovers, Sandpipers, Owlets, Doves, Owls, Nightjars, Kingfishers, Bee-eater, Hornbills, Woodpeckers, Bulbul, Flycatchers, Warblers, Wagtails, Sunbirds are commonly seen, Nilgiri wood-pigeon (Columba elphinstonii)
Other species found here include the

Ceylon frogmouth, yellow-browed bulbul, dusky eagle-owl and, great pied hornbill, and one of India's , ost admired songbirds, the Malabar whistlingthrush., Ceylon frogmouth, yellow-browed bulbul, dusky , eagle-owl, great pied hornbill, the Malabar whistlingthrush [India's most admired songbirds]
Flora
425 species of plants have been recorded in the sanctuary
The main species found over here are
Anjani, Jambul, Hirda, Awala, Pisa, Ain, Kinja, Amba, Kumbha, Bhoma, Chandala, Katak, Nana, Umbar, Jambha, Gela, Bibba, banana
Karvi, Karvand bush
Climbing plants such as Shikekai and Garambi.
Shrub species and medicinal plants such as

Karvand, Vagati (Candy Corn Plant ), Ranmiri (orange climber), Tamalpati, [Toran], Dhayati (fire-flame bush), Kadipatta (curry tree), [Nothapodytes nimmoniana| Narkya, Murudsheng (Indian screw-fruit)

Bamboo
Large numbers of ephemeral bulbs of seasonal plants
Many sacred groves or devrais देवराई have been protected as a result of the efforts of the local communities.
Karvi Flowers
If you are lucky, you may see beautiful flowering of Karvi, which lives flowerless for first six years and dies in the seventh year with lots of Purple flowering. You can see a purple carpet laid down on every inch of the forest floor.
Fireflies festival 2019
You can see thousands of fireflies during beginning of monsoon season.
This year that is 2019, Bison nature club has organized Fireflies Festival or Kajwa Festival.
Dates for fireflies festival Kolhapur
: 19 May 2019 to 30 June  2019
Time
: Evening 7 PM to 10 PM [Limited entries, FREE of cost]
Location
: Kalamwadi Road till Pharale Gaon
Programs 
: Lectures, Guidance seminars will be organized
Contact numbers
: 9604113743 / 9730886354 / 9503181855

Note :

I have given this information as Social responsibility only and have not connection with the organizers. Any bookings you do on your OWN RESPONSIBILITY.
Fauna
Amphibians are most visible in the rainy season. 20 species from 2 orders, 5 families and 10 genera are listed in the sanctuary.
47 species of Mammals
59 species of reptiles
264 species of birds and
66 species of butterflies
Indian Bison गवा or gaur (Bos gaurus) with a population around 610 in 2004 is the flagship species of the area.
Other mammals, living in this sanctuary are as follows:

Indian Leopard (5)
Sloth Bear
Wild Boar (80)
Barking Deer (140)
Mouse Deer (80)
Sambar (120)
Giant Squirrel 50) and
Wild Dogs (70). [spotted in recent years]
Things to see and do
Jungle Trek

You can go for jungle trek on the raw roads, forest guide will be there alongwith you.

Jeep ride

If you goto the Bison point, then you need to select jeep option or get your own SUV [with premission]

Visiting spots

Karud Ghat,
Govandsari Kurli Dam reservoir,
Dhamni Dam reservoir
Phonda Ghat
Sunset Point : Located  just few feet away from the large arch that marks the beginning of the Sindhudurg area.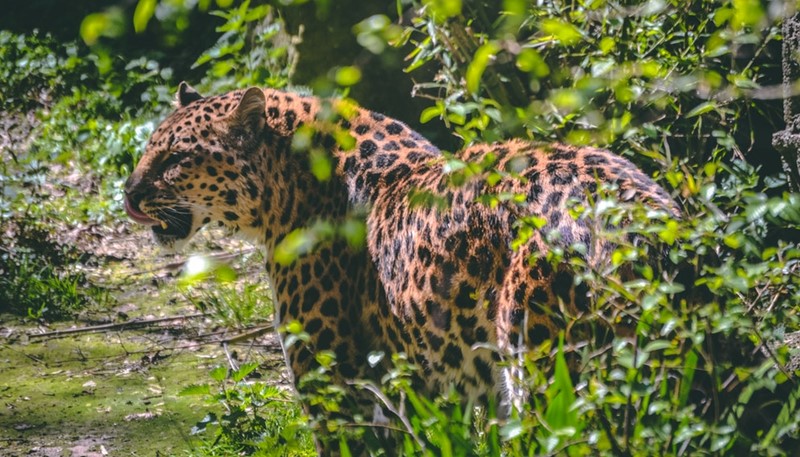 Dajipur village
Named in the honour of the engineer of the dams
In the village you can visit display hall which displays information on the inhabitants of the forest, with large mounted labelled photographs, interactive quizzes on display, as well as the pug marks of important forest inhabitants casted in plaster.
Laxmi Talao
It is the reservoir lake of Radhanagari Dam
You can see a cluster of old ruins on an island in the reservoir where Shahuji Maharaj said to have occasionally rested. The temple constructed by Rajarshi Shahu is near this Laxmi Reservoir.
Margajache pani point : You may see the crocodiles here
Vaghache Pani
Located on plateau of sanctuary made from Besalt Rocks.
Tiger visits frequently for drinking water, hence this place is called as Vaghache Pani. (Tiger Water)
There is a reservoir constructed by Rajarshi Shahu on this plateau.
The watch tower (manora) located near this reservoir where you have chance to see Tiger, Panther, Deer, Wild Bear, etc.
Also get to the Radhanagari Darshan Point, Sambar kund, Konkan darshan and Vengurla Harbour sea view.
Konkan Darshan Point
View beautiful Sunset [similar to Bombay sunset point of Mahabaleshwar]
Watch theShivgad Fort , Phonda Ghat, Malavans Sea view and Gagangad from this point..
Sambar Kund
See flora at this point  such as Karvi, Ghaneri, Rametha , Kumkum , Kadipata, Tamalpatri, Shembisal, Amsul, Honey etc.
Sambars also do visit here frequently for drinking water. Hence this spot is known as Sambar Kund.
Mahadev Temple
Built by Rajarish Chh. Shahu
Located on the way of Manora near Kittan Nala.
Ugvai Temple
Located about 1.5 km to the south of Digipur village on the hill top.
See Phonda-ghat, Sahyadri ranges and Radhanagari area from this point
Be-aware of monkeys
Kalamwadi Mini Vrundavan Garden
Similar to the Vrundavan Garden of Mysore
Located at Kalamawadi about 3 km away from Radhanagari
Area 46800 sq. metres.
The facilities like swings, mercury lamps, swimming tank, and different plants of coloured flowers, Medicinal plants, etc are available
Dudhganga Dam and Hydroelectric Power Station
This dam is constructed in Radhanagari sanctuary near Aasangaon village.
Dudhganga dam aka Rajarshi Shahu Sagar Reservoir.
Water storage capacity : 28 T.M.C.
12 MegaWatts capacity Hydroelectric power station is built at the base of this dam.
Dam is located about 10 km from Radhanagari Dam and 8 km from Kalamwadi nodal point.
Bus facilities are available up to dam.
Radhanagari Dam and Hydroelectric Power Station:
Radhanagari dam is historical place which is constructed by Rajarshi Shahu Maharaj at Fejiwade.
Also called as Laxmi Reservoir.
Water storage capacity : 7 T.M.C.
This is earthen dam.
Rautwadi Waterfall
Located near Rautwadi village.
Good to see birds and natural vegetation
Ramanwadi Waterfall
This waterfall is 5 metres in height
Located near Ramanwadi village.
Available during monsoons
Shivagad Fort
The Shivgad Fort, built by Shilahar King Second Bhoj
Shiv temple is very near to this fort. Hence this fort is popularly known as Shivgad. This fort is 95 km away from Kolhapur city and located at the height of 728 metres above the mean sea level. Shape of Shivgad is as like rectangle.. Shivgad Ghat is near to this fort. But the tourists do not know the information of this fort. The water management and art on this fort are main attractions of Radhanagari wildlife sanctuary. There are several ranges having height between 760m to 950 metres. Savarai hill is the highest point in this area. The hill tops are known as Sodas which are occupied by grass land with variety of grasses There are several sodas like Shivgad, Zunzuchepani, Savarai sada , Hadakyche sada , Konkan Darshan Kada etc These sadas are main attraction to tourists. The plateaus are very poor in shrubby and tree vegetarian but rich in herbaceous flora. More than 300 species of different grasses are observed on these plateaus. In the recent more than 50 species of plants have been recorded which are new for botanical science. Every year on an average of about 15000 tourists visits the sanctuary.
---
Do not forget to read my guide on
---
Where to stay and Food availability at Radhanagari Wildlife Sanctuary
Government guest house:

Book at least a week in advance
Get permission letter from the respective Kolhapur office

The PWD Rest House

Kolhapur Tel: 0231-2650042, Fax: 2650140
Room Tariff: 470 Rs per person [2 rooms at Radhanagari]
For reservations, write/ fax to C/o Executive Engineer, South PWD, Kolhapur.

The Irrigation Department's Inspection Bungalow

Kolhapur Tel: 0231-2654736, Fax: 0231-2654735
Tariff: 200 Rs per person
Located near the Radhanagari Dam
2 VIP suites and 2 ordinary rooms.
You can get scenic views of the reservoir.
For reservations, write/ fax to C/o Executive Engineer, Kolhapur Irrigation Division, Tarabai Park, Sinchan Bhavan, Kolhapur.

The Dajipur Forest Guest House

Kolhapur Telefax: 0231-2542766
Tariff: 400 Rs per person, Tents 1,000-1,400 Rs [1 room and 3 tents]
Located closest to the forest reserve, good for starting early morning.
No FOOD available (Carry your own)

or go to the Bison Resort Hotel and Bapucha Hotel at Sunset Point which are at walking distance.

For reservations, write/ fax to Chief Conservator of Forests, Wildlife Kolhapur.

Ekant Homestay

Tel: 08888336668
Tariff: 1,800-2,000 Rs
Located near to the sanctury
Food : veg and nonveg food available and included in the tariff.
Owner : Ingle family
To read about other locations for fireflies festival in Maharashtra please read my post
Summary
Reviewer
Review Date
Reviewed Item
Radhanagari Wildlife Sanctuary
Author Rating