Incredible India …. With more than 99 national parks, 40 tiger reserves and 450 wildlife sanctuaries, India has cosseted enthralling species of fauna and flora.And well India is well known for Tigers … The Jungle King …And if you are really exited to be amidst the wilderness of the Jungle …….
Then be ready with Special Jungle Safari Tips From TrekBook India.
Study the particular location well in advance, each location in India  has got its own specialty.
While participating in a jungle safari, follow these simple rules and enjoy your safari game drive …
Most of the Safaris in India are normally begins at dawn (6:00 AM to 9:00 AM) and late evenings (3:30 PM to 6:30 PM).
jungle safari what to wear : Blend with  Surroundings …
Wear natural colors – Greens, Browns, Olives and Khakis
Cloth material – lightweight & breathable…. Simple cotton works best
Cover your arms and legs (Protect from insects or wild animals) – No sleeveless / Capri.
Wearing layers of clothing helps you to cope up with the temperature changes
Mask your face to protect from dust
Felt cap will protect you from heat
Blend with nature – No loud colors, bold prints
Sandles would be just fine in Summer season, but Shoes are must in Winter (Depends you are walking or having Jeep rides)
What to wear on Jungle Safari
Things to Carry for Jungle Safari in India :
Carry Sunhats, Sunglasses and Sunscreen.
Wear covered comfortable shoes along with socks. Wearing exposing footwear might be a bad idea.
If allergic to dust or animal fur, carry your medication
A good camera for the flora and fauna.
Binoculars (8X40 or 10X50 magnifications are ideal)
Raincoat, mosquito repellent, antiseptic creams, water bottle, band-aids, a small torch, first-aid kit.
Do carry a trash dispense bag
Do carry water and some quick snacks … especially if there are youngsters around.
Don'ts
No Animal Feeding
No Deodorants and Perfumes
No Littering
Closeness could be Harmful
Do not get down from Jeep
No Loud Talks
No Place for Souvenirs, do not take anything back except memories
Do not bring Children
Keep the camera flash off
Keep away from your Cellphones (The Sanctuaries in India mobiles are banned)
Tip : 
A Safari normally lasts between 2.5~3.00 hours, and you are now allowed to get down from the Jeep (or boat !)  for any reason. So, it is important to plan your bowel habits in advance. Do empty your bowels and bladder just before you set off on a Safari.
Before You Begin You Game Drive please Read The Instructions Carefully

India Jungle Safari – How to do Reservations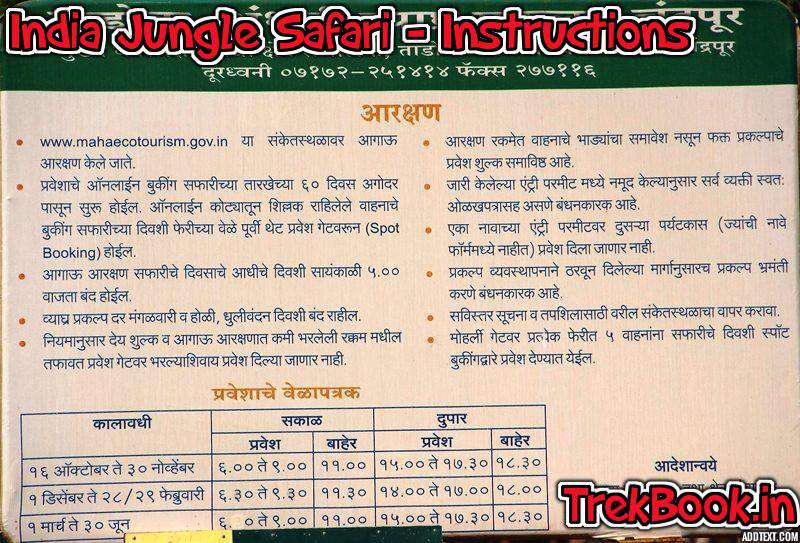 Jungle Safari in India – Do's & Don'ts for tourists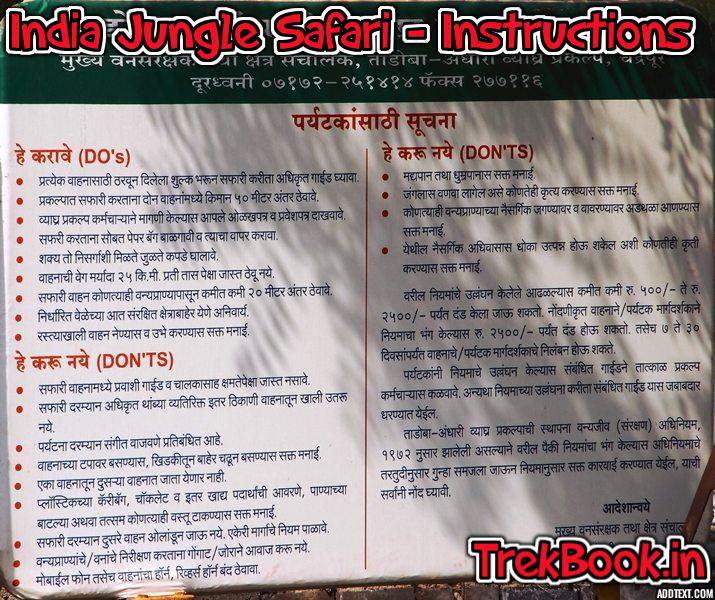 Look at the attire and pose to hold camera in below photograph  .. really a very stable post to capture good snap …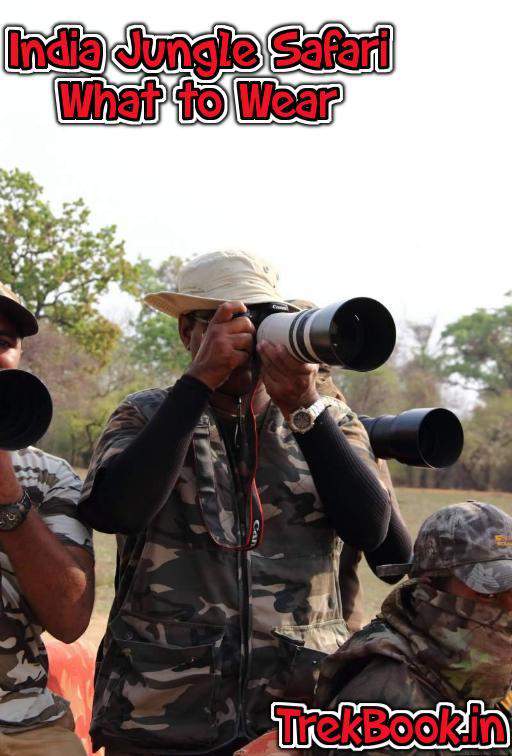 Booking the game drive is a must in India, you may use online facility. Since the drives per day are limited one has to ensure booking well in advance.
Make sure that you carry the same ID proof along with you during the jungle safari, most of the times it is checked at the entry gate.
Recommendations from TrekBook India for the best national parks
Ranthambore National Park, Rajasthan, India
Jim Corbett National Park, Uttarakhand, India
Bandhavgarh National Park, Madhya Pradesh, India
Kanha National Park, Madhya Pradesh, India
Kaziranga National Park, Assam, India
Sunderban National Park, West Bengal, India
Gir National Park, Gujarat, India
Pench National Park, Madhya Pradesh, India
Satpura National Park, Madhya Pradesh, India
Tadoba National Park, Maharashtra, India
Cheers !! Have Fun !!!