If you wish to save your time .. at least one back trip to Police station then you must read this post 🙂
I went to Pune Passport office for renewal and address change and it took me half day leave (including time to travel from Chinchwad to Pune and back), the process was pretty easy though some improvements needed .. never mind ..
Read my review on Visit to Pune Passport Office
But when it came to Police verification I was bit sceptical  due to my prior experiences with Police department. First experience was 20 years back when policeman came to my house for verification and took bribe of 200 Rs to provide police clearance. Next experience was with Nigdi Police station where the police took bribe of 500 Rs into police station itself as Chai pani fees !!! As I learnt from some of my colleagues good experience in Chaturshringi police station with no bribe and within hour I also expected the same experience with Chinchwad police station.
So here
Got the following SMS at 6 pm evening on 11 April, look at the RED text, I am getting message evening to submit everything (including bank statement) evening 6 pm and they are threatening to return file in case I do not visit the second day !! dam it !!! can't help POLICE has got the POWERS in INDIA. See the time slot of one hour (actually when I visited they wasted complete day in clearance)
---
Please come with original and xerox copies of documents on 12/4/2016 at 10.30 am to 11.30 am at chinchwad police station-
1. Birth Certificate
2. Electricity bill
3. Index _2
4. Aadhar card
5. Election voter ID card
6. Bank statement
7. 2 photographs
8.company I'd card
9. (In case of rental) lease agreement is mandatory
Please NOTE: If failed to come on the given date, file will be returned back to the passport office
Update April 2018 on Documents Required for Passport Police Verification
Visit Passport Seva Website Here to get list of documents for police verification
---
So immediately (due to the RED warning of returning file !!) I left all office work and went to my bank, got 6 months bank statement, collected all Xerox papers and went to Chinchwad Police station at sharp 10.30 am on 12 April …
To my surprise there were 20 people in line .. 10 of them sitting and remaining all standing everywhere in police station !
So I went ahead to the cabin where Passport clearance was written. There were two policeman one of which asked my name and checked paper received from Pune passport office, which he handed over to other person and asked me to get a blank form from Xerox shop outside police station !!! You see I am tax payer giving lacs of rupees per month, it  is government duty and see what they do.
I went to Xerox shop behind police station where I got the form for 3 Rupees !!! Anyway I did not had any choice so I got it and filled it.
For your convenience I have uploaded the form here so that you can print and keep it ready before you goto the police station (not sure how many days this format is valid, but no harm trying your luck, you are in India so chances that this will remain valid is for next 20 years 😛 )
Download PDF – Self Information form pune police for passport verificaion
After I filled in the form I awaited for my turn, the police was asking names in very low voice and one of the volunteer who got bored of waiting was repeating the name loudly for helping . Finally after waiting for an hour it was my turn.
I went inside and gave him the paper bunch, now precisely he asked my Xerox copies of my old passport, please note that his SMS was not having mention of this document so most of the people did not have it, so when their tern came, he asked for this Xerox and send them back to the shop to get Xerox !! pretty annoying trick !!! I was having bad experience so I had all the extra Xerox of all documents with me, so I immediately gave him additional Xerox !
So lessons learnt here is please go with all extra documents original and Xerox even they are not asked by police in their SMS .. they will surely ask for it and make you go home or to the Xerox shop !!
As expected he did not check the bunch of document at all, he asked some intelligent questions like "where do you stay", "where did you do schooling" .. did not check any of the documents at all and told me to wait.
So by that time it was about 12 noon and about 30 people were waiting for the next process ! After asking they said that I have to wait till all the forms are not complete !! so the person who came at 10 am was also waiting for nothing.
So finally at 1.30 PM Mr. V. K kubade (वरिष्ठ पोलीस निरीक्षक) got time from his busy schedule to give us their valuable signatures !! (I was observing and most of the time he was sitting in his cabin, he could have cleared 10 forms each in between the idle time, but then how will the general public know the POWERS of MAHARASHTRA POLICE ?)
So at 1.30 PM we all went inside his posh cabin (with interior lighting etc. which even private company higher managers do not have) and one by one he signed all forms.
Now again all had to wait for the next instruction, so the policeman gave 2~3 Xerox of "Javab form" and told us to get it Xeroxed two per person and one set of xerox of the papers signed by Mr. V. K kubade (वरिष्ठ पोलीस निरीक्षक) so that is also Public job ? really ??
When I asked him what to do next, he told first get it Xeroxed and then only he will give further directions !! See how POWERFUL they are ? if he was in my company I could have fired him for such inefficient answers .. but he is POLICE !
So we all went outside and got things Xeroxed. After our return he told to get the two "Javab forms" signed from neighbours with their photo ID and address proof and submit it before 8 pm the same day, else you know the WARNING If failed to come on the given date, file will be returned back to the passport office
So by this time it was 2 pm so no point in going back to company (in fact most of the people lost their complete day leave and the Chinchwad police was completely successful in doing this national wastage of man-hours pleasantly ! )
Evening by 7 pm I complete the forms, took signatures and went back to Chinchwad Poilce station, handed over the forms and he told that the police clearance will be sent to Passport office.
So the experience was that even they did not ask for bribe, they successfully wasted the complete day !
anyway I have typed in the form for you and given in  PDF format, at least it will save one trip back from home to police station and also avoid rush to find neighbours and their papers on the same day.
I am also adding the form given by them just to show the quality of form they give !!!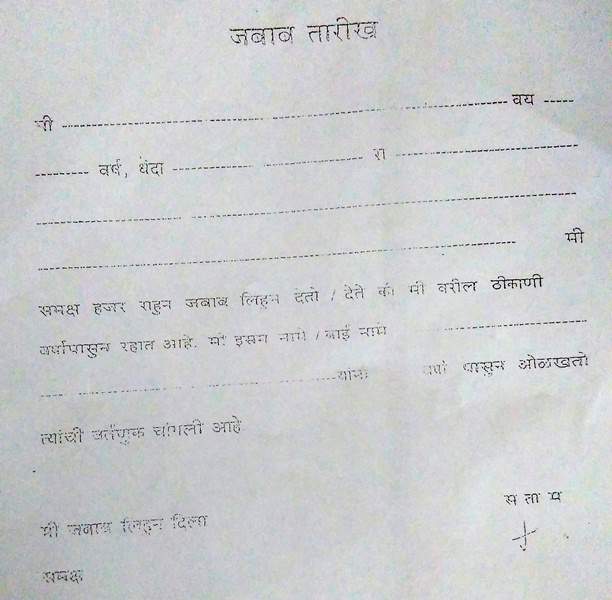 So the same form is typed and converted into PDF format just to help you (WARNING – use prints on your own responsibility !!)
Download PDF – police verification form neighbor javab
Hope this helps blog readers to save some time and Maha Police to improve their services to the general public.
New Passport Verification Forms Available at Wakad Police Station
(Download links below) – Update 2020
police verification Form A wakad police station – updated 2020
police_verification_jabab_new_form_passport
police verification report new form passport – updated 2020
Thank you Mr. Rakesh Vashisht for making new passport verification forms available
---
Thank you Mr. Mahesh Garade for sending latest forms of Wakad Police station on 13 Oct 2017, Also below message is there from him for my blog readers who are in process of Passport police verification at Wakad Police Station,
"I came across your article and thought of sending you updated forms. Also, police have randomly started visiting applicant's home and do it at their place. They now also take a photo in their phablet"
I have sent the recent forms to mahesh@trekbook.in (Received and updated on site – Thanks)
This is specific to Wakad police station. When you go there they will ask you to get the from from the Xerox shop. The Xerox shop would charge you Rs. 12 and give you 6 blank pages along with the forms (1 two sided and other one single side). The form which says FORM A is what you need to fill and the other form and 6 blank pages are for the police. So take a print and also 6 blank pages which is really cheap for our Police department.
---
Read my Guide on