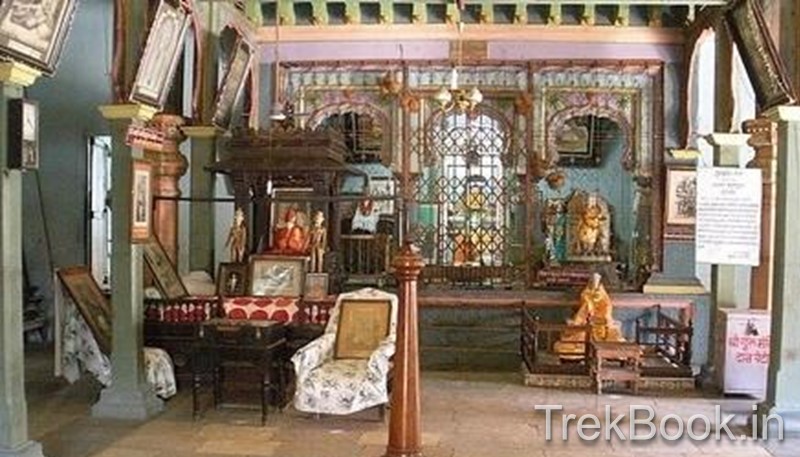 I visited Akklkot temple in Nov 2019 and had one night stay at Yatri bhuwan as well as had Prasad in the sansthan facility. So I went to Akkalkot Bhakta niwas, Yatri niwas and Yatri bhuvan too to see rooms, tariff, cleanliness and added photos to this post. I am also preparing video so that you can get real picture of all facilities which are VERY GOOD.
Now when I talk about
Pandharpur
it is quite obvious that I also need to give information on the most famous ones which are nearby like
Gangapur
, Akkalkot &
Tuljapur
. We have already talked about Gangapur, so lets proceed to Akkalkot.
The Akkalkot Swami Samarth Maharaj Temple is most famous temple in Maharastre situated near the city of Solapur.
It is said that Shri Swami Samartha Maharaj, a 19th century saint, stayed in Akkalkot for ~22 years. Beleif in devotees is that he is an incarnation of Lord Dattatreya. Thousands of devotees visit this place every year.
The temple named as the Vatavruksh Mandir, houses an ancient Banyan tree, where the saint used to preach his followers. The holy tree attracts devotees attention.
You will see total of five temples in temple premises. Belongings of Maharaj have been preserved and displayed here for darshan of his devotees.
The temple is one of the most important pilgrimage center of Maharashtra & Karnataka. You must visit it once.
Akkalkot Swami Samarth Maharaj Temple (Solapur)
Bhiu nakos mi tuzya pathishi aahe
भिऊ नकोस मी तुझ्या पाठीशी आहे
Akkalkot Swami Samarth Mandir Temple Darshan timings
Temple Timings : 6:00 AM – 12:00 PM and 4:00 PM – 9:00 PM.
| | |
| --- | --- |
| 5.00 am | Kakad Aarti |
| 7.00 am to 11.00 am | Abhishek puja |
| 8.00 am to 10.00 am | Laghu Rudra |
| 12.00 noon | Aarti & Maha-Naivedya |
| 8.00 pm to 8.45 pm | Shej-Aarti |
Every Thursday 8.00 pm to 10.00 pm Aarti & Palkhi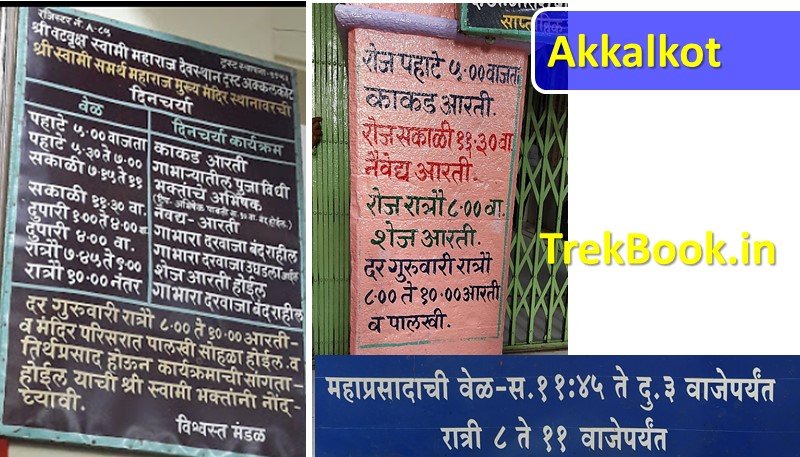 Vatavruksha Swami Mandir Prasad timings
12.00 noon (daily)
8.00 pm (daily)
Main events (Yatra)
Shri Swami Samartha Pragat din – Chaitra Shuddha Dwitiya
Shri Swami Samartha Punyatithi – Chitra Vaidya Trayodashi
Guru Pornima – Ashad Shuddha Pornima
Shri Datta Jayanti – MargaShirsha Shuddha Pornima
Gangapur yatra – Magha Vadya Pratipada
Notes :
Photography is not allowed

inside the temple premises
Washroom facility is not so good in this temple
How to Reach Akkalkot
BY FLIGHT

Nearest airport to Akkalkot is Sambre Airport.
Akkalkot is 254 km away from Sambre Airport (IXG), Belgaum, Karnataka

BY TRAIN

There are many trains to Akkalkot from all the major cities of India.
Railway Station: Akkalkot Road (AKOR)

BY BUS

You will get Buses from all major cities of the India (mainly Pune, Mumbai, Nagur, Belgaum, Bangalore etc)
Bus Station name: Akalkot
Hotels and Bhakt Niwas Akalkot :
There are two locations for Bhakt Niwas at Akkalkot by Sansthan.
Below location is the old bhakt niwas which is slightly away from the temple (10-15 mins walk) and looks to be old one.
I went here since Google maps was showing this location. Here room rents are as low as 500 Rs only. I went to see the quality of rooms, however felt slight discomfort due to toilet cleanliness. Hence came back to reception and asked if they have AC rooms (since rent for AC rooms is high normally they are clean), but this Bhakt niwas do not have AC rooms so they told me to go to newly built Yatri niwas and Yatri bhuvan which are located adjacent to the temple.
First have a look at old Bhakt Niwas photos of Akkalkot (I did not book room here but went to Yatri Niwas / Yatri Bhuvan)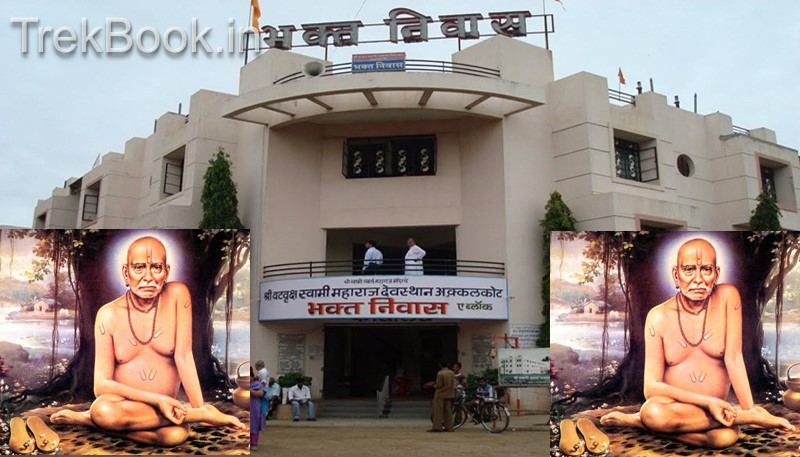 Room prices here are only 500 Rs but they are old ones as well as away from main temple, so I went to Yatri Niwas / Yatri Bhuvan.
Yatri Niwas / Yatri Bhuvan
These are new buildings and hence better than old Bhakt niwas. Here also the prices start from 500 Rs and for AC room they run upto 2700 Rs.
Here also I checked all different rooms and finally selected AC room since the toilets were clean (comparatively). Overall these stay locations are good, however slightly more efforts can make this place as good as Gajajan maharaj Shegaon facility.
I am preparing complete video of rooms, temple premises and my experience and shall post soon on youtube. (Please comment if you need some specific information in that video)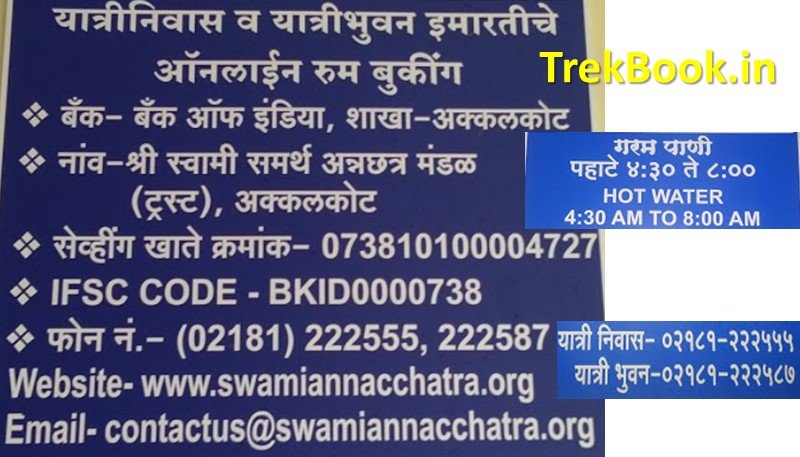 Gangapur Road, Near Swami Samarth Maharaj Temple, Akkalkot, Maharashtra 413216
Phone numbers 02181 – 221180 / Yatri Nivas 02181 – 222555 / Yatri Bhuvan 02181 – 222587
श्री स्वामी समर्थ अन्नछत्र मंडळ ट्रस्ट, अक्कलकोट, सोलापूर.
☎ दुरध्वनी : कार्यालय : ०२१८१ – २२११८० / यात्री निवास : ०२१८१ – २२२५५५ / यात्री भुवन : ०२१८१ – २२२५८७
web: www.swamiannacchatra.org ✉ ई-मेल : contactus@swamiannacchatra.org
Sansthan stay facility is very good and safe, with big parking having only 45 Rs charges, so I will recommend you all to stay in Bhakt niwas or Yatri bhuwan or Yatri niwas only. However in case you are there in period when there is high crowd then only for reference I am adding some photos below
(Please note that I have not gone to see these hotels from inside and only had photos from outside only for reference, also there is no parking place available for outside hotels and you need to park on narrow road with lot of risk so I recommend only to use Sansthan facility for stay)