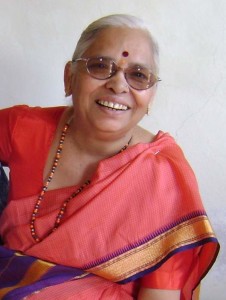 If you read the most visited page of my blog it is Metkut (मेतकुट) – My Mother's Recipe in Her Own Handwriting and now Haldichi Bhaji (ओल्या हळदीची भाजी) only for you all.
I got so many phone calls and emails to appreciate the efforts of putting down the recipe with pages from my mothers 40 years old diary containing traditional secret  recipes  !
This gave me adding more recipes like Kacchya Phansachi Bhaji.
And now in this post I am writing Haldichi Bhaji (ओल्या हळदीची भाजी) – Wet Turmeric Curry / Gravy – Haldi ki Sabji – My Mother's Recipe Maharastrian Style
हळदीची भाजी – महाराष्ट्रात बनवली जाणारी
Haldi ki Sabji
Haldichi Bhaji (ओल्या हळदीची भाजी) – Wet Turmeric Curry / Gravy Haldi ki Sabji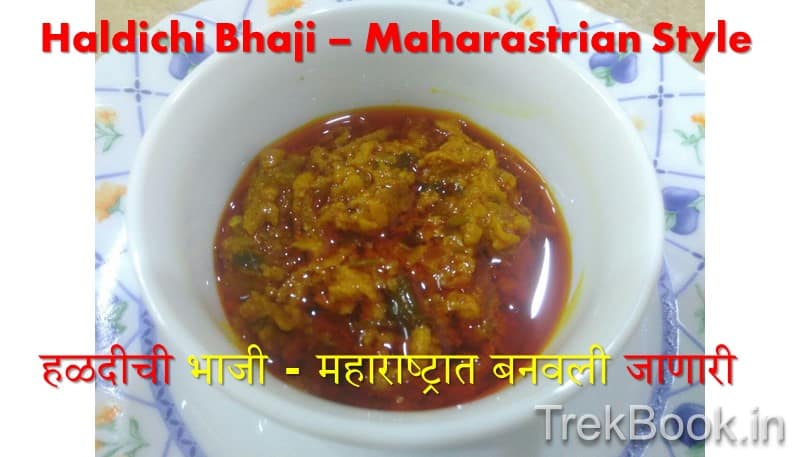 Haldichi Bhaji (ओल्या हळदीची भाजी) Haldi ki Sabji  ingredients
Wet Turmeric gravy ingredients
| | | |
| --- | --- | --- |
| 1 cup | Wet Turmeric | ओली हळद |
| 1 cup | Desi ghee | साजूक तूप |
| 4 nos | Green chili | हिरवी मिरची |
| 2 small | Onions | छोटे कांदे |
| | Curry leaves | कडीपत्ता |
| 1 big | Tomato | टोमॅटो |
| 1 spoon | Sugar | साखर |
| | Salt to taste | चवीपुरते मीठ |
| 1 spoon | Red chili powder | लाल मिरची पावडर |
| | Coriander | कोथिंबीर |
| 2 spoons | Jeera powder | जिरे पावडर |
| 1 spoon | Masala powder | मसाला पावडर |
| 1 Cup | Fresh Curd | दही |
How to prepare Tuemeric Gravy ओल्या हळदीची भाजी कशी बनवतात
Peel the Turmeric and grate it.
Immediately Sauté this grated turmeric for 10 minutes in 5 spoons of desi ghee
Keep aside
If the grated turmeric is 1 cup then heat 1 cup of desi ghee….
Put 4 green chilli (pieces) in hot ghee…
Then sauté 2 (cut small ) onions saute for 5 minutes…
Put curry leaves…
Then put 1 big (cut small ) tomato…. saute for 5 minutes….
Put sugar 1 spoon, salt, red chili powder, coriander +jeera powder, masala powder…. Sauté…..
Put sauted turmeric.. Add 1 cup fresh curd…. Sauté….
Add 2 cups of water…. Stir…..
Let it boil for complete 45 to 60 minutes till you see only ghee on the top ….
Keep on Stirring….
Remember Turmeric needs more time to cook…
Your turmeric masala veg gravy is ready
Note :
Turmeric

is having natural healing ability and used as medicine from thousands of years in India
Be careful while you eat this Haldichi Bhaji (ओल्या हळदीची भाजी) Haldi ki Sabji , it is hot by nature so if you are going to eat first time then better to have it in small quantity only. Once you are used to it, then you can go for eating more. It is so tasty that you are tempted to eat more, but be careful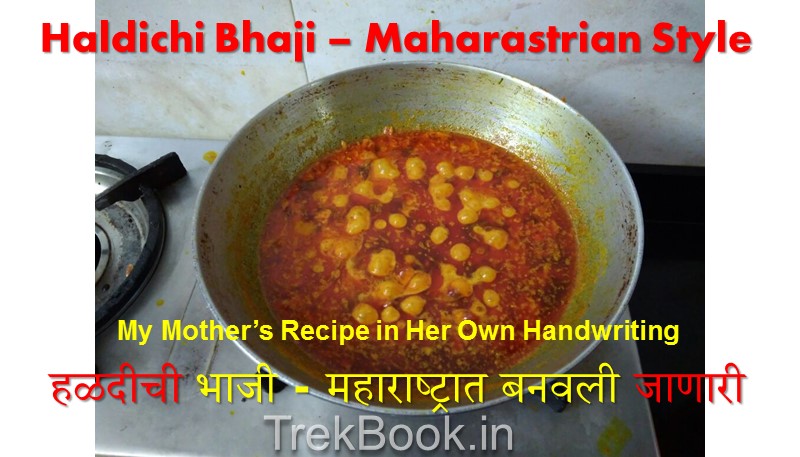 Summary
Reviewer
Review Date
Reviewed Item
Author Rating