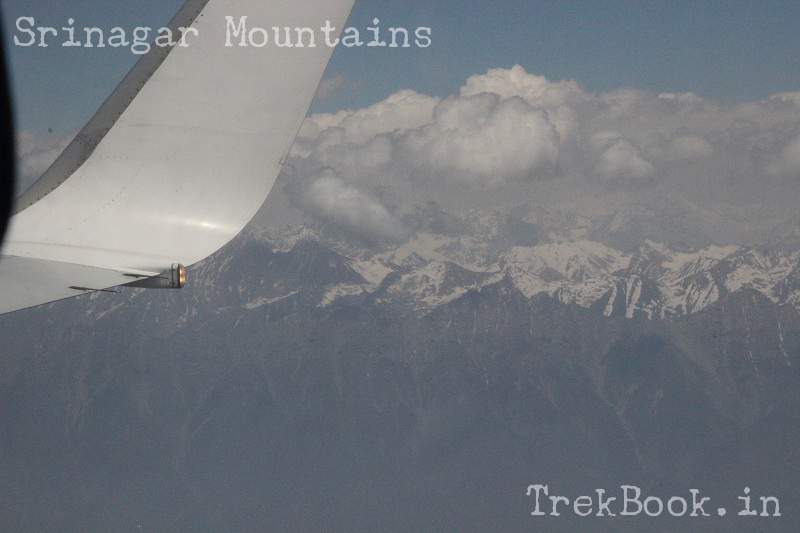 I planned landing to Leh via Srinagar for two reasons, first was good acclimatization and second was the road packed with lush green surroundings of Sonmarg getting on to Kargil via Drass .. I wanted to see the drastic change in landscapes from green to the deserted mountains with icing topped onto it ….
Flight from Pune was at ~5.30 am and there itself first challenge began … catching early flight means drive from home at around 3.30 am in morning so that I can reach Pune airport by 4.30 am (one hour before departure) so I tried with Ola cab where it was not allowing booking before 5 am ! so I tried with Meru cabs, their Pune helpline said that they operate 24×7, however when I tried to book cab it was also not allowing bookings before 5 am (I further wasted my time calling them but it was invain !!)
So finally I turned to Sun tourism who has arranged all hotel and vehicle bookings for me (except air travel) and they arranged two cabs for me 🙂 So booking issue was resolved ..
Second preparation was what to wear and what to carry ? I will have to write that in details since Punekars will have typical requirements at such cold location than all other people like Delhi ones who are used to be in colder situations … Anyway I would draft it separately …
Day 1 of Srinagar-Leh-Ladakh tour
So all were ready with bags packed and my god … it started raining heavily at 2 am morning .. it was so furious that for our drivers it became impossible to reach … my driver was staying at Wagholi and when I called him he said he is unable to see the road and waiting for rain to calm down !!! by 3 am I was sure that I need to call my best friend DP to drop me to airport !! luckily my driver started slowly and reached my home at 3.30 am … Hushhh …. Anil's vehicle reached in time however he has other issue that he got Swift where he was not able to pack his bags !! So when my car arrived we settled after balancing bag loads in two cars … Further way was easy to get to Pune airport … 🙂
My Delhi to Srinagar flight was postponed by two and half hours, so we had to wait till 12 noon … Here again Delhi airport is good to have entertainment with so many shops around but in terms of food it is quite costly … Fortunately I had my VISA card with access to Priority VIP lounge where I could enjoy Uttapam, Dosa, Tea and 24 hours internet access for FREE (Plz note standard access to internet is only for 45 minutes)
Tip for you: Lessons learnt is that if you wish to save money and enjoy privileged quality food / internet access for  FREE, make sure to carry a VISA/Master card which has access to any premium lounge at Domestic and International airports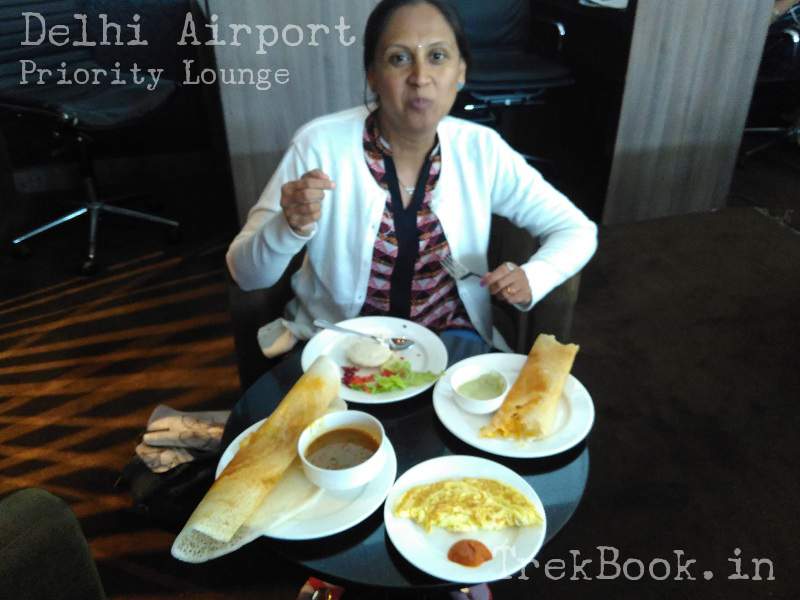 Well we reached Srinagar 2.5 hours late against our plan where our driver was ready with Tempo traveler for pickup.
Since it was around 2.30 pm our driver suggested to get on to Nishat Baug (One of the most beautiful garden in Srinagar as per many websites said !!) and then check-in to the house-boat Hajar Dastan. We also agreed so as to save on some time which was wasted due to late flight.
Here the first traffic jam began, Nishat Baug was full of crowd and cars were lined up, we were stucked up and driver parked car ~200 meters to save time. We walked down to the garden entrance which was full of crowd. We took entry tickets in few minutes and gushed into the crowd !
As said the garden looks beautiful on internet and called as one of the best in Srinagar, but my actual experience is that it is not maintained at all ! full of crowd, missing patches of lawn, plastic everywhere, hundreds of people roaming around, taking bath in clean (!) water in channels flowing at mid of garden ! looks like there is no control of garden authorities over what is happening there. Pu La Deshpande garden of Pune is thousand times better than this garden. So my advise is not to waste your time going to this garden at all !!
Below photos are given just to give you glimpse of garden condition … 
Look at crowd at Nisht Baug
Anyway we spent some time, had Puneri & Kolhapuri Chiwada and went to our houseboat Hajar Dastan.
Food Tip : Buy Cherrys at this spot, you get them for 100 Rs per box and they are astonishingly fresh and good quality, we could not get this quality later in our trip
Way to houseboat was through water, so we cached up a small boat and reached our destination ! After evening ride in Shikara it was a call of day for us …
I would be detailing out my experience at Hajar Dastan in separate blog post …
Second day was planned to be for Gulmarg (which we changed to Pehelgaum) .. The story would continue with day 2 tomorrow …
Till then Cheers !!