Update 2020:
ONLINE BOOKING

for Anand Vihar Bhakta Niwas Sankul, Shegaon

NOT AVAILABLE

, Please call on below numbers for BOOKINGS

After getting phone number of IT person Mr. Sachin Patil, today I talked with him over issues faced by people for no-one picking phone, online booking not available issues. He said that

"if you are facing issues, please send an email to शेगाव मंदीर for शेगांव भक्त निवास बुकिंग sansthan official email ID"

sansthan@gajananmaharaj.org

or you can put comments on this blog and I will convey issues as Seva to Maharaj.

|| Gan Gan Ganat Bote ||
---
Following numbers are given for Anand Vihar Bhakta Niwas Sankul, Shegaon Bookings (
updated 2 February 2018

)
Bhakta Niwas Complex (Mandir  Premises)

Shree Samadhi Temple premises has two Bhakta Niwas Bulding as
Bhakta Niwas No. 1 & 2
Landline phone number for room inquiry in Mandir Premises – 07265-252699/252018, extension no. 167

Mob. No.  9403254024.

Bhakta Niwas complex (Hatti Khana Premises)

Rooms are available in
Bhakta Niwas No. 3, 4, 5 and 6

Landline phone number for room inquiry
07265- 252699 / 252018 /

Extn. No. 500/505/507

Mob. No. 9850850891 / 9423144709 / 9422064318

Anand Vihar Bhakta Niwas Sankul (Complex)

The phone numbers for room inquiry : 07265-252019

cell No. 9657449496 

Anand Sagar Visawa Bhakta Niwas Sankul (Complex)

150 rooms and 72 dormitories of Anandsagar Visawa Bhakta Niwas Complex

The phone numbers for room inquiry :

07265-253018

Cell No: 9657449495 
After awaiting for couple of hours I decided to head down to Anand Vihar which is ~1.5 kms from main temple, I was reluctant to go there since staying near to temple would have helped my old age mother ….
However my experience at Anand Vihar turned out to me memorable one with calm and quiet environment .., super cleanliness all over the place .. amazing food (supported by Mega-Kitchen of Sansthan) … Nature and beautiful statues all over the place …
Above portal is under maintenance as on 11 April 2018
Help desk 07588565699
Update 27 June 2017:
I got many messages about Sansthan website down and hence issues in booking. You may please call +91 7265252018 for Bookings
[This contact number I have received from one of the Bhakta who regularly visits Shegaon and confirmed, please do get in touch for Bookings]
Shegaveecha Raja Gajanan

Audio CD

Silver Bhariv Gajanan Maharaj Murti

संपूर्ण श्री गजानन महाराज चित्ररूप चरित्र दर्शन
Just look at happy face of my mother … I think a photo is worth thousand words .. she was happy to be at Shegaon and also at Anand Sagar … I am thankful to Sansthan to make the trip memorable with kind support provided at each stage at Shegaon … immense efforts are being put in by Sansthan and volunteers from nearby places who make it happen 🙂 my salute to all 🙂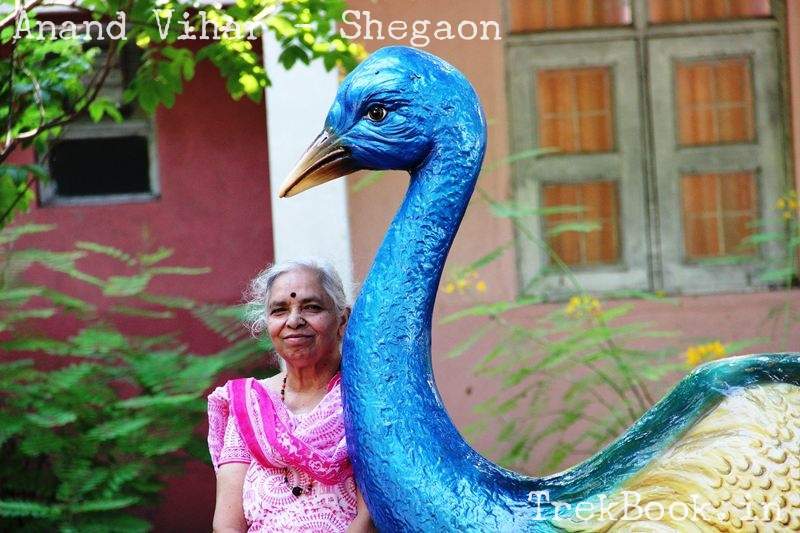 Grand entrance with granary around makes you feel so comfortable … one must experience it ..


Attractive peacock makes you take selfies ….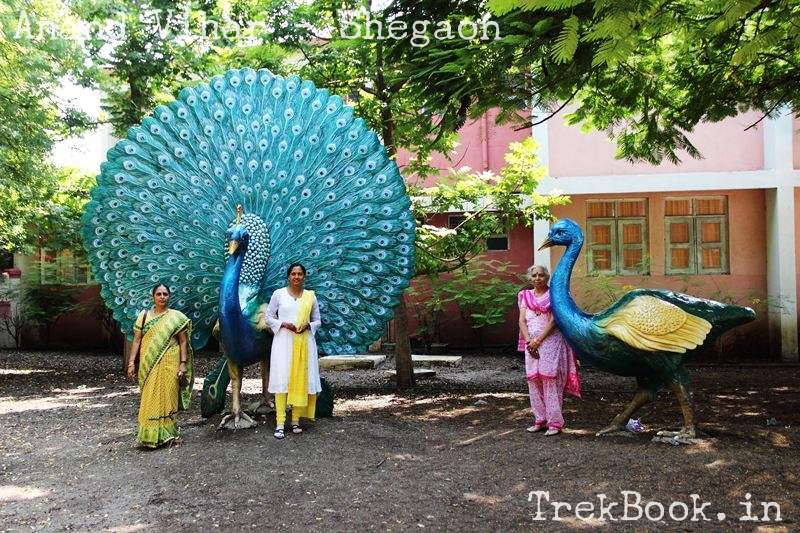 By the time you complete the process of check in .. others can simply roam around having selfies and group photos … its awesome place with nature and human creations …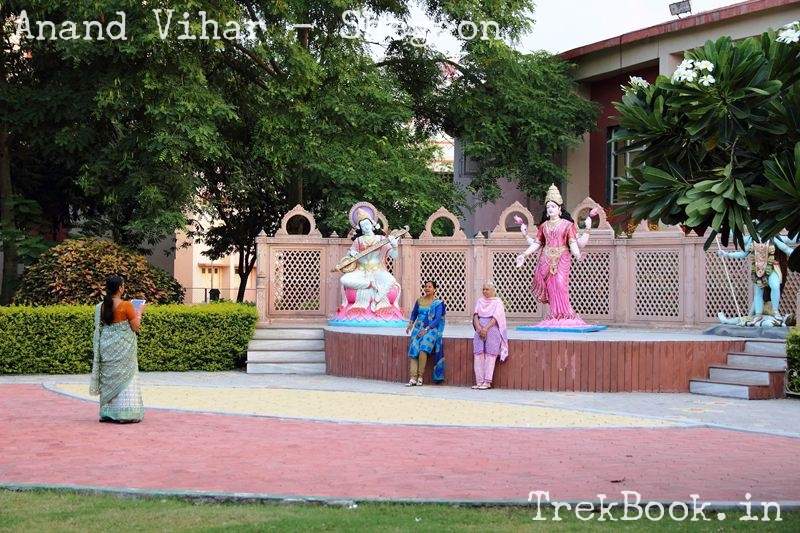 Since I wanted to have room on ground floor (remember there are no lifts for upper rooms) I got 6 bedded room for 4 persons by paying 1000 Rs per day (24 hours check-in check-out method) … see building B below .. rooms are super clean ..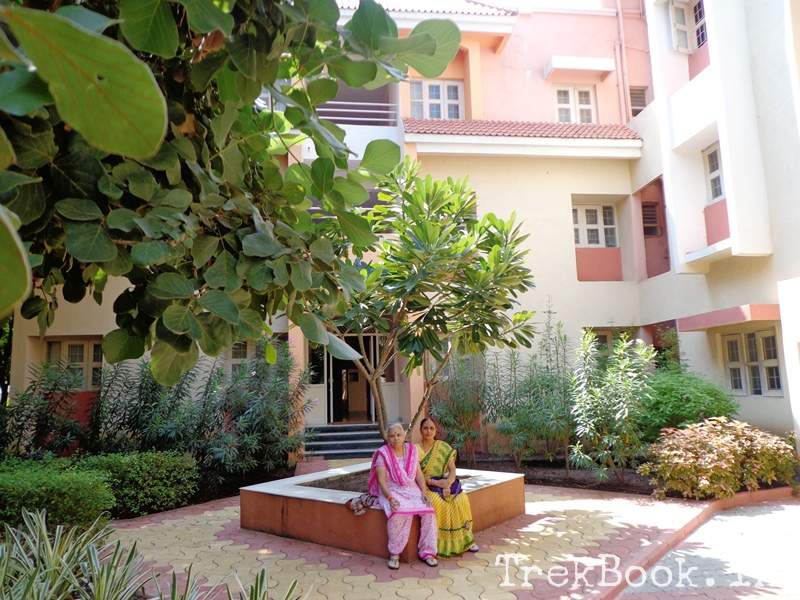 Buses ply from Anand Vihar to Bhakta nivas and railway station as per below schedule, however please note that buses do not ply to Anand Sagar from this place, you need to catch them at Bhakta Nivas 5 near temple ! So if you do not have time just catch rikshaw or tanga (horse cart ride) and move on ..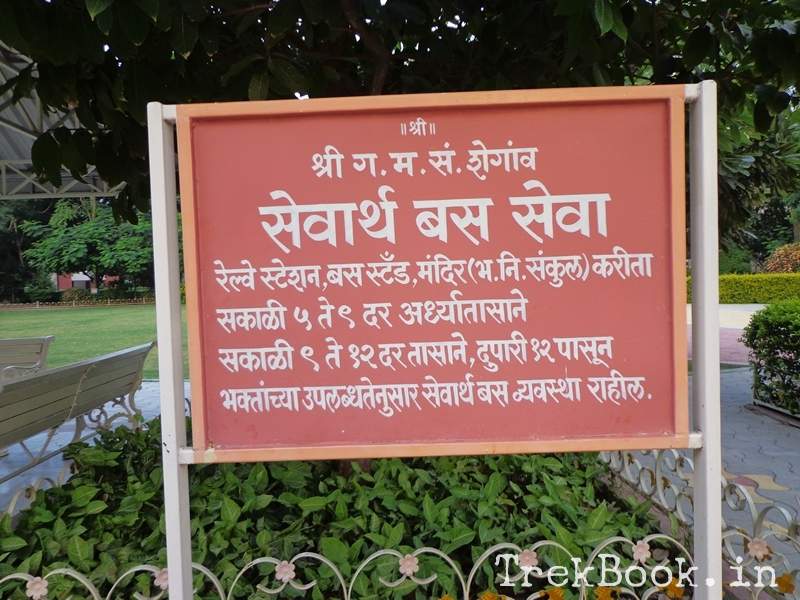 I must say the experience was simply great …
But as said every place you can still improve upon … I normally do not go to temples except it's wish from my mother .. this place I felt that it was wish from Shri Gajanan Maharaj that I shall visit this place and write about the place as well as suggest improvements based on my long industrial experience over 25 years …
So I moved on and made many suggestions to Mr. Pise to whom I met at the main temple office, I am thankful to Mr. Pise as well as Mr. Ravi Kale and Rajju Patil at Bhakta nivas to listen to my suggestions and promised me to implement the same …
Here are my suggestions to make the user experience at Shegaon WORLD CLASS
Display information boards in English to help international tourists (presently all boards are in Marathi & Hindi)
Improve information flow, rooms are booked on 24 hour check-in basis, hence staff is not aware of when the rooms will be available ! one has to wait in line till someone vacates the room, computer controlled information display shall help devotees deciding upon [Please note that I also visited hotels in Shegaon outside Sansthan, however they are maintained to very poor levels, hence strongly recommended to stay at sansthan facilities only, if you do not get accomodation at Bhakta nivas, do proceed to Anand Vihar)
Map display showing temple and around places like Char dham, Anand sagar, Nagzari
Bus from Bhakt niva to Anand sagar travel via Anand Vihar, adding one stop at Anand Vihar shall help
Rooms at Anand Vihar are maintained very well, however small issues like cooler, lamp, water tap etc. are normally written in feedback book by devotees, I could not see closure of such complaints. Sansthan can make chart of complaints/suggestions received and closed in the month
Room coolers are located such that movement is bit difficult, they can be relocated to available space in room, simply relocation would help as per my study
Toy train at Anand Sagar is super attraction, further routing the same to Vivekananda Dhyan Kendra would help elderly people to get down and visit (This was opinion from many devotees who could not walk till dhyan kendra, for people like me who trek for length, its easy task though)
Detailed room booking instruction with token system shall be implemented, instead asking questions and waiting forever in lines
Booking system for anand vihar over internet is not working, I tried so as my fellow travelers but it did not work
I know that most of the staff is voluntarily working, in my view small training about their responsibility at the start of work would improve user experience to great extent, this will only support their will to help devotees
Food is awesome quality and at highly reasonable price, only chapati making machine needs fine tuning to save wastage (my observation was wastage due to non-roasted thick chapaties)
While devotees move in line of Maha-Prasad, there are steps infringing which creates issue to old age people as well as normal persons, simple movable steps would help streamlining the queue
After entry to the temple, you have place to keep your foorwear, after removal of the same when you reach the darshan line, security tells you to keep hand bags in lockers which are located exactly opposite side, with bare feet in noon sunlight it's impossible to walk till locker room, hence many devotees prefer keeping someone in group waiting on side with baggage, simply relocation lockers along with footwear place would resolve this issue
All the above points were explained to Shri. Pise sir and I also felt that Shri Gajanan Maharaj has made me visit this place and do simple suggestions to make the devotee experience better. I expressed my will to visit the place on my own to improve upon the systems using my life long industrial experience.
Again at the end I express my sincere gratitude to all people from Shri Gajanan Maharaj Sansthan for putting in immense efforts 24×7 to provide best experience to the devotees.
|| Gan Gan Ganat Bote ||