I planned the Shegaon trip for two days to have comfortable journey for my mother .. first day we could comfortably do Darshan of Shri Gajanan Maharaj and enjoy the Maha-Prasad .. and second day was free till I catch the back journey train at 3.45 pm ..
So I started early 7 am from Anand Vihar ..to the Gajanan Maharaj temple .. had morning darshan in 10~15 minutes …. then went for bk fast to sansthan facilities in bhakt nivas ..
After the bk fast started at around 8.45 am .. to the Char Dham Yatra and Nagzari tour … (we reached back to Anand Vihar by 11.30 am) .. Below sequence was given by our rilkshaw driver so that my mother need not walk to a distance, he managed to take rikshaw to each point without any walking at all 🙂
Maruti temple
Bankat Sadan
Pragat sthal
Mote Shiv mandir
Nagzari
Maruti Temple
The story of Hanuman temple goes like this …..
During the celebrations of Shravan in Hanuman temple, young boys from Patil family teased Gajanan Maharaj by hitting with sugarcane, after some time when they were tired hitting with sugarcane, Maharaj simply squeezed the sugarcanes with hands and gave the juice to refresh the boys !! His devine powers, totally outwitted the conceited boys of Patil Family …. And immediately all of them surrendered to Gajanan Maharj.
At the same temple, Khandu Patil was blessed by Gajanan Maharaj whos was in deep grief without son for many years. He named his son "Bhika" as per suggestion from Maharaj, he further directed Khandu Patil to provide mango juice to Brahamins every year to celebrate the day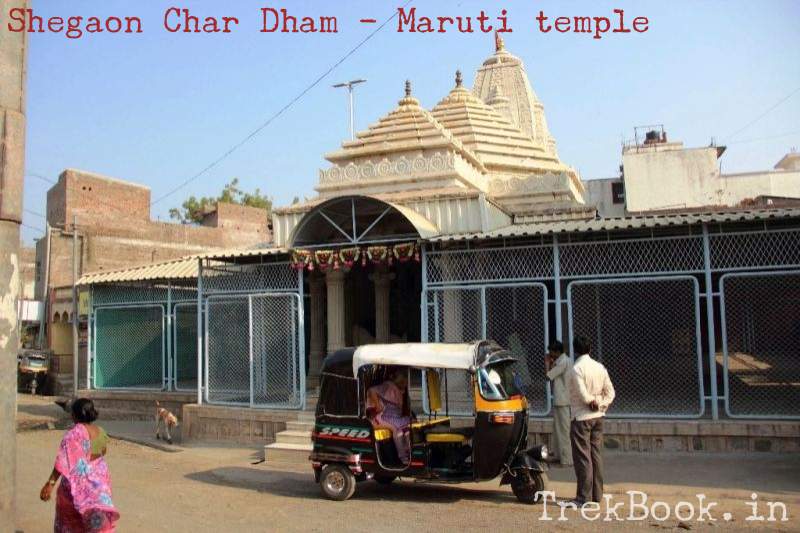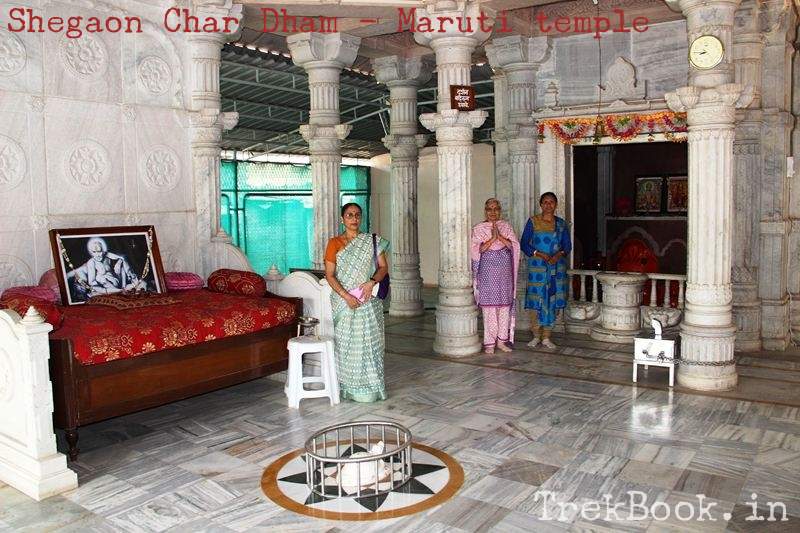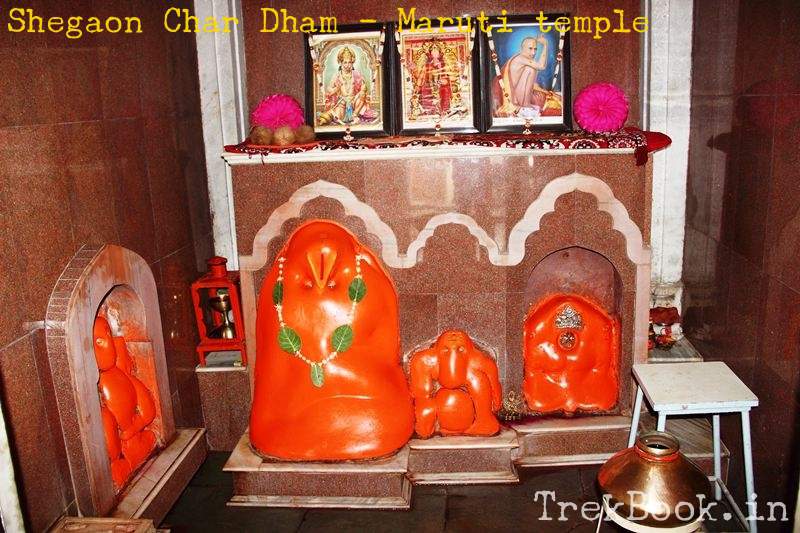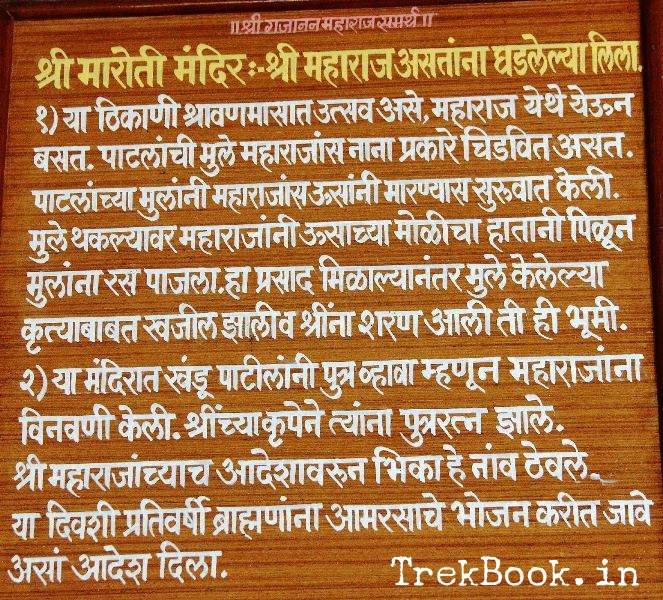 Bankat Sadan
Further the rikshaw moved on to 'Bankatlal Sadan', the house of  Shri Bankat Lal Agarwal who was person who first recognized Gajanan Maharaj as saint on 23 Feb 1878 ( This day being celebrated as Pragat Din of Gajanan Maharaj )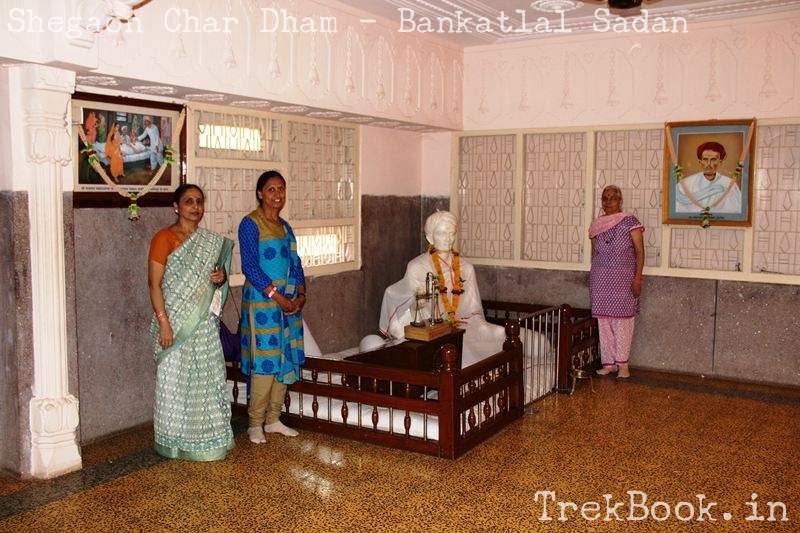 Half part of Bankat Sadan being owned by Shegaon sansthan and remaining half is inherited by Bankatlal family which is under renovation as on now …
Below photo shows the remains of the second half with old furniture .. and the cistern with stone in mid .. this is the location where Bankatlal brought Gajanan maharaj for the first time to have a bath ! unfortunately this place looks like totally ignored by people 🙁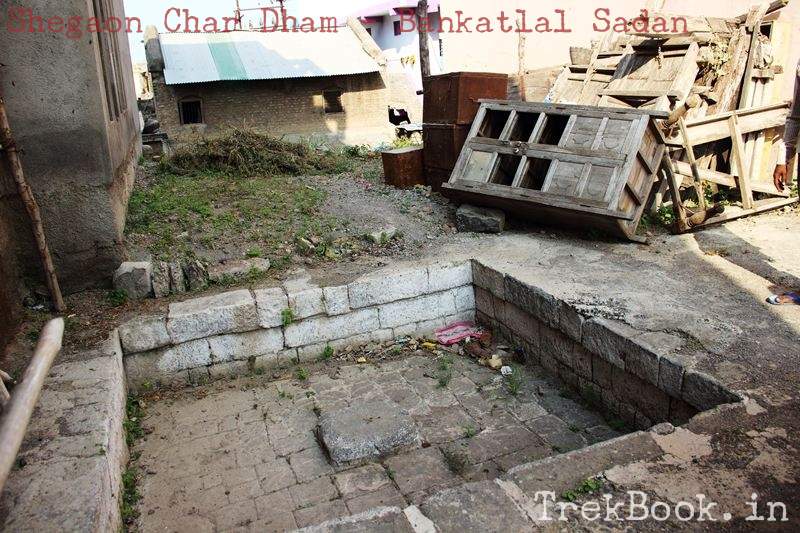 Pragat sthal (Place where Shri Gajanan Maharaj Appeared)
We further moved on to Pragat sthal ( Appearance Location of Gajanan Maharaj) ..
The story of Prakat Sthal goes like …
On the afternoon of 23 Feb 1878 Shri Devidas Paturkar was celebrating Rutushanti of his son … and after the lunch the remains were being thrown near his house  below the Banyan tree …  Here Bankat Lal and Damodarpant who were passing by noticed young boy eating the leftovers thrown. Looking at him Bankatlal realized the saint qualities and took him to Bankat sadan .. gave him bath and that is how he became devotee of Gajanan maharaj …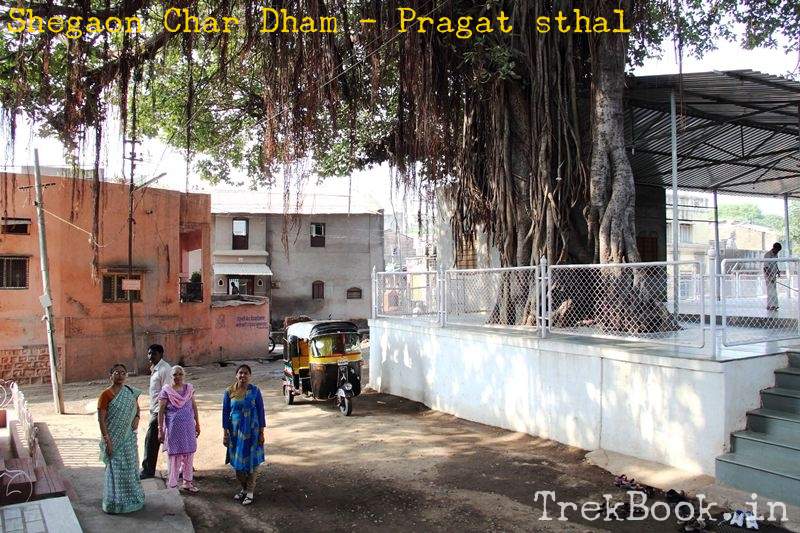 The hall has been maintained by Sansthan featuring paintings showing the important events in Maharaj's life.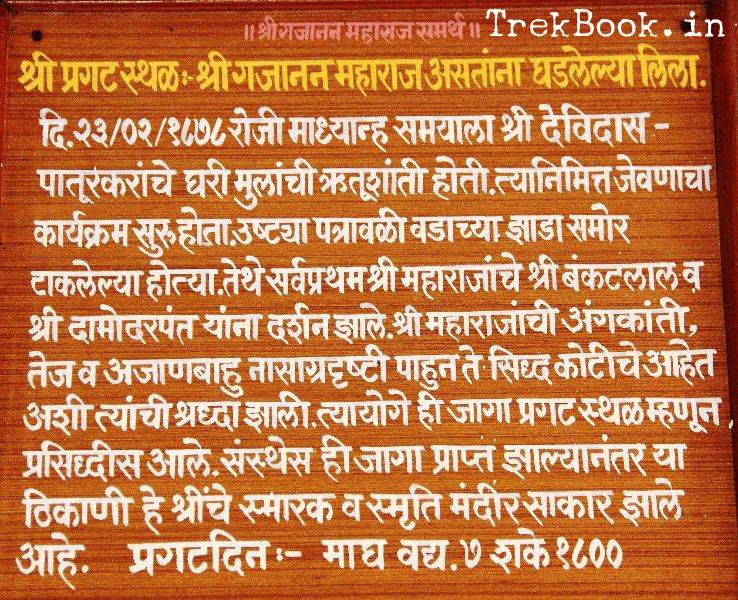 Mote Mahadeo Mandir (Shiva Temple)
Now we reached the last point of char dham tour which is Mote Mahadev Mandir .. story of which goes something like ….
Shegaon being called historically as Shivgaon …where ancient Shiva temple was situated … Late Mr. Mote renovated the temple in the year 1811 … renovated again by Sansthan in 2000 ..
Once Shri Govind Maharaj Taklikar from Barshi-Takli had been at Mote Mahadeo Mandir for Kirtan (Preaching in form of devotional songs) who relalized that Shri Gajanan Maharaj as a noble saint, when Gajanan Maharaj changed the fury and violent behavior of Takalikar Buwa's dominant horse.
Also Bankatlal and Pitambar offerd Zunka-Bhakar (Traditional rural Maharastrian food) to Maharaj before the kirtan began, where Pitambar was instructed by Maharaj to fetch some water from drainage ! where the miracle happened ..drainage water was crystal clear !!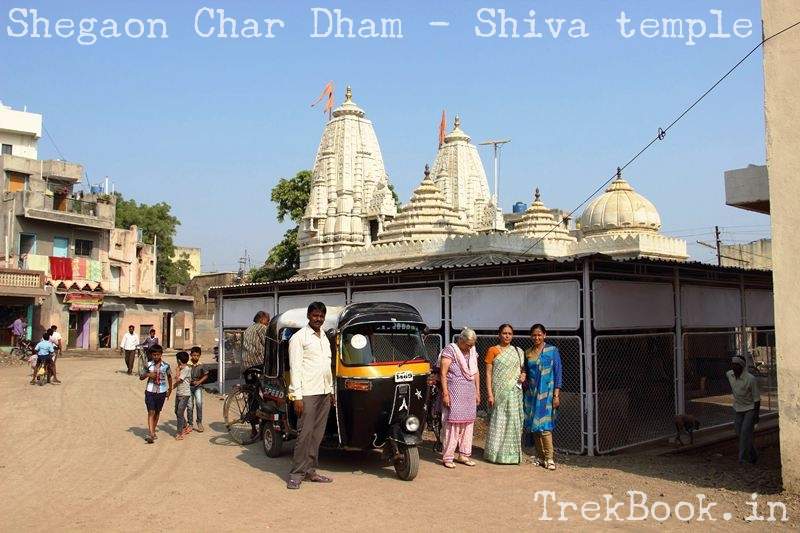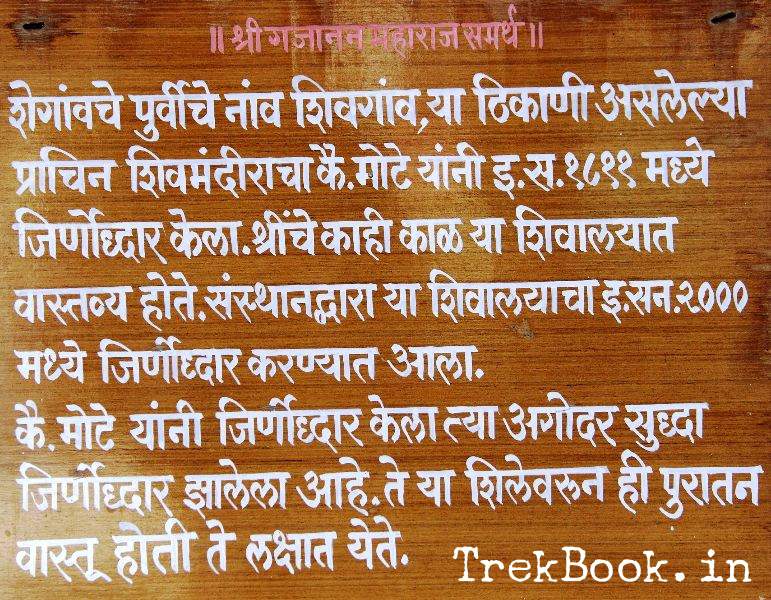 So all the char dhams (4 auspicious places) visited and it was time to move on to the final point of interest Nagzari village to visit Gomaji Maharaj's samadhi.
The great saint Shri Gomaji who attained communion (Samadhi) with God in the caves at Nagzari.
There are five temples situated here of  Nageshwar, Someshwar, Tryambakeshwar, Visveshwar and Gupteshwar. Our rikshaw driver cum gide told that four temples are visible and that of Gupteshwar is hidden and can only be spotted by those who are divine &  pure !! Obviously none of us could spot it !!
** Rikshaw Driver cum Guide Name "Kabir" Phone number = 9767381022 **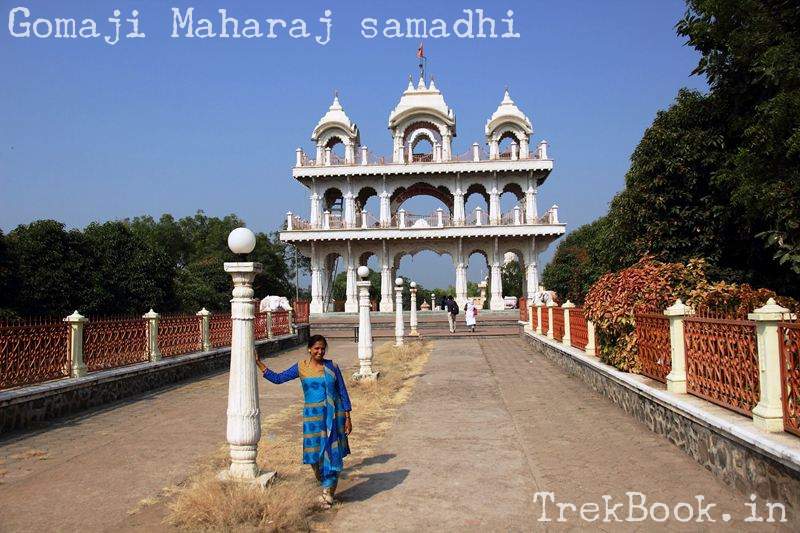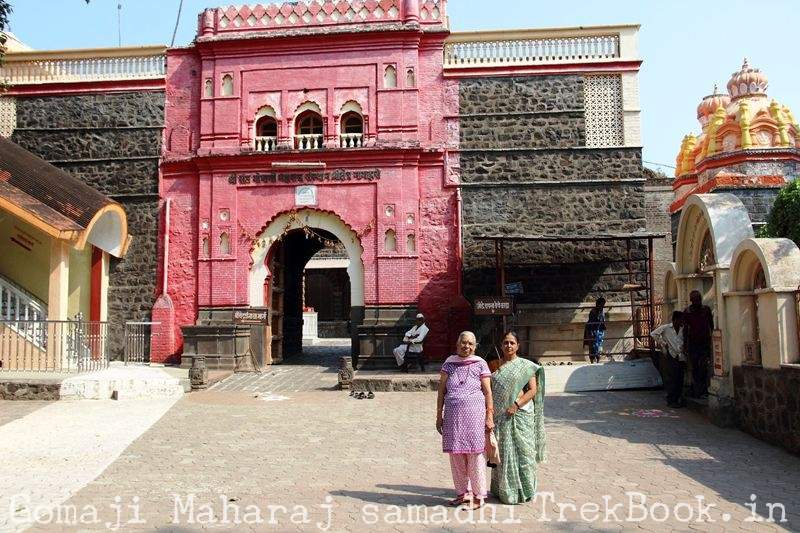 Also you can visit Gomukh kund (sacred cistern), it is said that Shri Gomaji Maharaj used to perform bhajans by seating in knee-deep water in the kund. The water flows throughout the year from Gomukh (mouth of cow) further meets the river Mohana flowing eastwards meets river Bordi. The legend about Gomukh kund says that Shri Gomaji Maharaj used to bath at river Purna but his old age was not permitting to do so, while looking at his devotion river Purna blessed him by appearing at Gomukhkund.
So complete char dham and Nagzari visit was complete in 2.5 hours with comfort and we reached back to Anand Vihar by 11.30 to take rest 🙂