Pre-meeting for Kenya tour was to get acquainted with the friends travelling together as well as to provide instructions to those who were travelling first time on international flight.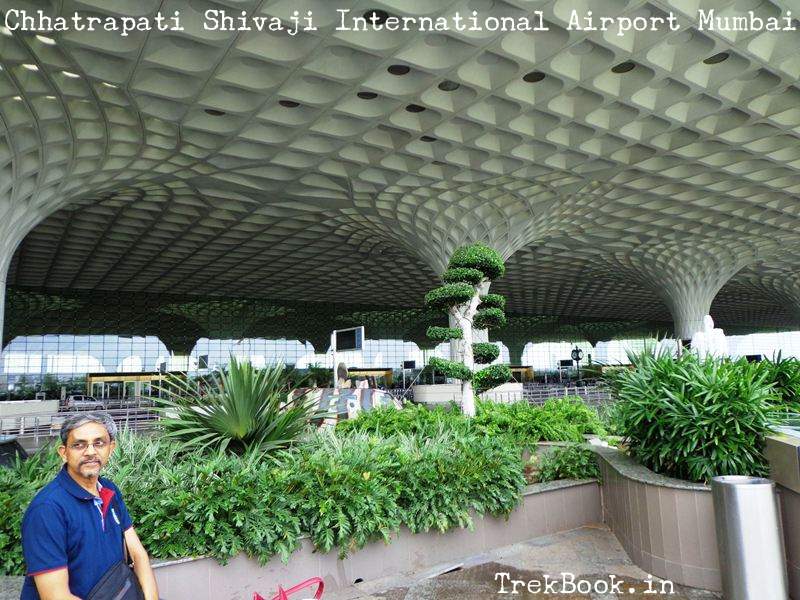 Please note that compared to Domestic travel, your International travel needs the following documents –
International ID proof that is your Passport issued by Government authority
Make sure that your Passport is Valid for Six months beyond your actual travel date, This is mandatory requirement before travelling abroad
Permission to enter other country which is called as VISA,
Vaccination certificates pertaining to the country you wish to visit taken from Internationally accredited facilities which are approved by your government.
Ref 1 : Yellow fever vaccination requirements and recommendations by WHO
Ref 2 : Yellow fever vaccination available now in Pune
Although you get information on different websites about vaccination, easiest way is to contact your local travel operator to get latest information about Vaccination and VISA requirements.
As example I went to Kenya with VISA on arrival, however from 1 Sept 2015, Kenya has made online VISA application mandatory, so better to study these requirements and cross confirm from local tour operators
For my Switzerland VISA I went through local travel company Ultimate Get Aways – Pune
Health insurance hard copy
Driving license, in case you wish to drive abroad on your own (Check if your license is valid in country you wish to visit)
Preparations for international travel
Get hard copies of your Hotel booking receipts, Travel arrangement bookings (car/train/local flights)
I suggest forwarding all the booking details to your gmail account, which facilitates you to access it in case you loose hard copies as well as while doing any Google search, it automatically informs/reminds you about your upcoming flight details
* Incidentally during my Kenya travel I forgot to take print of my flight ticket, since I had soft copy of air ticket on my mobile I could show it to security and get in 🙂
** Make sure that all these soft copies are accessible even when you are offline, since you may not have access to internet while abroad
Maintain master hard copy having details of hotels, relatives, emergency contact details, medication you are taking, allergy to any medicine
There are two type of baggage you can carry

Check-in baggage – Which you handover when you take your boarding pass from airline counter
Make sure that you are not carrying any banned or restricted objects.
I have seen that check-in baggage being thrown / handled roughly by the airline staff, hence make sure that things you put inside are packaged properly as well as the bag is strong enough [during south east Asia tour one of my friend faced problem due to broken bag handle, he carried luggage painfully throughout the trip ! so make sure to get good quality bags]
Put all toiletry items like shaving raiser, body lotion, camera extra battery, charger inside checkin baggage
Hand baggage – Which you carry alongwith you inside the filght
This shall contain all important documents such as passport, VISA, Insurance, Credit/Debit cards, Cash
If you are carrying medicines, make sure that you have doctors prescriptions for each
[Please check the luggage allowance and restrictions of each airline company with which you are going to fly. Each airline has different allowances and restrictions]

If you are landing to big international airport, better idea is to get airport map which will help you to quickly proceed to exit
if you are carrying cash in USD $ then do keep FOREX buying receipt with you, any currency exchange you do further, make sure to ask for receipt and maintain till you are back
* Make sure to arrive at airport minimum 3 hours before flight departure time, remember baggage screening, security checks takes time.
After you reach airport
Show your passport and air ticket hard or soft copy to security so that you can enter the airport
Proceed to your airline counter, show them passport and air ticket hard/soft copy and get Boarding pass (if you web checkin there are chances that you get your favorite seat), You need to handover check-in baggage here [if you are carrying items which you feel will have an issue, ask the airline staff for restrictions, if any]
Camera tripods if you wish to handover as check-in baggage needs to be wrapped [it will cost you @8$], my suggestion is to carry plastic container for tripods which will save wrapping money at each airport / save your time / save wasted wrapping plastic / save tripod from handling damages
Now you need to get through security check where your hand baggage is scanned and stamped [make sure you put in security check tag on each bag, while getting inside airplane this tag is checked by security], most of the time water bottles are not allowed, I prefer carrying empty water bottles through this point so that I can refill them after security scan and use till I board my flight
Proceed to immigration counter, you need to fill in immigration form mentioning details of visit (Stay, duration etc). Show your passport, submit immigration form and your passport will be stamped for exit from India [Bureau of Immigration – India]
If you are carrying SLR camera with more than one lens then you need to declare it and get certificate [immediately after immigration counter there is customs declaration counter], this certificate will be useful when you arrive back to India
Now you proceed through shopping center, where you can buy/pre-book things. Benefit of pre-booking liquors is that you get discount, you can pay in INR (cash only) and you get delivery when you land back to India so no need to carry things throughout your travel [Remember you can buy maximum 2 liquor bottles per passenger]
Proceed to gate indicated on your boarding pass and wait for boarding announcement
Show your air ticket at boarding gate and proceed to flight 🙂
Keep your passport / boarding pass / yellow fever certificate / polio vaccination certificate handy during all security checks / travel
* If you have high end Credit/Debit card, you may get FREE access to VIP lounge as e.g. my DBS Debit card has access to Clipper lounge at Mumbai International airport, which entitles me to get unlimited lunch, cold drinks, liquor, bottled water, internet, tea, coffee etc.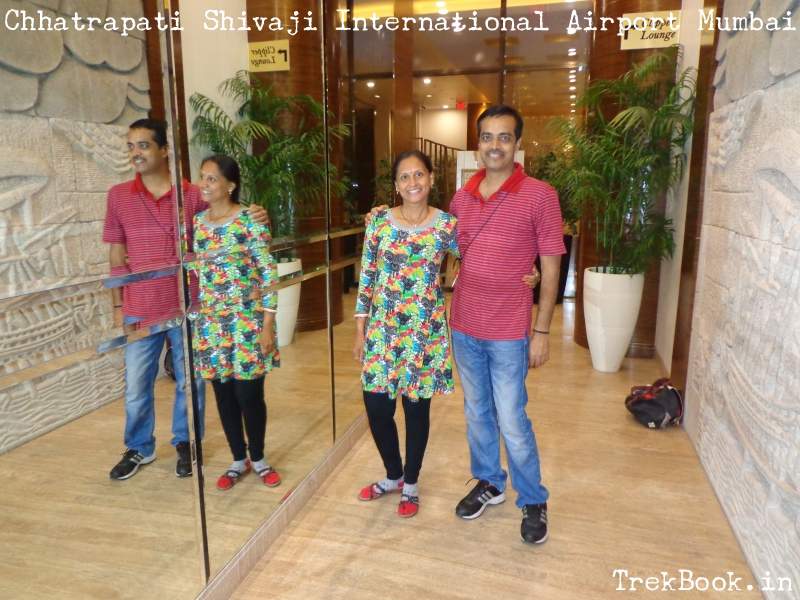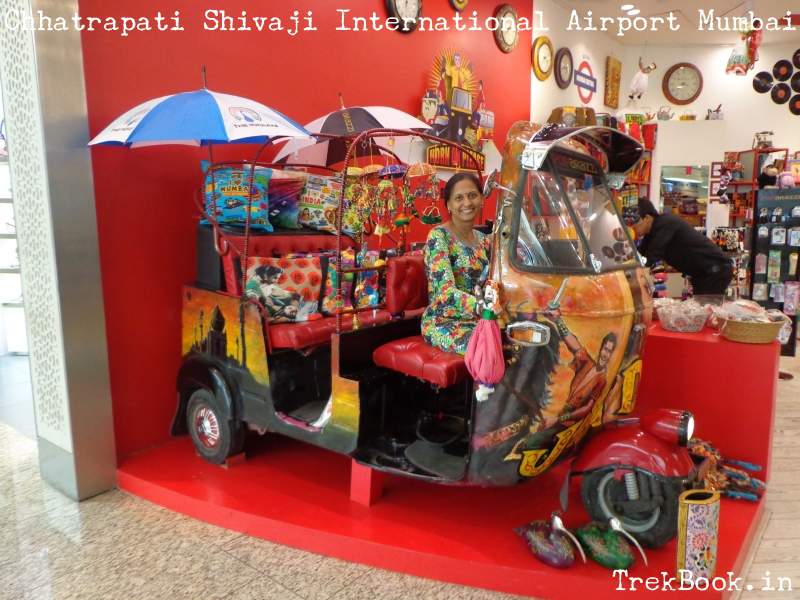 While you are boarding your flight
Get in as early as possible, this will ensure that you get proper place to keep your hand baggage
Hope that you have pre-ordered your Veg diet, if you forget this you may not get Veg meals on board [During my Srilanka trip, Veg meals got exhausted and many of us could not get it]
Air on board is normally dry [unless the flight has special provision to do so], hence it is important to keep yourself hydrated
If you are boarding on long duration flight you will feel cramped due to blood circulation issue. You can walk around every couple of hours, rotate your toes, do some yoga postures while seating to avoid body pain
Keep your sweater handy since many times flight air conditioning systems are too cold for Indians [may be Europeans do not feel that cold due to their climatic conditions but Indians do]
Chewing gum helps avoiding air locks to ears while taking off or landing
Remember mobiles are to be switched off during flight, so do call your dear once before boarding flight
Enjoy on board food and drinks during international travel 🙂
Arrived at Jomo Kenyatta International Airport – Nairobi
Fill in VISA on arrival form [till 31 Aug 2015, VISA on arrival was issued by Kenya Authorities]
Proceed to VISA on arrival queue, submit form + pay 50$ fee, Your finger prints will be scanned, few questions may be asked and they will paste VISA on passport
Goto baggage belt ASAP (make sure that someone reaches there early to prevent theft)
Customs check may be done, where they ask for anything to declare
Exchange currency to Kenya shillings [My experience in Kenya is that USD $ is happily accepted even by small shops, however you shall have small notes starting from 1$, 10$ to make small buy, in fact USD $ is most welcome by souvenir shops, so convert small portion only to Kenyan Shillings]
Buy mobile sim card [Orange sim will cost you ~100 shillings + recharge it to say 400 shillings]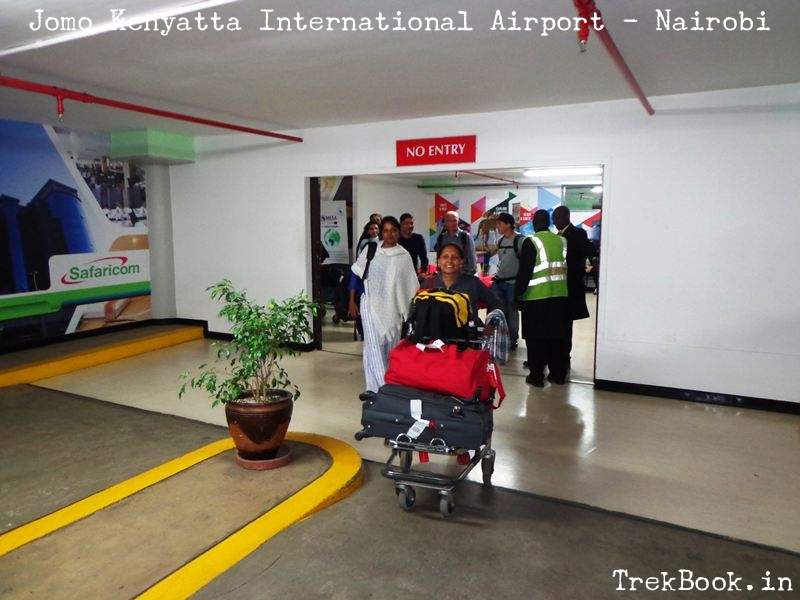 Enjoy your first International flight 🙂
Be ready for your Kenya Safari 🙂
Do not forget to check out