I was searching for information on Yellow Fever Authorized Vaccination center at Pune, but was not getting correct and authentic information. After receiving preliminary information on Sasoon Hospital is authorized for this, I started searching for confirmation from Central Government Websites about the same.However since the
list available at website of "Ministry of Health & Family Welfare"
by Central government showing authorized yellow fever vaccination is
still not updated to include Sasoon Hospital, Pune center, So I was confused and wanted to get confirmation from authority.
So I dropped a mail to Appellate Authority "Suchita Shetty" Of Chhatrapati shivaji International Airport, and I must appreciate the prompt response in half an hour with a telephone call from her office confirming that Sasoon hospital is authorized yellow fever vaccination center 🙂 Bravo !! Her office also sent written email confirming the same.
I must must appreciate such a quick and precise response from Suchita Shetty's CSIA Mumbai Office.
So
Good News is Yellow fever vaccination in Pune Sasoon Hospital is now authorized Government Of India Accredited vaccination Center

, so Pune people need not goto Mumbai !
---
Update 23 March 2018: Thank you Sudarshan for giving update on Online Yellow Fever Vaccination booking
Online Appointment Booking

For Yellow Fever Vaccination
–>
Click here
Also, even on successful payment, the website may show error page, but just go to provided link & login again, it would reflect the successful appointment in 'Appointment History' screen.
---
Update 5 March 2018:

Thanks to Shital for informing through blog comment that the Yellow fever vaccination will be

valid for lifetime

The World Health Organization announced that as of 11 July 2016, existing and new Yellow Fever vaccination certificates are valid for life. Countries can no longer require travellers to show proof of re-vaccination or a booster dose as a condition of entry. Travellers should note that this new regulation may not be honoured by all border authorities during the transition phase.
---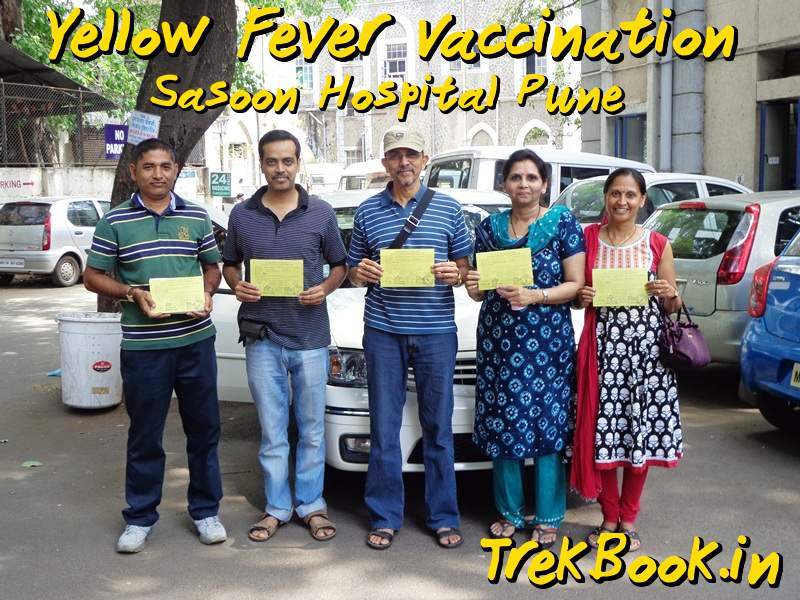 Sasoon Hospital Pune – India – Yellow Fever Vaccination Center
Sasoon hospital center has maximum intake capacity in a day for

30 persons

Vaccination is done only on Monday's

[Now on Tuesday's too, update 17 May 2016]

Thank you to "Girish Umarkhedi" Sir for providing update on 02Nov 2015

Now maximum intake is not limited to 30 they take it in order of 5 as the medicine box contain 5 veils.today there were 45 of us and another 46th man came so they asked to pay money of all 5 veils or wait until more 4 people come
Required documents
Carry original passport + 2 Xerox copies of passport
(one to submit at Sasoon Hospital and other at Kalawati Mavle Hospital)
** Note : Update from Dr.Parag Mahajan on 8 Apil 2017 : "For diabetic patients (if you declare it !) they ask for recent blood sugar report before giving yellow fever vaccine. One of my contacts was sent back as she did not have this report with her"
Charges for Yellow Fever Vaccination
310 Rs per person
This Certificate becomes valid 10 days after vaccination and lasts for 10 years. You will need this card as proof of vaccination to enter certain countries.
Note : This is general guideline and you MUST check specific country immigration website to check how many days vaccination shall be done.
Follow these simple steps when you reach Sasoon Hospital
Sassoon  hospital enter  through  main gate
Enter inside the main building
8 am  : At any of registration windows, provide your name + address with reason "yellow  fever vaccination" , Here pay 10 rs per person
Get your registration form
Immediately move on to room no. 80 & get your token for yellow  fever (This can be done in parallel by someone else)

Aakash did vaccination on 28 Dec 2015, he gave good suggestion of going to room no. 80 first & collect token number, later to goto registration window, this will give you advantage of early number. Also as per his information one person can get two registration token numbers

Now go for breakfast at B J Medical college canteen (good  food quality)
or take your own bk fast (but it is must before vaccination)
9 am – yellow fever vaccination begins at room no. 80
Return again to room 80 & wait for your tern (They will call as per token number)
They will first record your data & send you to windows no 52, pay 300 rs per person at this window as vaccination charges, get receipt.
Return back to room no. 80 & have your vaccination done
Wait for half an hour to observe any side effects
Till that time your Internationally valid yellow fever certificate  will be ready
Aakash did vaccination on 28 Dec 2015, he has informed not to consume alcohol for a week after vaccination.
Yellow Fever Vaccination Task over in @3 hours
( Time taken from 7.45 am till 10.30 am for 5 members)
Yellow fever international certificate Sasoon hospital India front page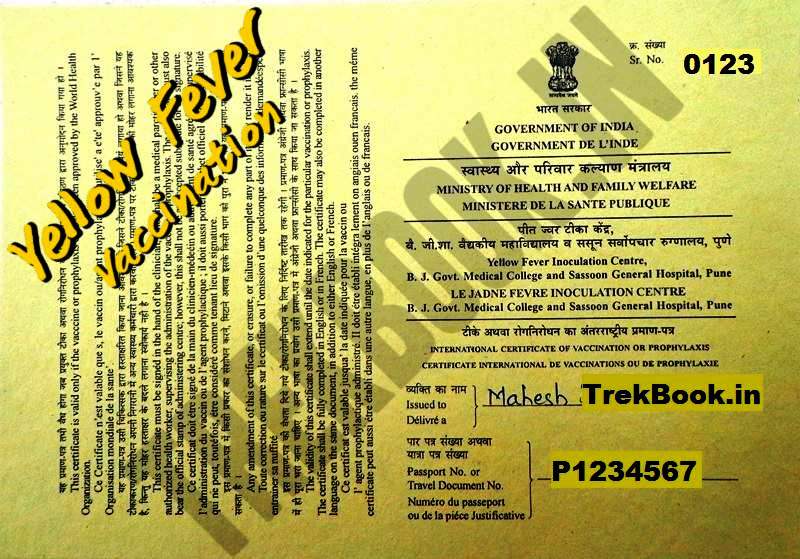 Yellow fever international certificate Sasoon hospital India back page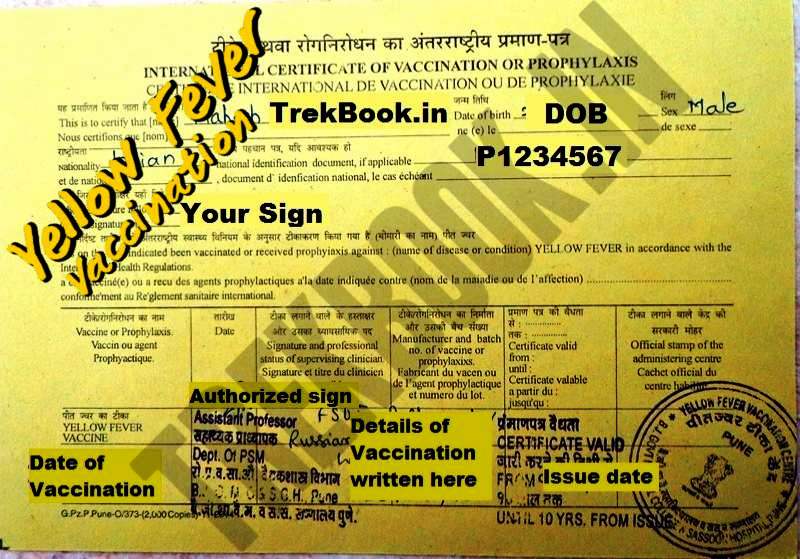 As Indian residents travelling from India to the seven polio infected countries are required to receive a dose of OPV at least 4 weeks before travel, regardless of age and vaccination status.
Next step is to get Polio Vaccination done
Indian Government has made polio vaccination mandatory for seven countries
Afghanistan
Nigeria
Pakistan
Ethiopia
Kenya
Somalia
Syria
Polio Vaccination Centers for International Travelers travelling to Polio endemic Countries 
Pune, Maharashtra, India Authorized center
For Pune three hospitals are authorized by government
1) Civil Hospital, Aundh, Pune
Phone – 020-27285432/27285937 Dr Nandapurkar A.B.
2) Kalavati Mavle Hospital, In front of "Narayan Peth Police Chowky"
Narayan Peth Immunization Centre 283, Narayan Peth, Pune – 411030
Phone 020-24487700/9689931102 Dr Milind Khedkar
3) Yashwantrao Chavan Memorial Hospital, Sant Tukaramnagar, Pimpri-18
020-67332222 Dr Manoj Deshmukh
We went to Kalavati  Mavale  Hospital for polio vaccination
At this hospital the vaccination process polio dosage took just 1 mins (Free of cost),
Aakash did vaccination on 28 Dec 2015 and he has informed "Dont eat drink anything upto 1 hour after polio vaccination"
Kalavati Mavle hospital google co-ordinates 18.514907, 73.846851
Polio vaccination international certificate India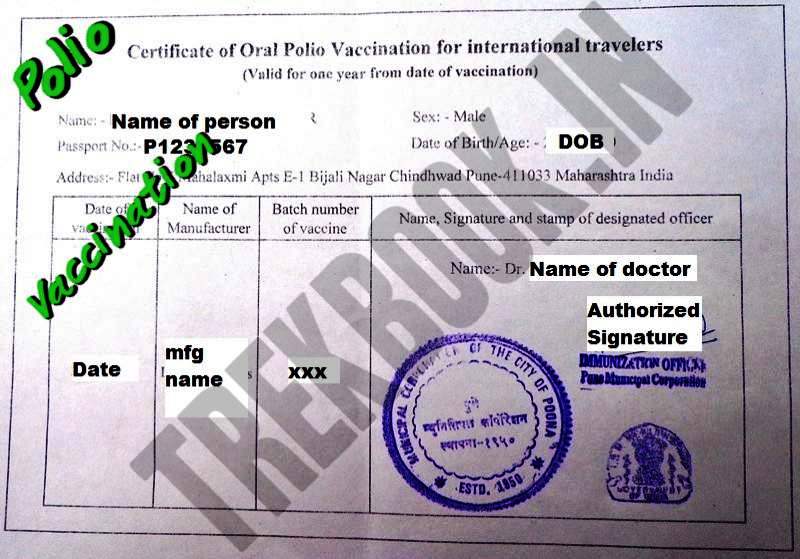 Map to Kalavati Mavle Hospital from Sasoon Hospital, Pune