Kalsubai Trek was FONA's 50th trek celebrated on the highest peak in Maharashtra …. to salute Sahyadri mountain ranges by reaching top of the mountain Kalsubai, India.Excitement was overwhelmed and Mandar booked two buses with capacity of 72 people, registrations kept on rushing in and more than 30 people were waiting ! so final call was to go ahead with two buses only due to the time constraint and difficulty in managing more strength at a time …
We started from Chinchwad at around 11.30 pm and went to village Bari via Sangamner.(Travelling via sangamner was wise decision by Mandar since on the return journey we tried shortcut which was extremely bad !) Reached Bari at around 5 am and started climb at around 7.30 am (after tea and bk fast) all members could reach the peak in 3 hours (cloudy atmosphere helped us though)
Climbing is not that difficult, due to the fact that ladders are laid down at all difficult rock patches …
Descending time was less than 2 hours …
** the most important incident in this trek **
When we left the highway at Sangameshwar and turned towards Baari road … I told Mandar to keep an eye on road, since the past experience shows that animal sighting is a possibility at night travel .. Mandar casually said that here we can have sighting of Rabbit 🙂 .. in just few minutes it was beginning of first Ghat section … few houses were there and suddenly we could see big cat "leopard" inside a sugarcane farm !! by the time we realized that its leopard the bus has crossed down at high speed and there was no point in going back to check whether leopard was still there !!!
I think a lesson can be learnt in this to keep ur eyes wide open (f u r not able to sleep at night travel) on small roads where u r far away from the highways …
Team FONA at the Kalsubai trek
 Mandar providing instructions to all (specially new comers) – group at the base village Bari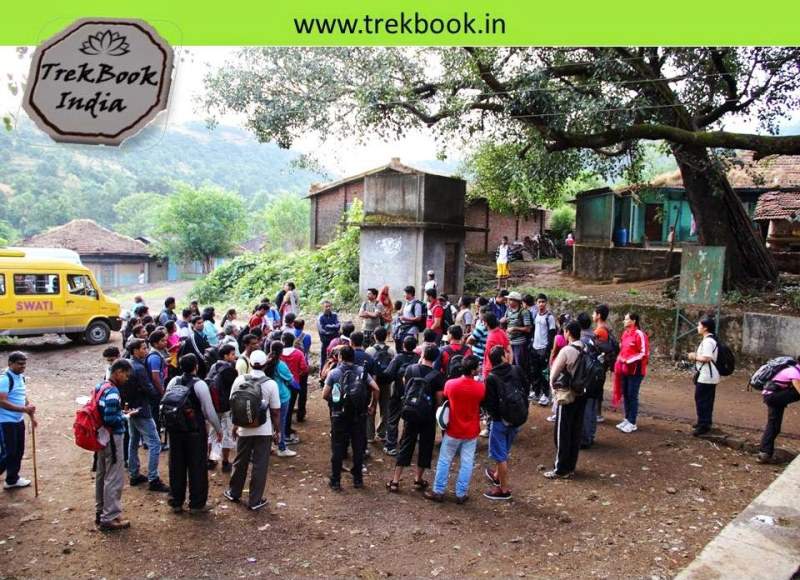 Hanuman temple in village Bari – spacious  enough to accommodate a big group during Kalsubai trek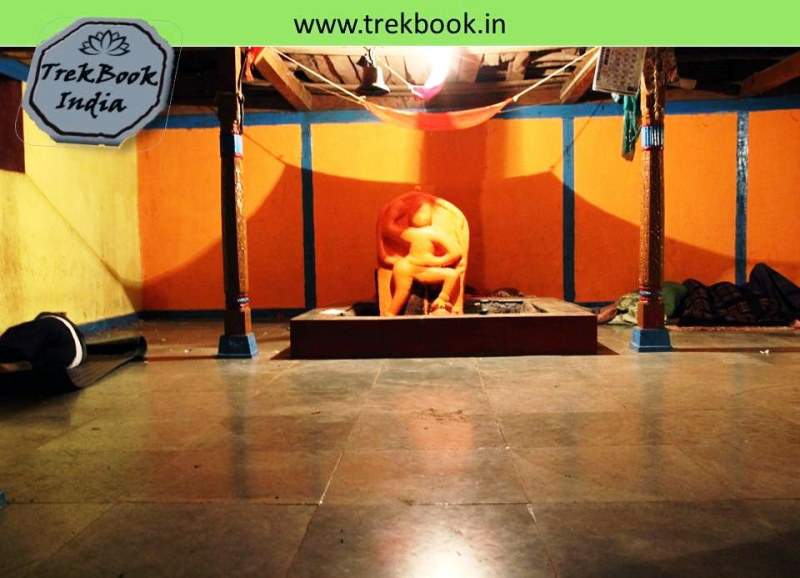 Morning tea with beautiful village view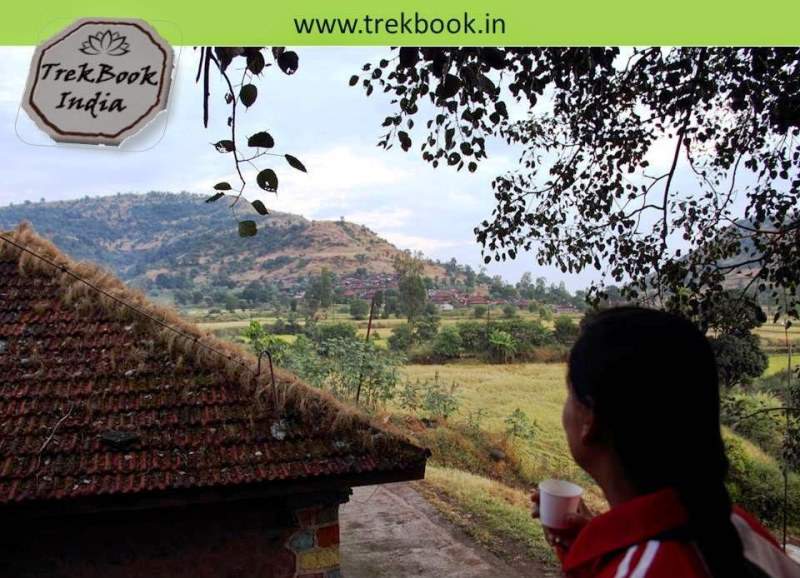 Ladders on the way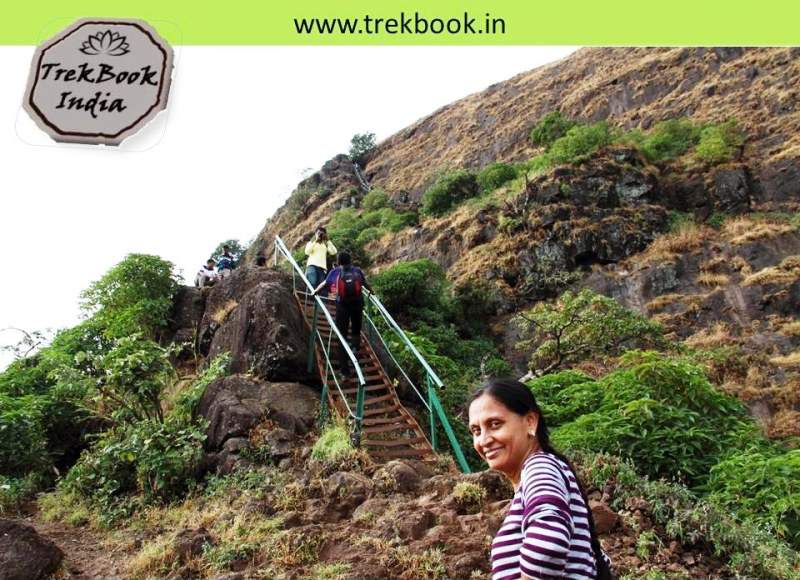 Reached mid way .. enjoy mesmerizing views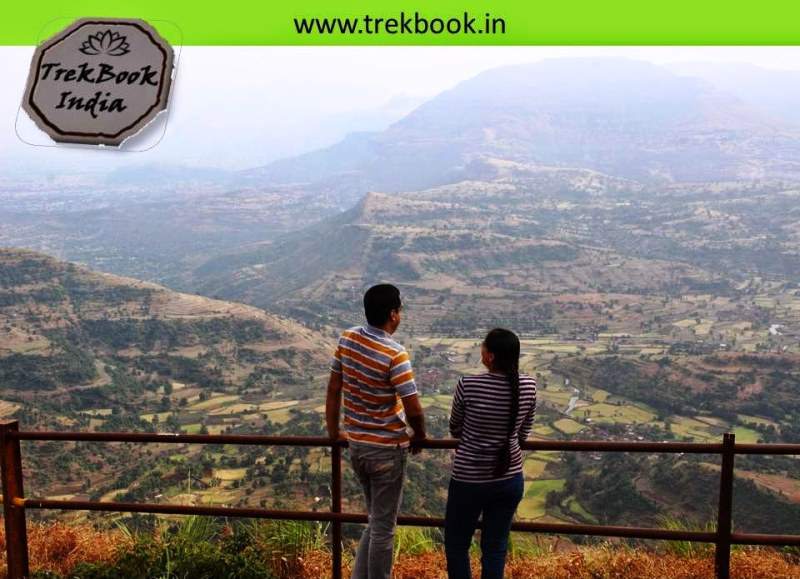 Have Ninbh-Pani on the way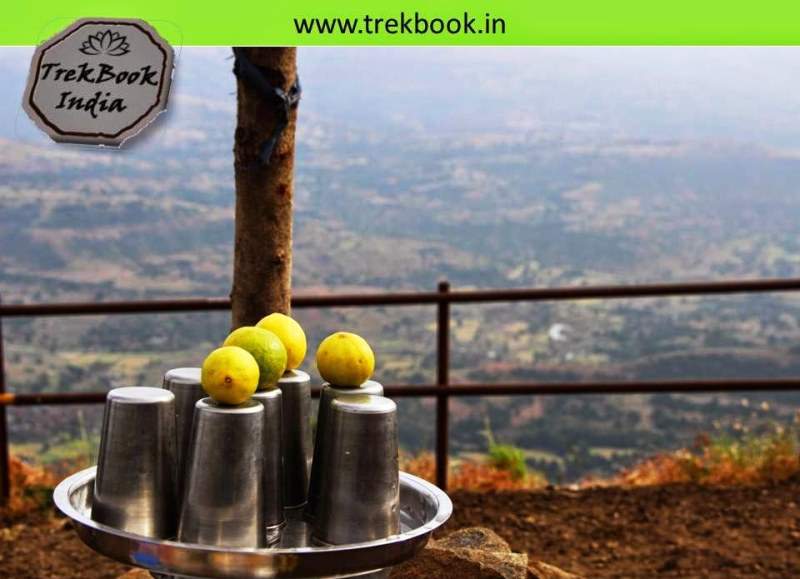 As said, beware of reptiles .. watch carefully before you want to take rest
Winning couple 🙂 .. with my love on fort top
Goddess Kalsubai (asked the local villagers, however no reliable information received about the goddess history)
Remains in front of temple .. not sure which time this temple was built
Magnificent views from the peak Kalsubai [Vilsan dam back water]
Kalsubai trek difficulty level
Medium
height is 5400 feet,
Time to reach is around 3 hours to climb from base village Bari
What to see !
Sunrise from the peak (It is said that in 1860 Mr. Arch DiCken Gale climbed Kalasubai peak at night and mesmerized by the sunrise. He mentioned Kalasubai as the King of Deccan Hills)
East, Aundha, Vishramgad, Bitangad
West, Alang, Madangad, Kulang, Ratangad (south west)
South,  Pabhargad, Ghanchakkar, Harishchandragad
North, Ramsej, Harihargad, Brahmagiri, Anjaneri, Ghargad, Bahula, Tringalwadi, Kavnai
Place to stay/take food & water
Water – available in a small well which is situated  just before the peak, also villagers sell mineral water all along the way !
Food and stay – You can stay at base village, I have added mobile contact number of villager for you in this post.
Kalsubai tea center, Samadhan Khanawal, Shravan Khade 9921182430  (food and stay)
Kalsubai tea center, Dharmaveanawal, Santu Khade 9923442273 (food and stay)
Ample parking place is available
You can stay in the Hanuman temple in the village, if you need good stay Samadhan Khanawal (located before entry on village) is better option.
Location (Akole Taluka of Ahmednagar district)
Google coordinates 19.601111, 73.709167
How to reach
1) Own car – Drive down to Bari (via Sangamner, see google map below)
2) ST bust from Igatpuri to Pune bus – Bari (departs at 5 am) reaches Bari in 45 mins
3) Local transport such as jeep can be hired from Sangamner
Use proper trekking gears for this trek
Carry sufficient amount of water, I recommend at least 2.5 liter per person, being humid it sucks your energy (although you get water sold by local people on the way, as a good practice carry your own water)
Snakes are seen around the route hence precaution is necessary when you wish to sit around and rest
Map to Bari  via Otur
(Although this route is shortcut to Bari, do not follow this route since too much narrow roads, if you are travelling by small bus it take too much time as well as roads are not good)

Recommended route to Bari is via Sangamner (although it is 208 kms road is broad and comparatively good than the previous map Otur route)


Places to see nearby…