Located just 180 kms from Pune there is beautiful village called as Velas, now a days coming in limelight due to Turtle festival …So, I decided to head down to Village Velas last Sunday ….
And the experience to the sea village was wonderful .. warm & caring people .. taking care of the tortoise babies as well as you 🙂 u get to taste authentic Konkani food and if u r lucky then watch the new born turtle babies ….
Villagers are aware now that they shall protect sea turtles and welcome them .. they keep the sea shore clean by group effort .. though much more work has to be done with help of government organizations ..
Update 8 Feb 2019: Velas Turtle Festival 2019 Dates are as follows :
Organizers

"Sahyadri Nisarga Mitra"-Chiplun

and

Velas village Gram Panchayat

Batch 01 :
10th-11th March 2019 (tentative)
Batch 02 :
17th-18th March 2019 (tentative)
Batch 03 :
24th-25th March 2019 (tentative)
Batch 04 :
29th-30th March 2019 (tentative)
Batch 05 :
30th-31st March 2019 (tentative)
Batch 06 :
31st March-01st April 2019 (tentative)
Batch 07 :
07th-08th April 2019 (tentative)
Batch 08 :
14th-15th April 2019 (tentative)
Looking at the sunset from Velas entry road .. I could get this snap accidentally ..
there is tree line in between water and sea beach ..
another beautiful snap shot of sea ..
and one more ,,,
Someone having evening walk on the sea beach
and someone i met on the way to beach
People behind the scene –


Sahyadri Nisarga Mitra (SNM) by Vishwas Dattatray Katdare is working on education and conservation of sea turtles and sea birds along the 720 kms of sea coast of kokan.


At Velas Mohan upadhyay, Vaibhavi joshi, Virendra Patil & Sameer Mahadik, who are local volunteers deeply involved in the turtle development program, as a part of that they check progress of turtle eggs twice every day, keep villagers aware of happenings and teach them preservation, guide to tourists and so on. This drive has been started 12 years back and now taking some shape, traditionally local people used to eat tortoise eggs or sell it, through education now they are aware and keep an eye on hatch and move the same to central location where it can be preserved and taken care of.
Mohan mobile number 8888138310 (latest number from Mohan)
Mr. Mohan Upadhye 02350 220304/8983767388/ 8975622778. (Time:8:30-9:30 AM OR 7:30 – 9:30 PM) – reference from http://www.snmcpn.org/
Virendra Patil mobile number 9822639811
Mohan and Vaibhavi
Another tortoise friend Virendra
Morning inspection by Virendra
Breeding season for 2015 (Velas sea beach – Kokan – Maharashtra)
The next breeding is supposed to happen on 26 Feb 2015 onward continuing W1 March till W4 March 2015
* Update from Virendra Patil sir — best dates 27-28 feb, 14-15 march 2015
Turtle eggs inspection timings (Daily)
Morning 7 am
Evening 6 pm
Turtle eggs hatchery location
At the sea shore of Velas (easily identifiable – see photos)
Way to the sea beach will take at least 10~15 mins walk from the main road
Get over the river bridge at the end of village and turn right to this walk way
Eggs are identified and tagged in this location, care is taken to protect them from external attacks (plants and animals as well as humans)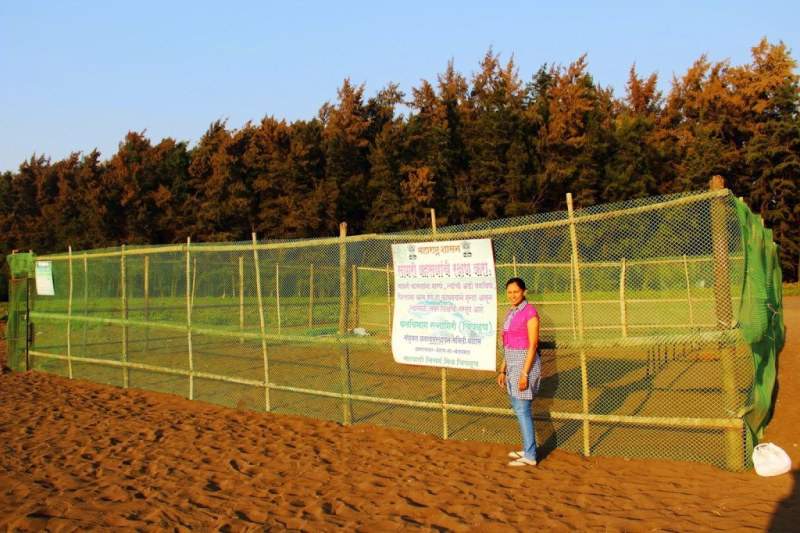 Sea egles nesting in Village velas (as per Mohan it will be there for next 40 years)
Nana Phadanvis Samadhi at village center
The catch at sea of Velas
Velas sea shore is rocky and depth of water is high, hence it is not recommended to enter into sea water
Approach road to Velas is through Bankot village is very narrow & sharp turns, be careful while driving.
Approach road from main Goa highway is in bad condition, make sure that you have your spare tyre in good condition as well as no issues to your vehicle
No mobile range available inside village, IDEA range available if you move on to sea shore
During return journey from hatchery (sea beach) recommended to carry a torch (no street lights in village)
Do not litter plastic on sea beach, remember that this is conservation site, in fact try to carry back plastic from the beach (if found)
Do not carry sea shells or any thing back .. try to maintain integrity as laid by nature there. (this is not a beach for your picnic)
Where to stay :
Home stays at Velas
How to reach :
Bus timings
Bus timings for Velas
If you stay at Laxmikrupa home stay you will be able to see all local spice plants, MR. Amol Soman is interesting personality (MBA by qualification returned to Velas from Mumbai, you can contact him on 02350-220279 or 9403574183) – please refer to my next blog post for details of this home stay
On the way back from Velas you can have a stop at swayambhu shankar temple at Devhare village.
Devhare – Google co-ordinates 17.972803, 73.16915