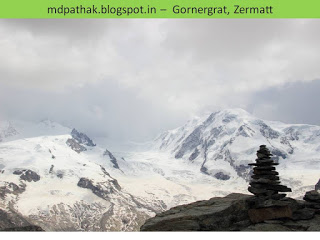 When we reached hotel adonis .. the room was to be ready for us (checkin time was 2 pm and we reached early) .. so the luggage we kept in the locker room of hotel .. the reception lady suggested us to visit Gornergrat to have nice view of Matterhorn and look around at top for beautiful views .. there are other points too .. but we had only half day to spend and this was the right choice ..
so we walked back to the railway station .. and had our lunch on the way ..
the lady also guided us to have seat on right hand side to get good valley views … I found it very useful afterwards 🙂 so 10 on 10 marks to her 🙂
firstly we bought ticket for us for 88 USD for two persons ..(half fare since we had swiss travel pass)
then boarded a train towards Gornergrat .. nice train colour indeed …
photographed the mountain matterhorn .. with beautiful hoses in the front …
zermatt view with matterhorn in the background…
on the way to gornergrat .. magnificent views and the ships .. these i saw first time during my travel otherwise i was so used to see the cows all around !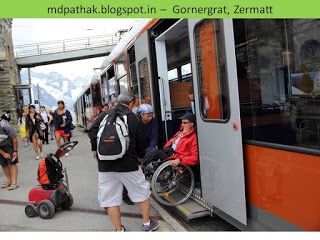 all around ur travel .. u can see that there is special provision made in all trains for the handicapped persons .. or disabled person … u can easily move in with the wheel chairs .. and for sure other people help ! including the ticket checker !!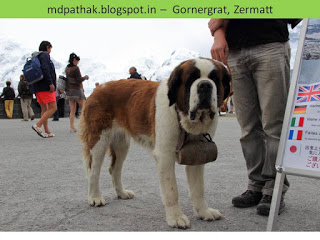 When we came out of the railway station ,.. the first thing we saw was the elegant dog.. life saver .. the owner allowed to have his dog photographed for free ! but if u wish to have photo of ur own with dog .u need to pay …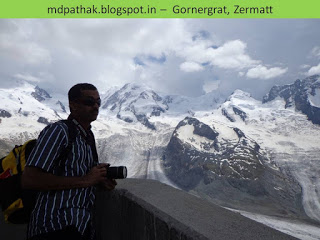 I am looking at the matterhorn .. while rupa captures me in the snow mountains background …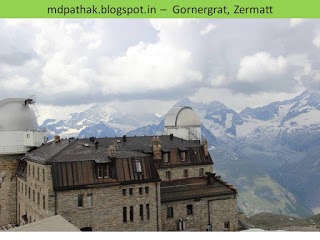 the whether station ..shop and hotel … at the top of gornergrat ..
u will become speechless … having the mountains .. all around .. one cannot have complete look around in one go … do spend some time … to capture the memories … remember from here tomorrow the journey started back to Zurich through Glacier express 🙁
Still getting the feel of mountains around … really when u r at gornergrat .. the views make u still .. thinking .. i don;t know is it because tomorrow we had to be on the way back to Zurich and back home .. or is it the mountain views ? i think the second reason was more meaningful for me ..can't help .. that's life ..
top point .. u can reach there from a small lift .. or simply walk around … gornergrat ..3089 meters….and u can see the matterhorn .. but half way disappeared in the clouds 🙁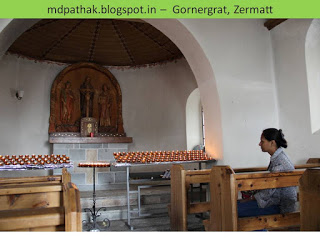 just near this point we saw a small and beautiful church .. couldn't;t resist to go in ..by the time we reached inside .. it started raining … so spent few minutes and decided to head back to the railway station ,,,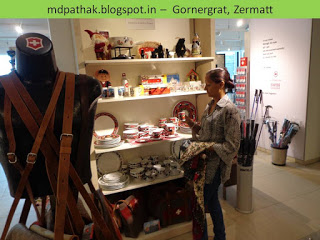 A shopping center at the top .. (now this is what I would call tourism .. at least i never though that someone would put efforts of putting shopping centers at the top of europe or gornergrat !!)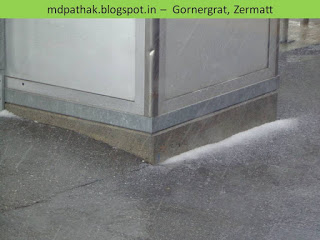 and by the time we boarded the train …. it started raining heavy .. in couple of minutes snow started gathering around the entry box … it was not snowing but having some hell stones in it causing this white border ….
after few minutes we started our journey back the rain disappeared giving us chance to enjoy the views again .. and shopping in the town …
this is the only post where i have tried to put photographs at the side of text .. this style i do not like much while i read blogpost from others .. but don;t know may be u like it ..if so please do not forget to put comments .. so that i understand ur preference :…
cheers !!
and if u wish to refer to the index page where u get links to all posts for my Switzerland trip then do visit ..
https://trekbook.in/2013/07/planning-trip-to-switzerland-from-india.html/