The important thing to note is while going from Montreaux to Vevey, train takes only 10 mins whereas bus takes about 30 mins ! I went by both the routes and will say that u go by both the routes just as fun ride 🙂
Once u reach to see the Lake Geneva … the first thing u can see is huge fork inside the lake ! not sure what is purpose of this .. but yep .. good spot to photograph .. but there was crowd .. so could somehow managed to take snap with only both of us with fork !
The famous Charlie Chaplin statue at the bank of Lake Geneva, Vevey
Near to the statue, we saw huge flowers and just inquired about it, we came to know that there is a food museum..so just entered into out of curiosity … entry to the museum is free if u r holding a swiss travel pass ..
inside the museum, one can see the food triangle ..
and its me 🙂
the utensils are on display wall … old burners .. stoves.. and many more things..
there was a cooking class going on for children .. all were interested and too busy in learning .. u can see no one is looking around 🙂
and the interesting thing to get down to a road side bazzar to get good bargains …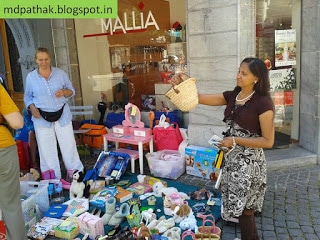 another snap of the road size bazaar, move on this road and u reach the beautiful lake, turn left and u can see the Charlie Chaplin statue ..
cheers !!
and if u wish to refer to the index page where u get links to all posts for my Switzerland trip then do visit ..
https://trekbook.in/2013/07/planning-trip-to-switzerland-from-india.html/