December 2018 – Season 13 [Dates to be declared by PMC]
Bhimthadi Jatra 2018 Pune
Bhimthadi Jatra Dates
December 2018
Time
10 am to 10 pm
Bhimthadi Jatra Location
New Agriculture College Ground,
Sinchannagar, Shivajinagar, Pune
Location co-ordinates
Google co-ordinates 18.543553, 73.841777
Official website
Bhimthadi Jatra official website
Remember
No plastic bags allowed
Entry Fee
20 Rs per person
Parking
FREE
---
Message on their official page :
Bhimthadi Jatra has come a long way in the past 12 years, and this year, we will be implementing some serious changes to control the quality of stalls and to get a new target audience with discerning taste and higher spending power.
Along with a complete structural face-lift, we will be conducting screening and interviews to narrow down quality stalls for the Christmas edition of Bhimthadi jatra.
Along with these steps towards a newer and better version of Bhimthadi jatra following are some of the steps taken towards a good change.
Bhimthadi Select, a special section of 20 stalls curated by Mrs. Pallavi Dutta comprising of artisans, craftsmen and designers working in the field of reviving and sustaining the traditional handlooms, handicrafts and other crafts of India.
---
In the Twelveth year of this festival … I am again delighted by having food delicacies from all over India (yes this time it is from all over India) … Yummy veg and non-veg varieties … plenty of options to choose from … Taste your buds with authentic home made food …
Youget typical Maharashtrian (and my favorite) Purnache Mande, Hurdyache dhapate Wangyache bharit (with Bhakari & Thecha) and yummy Kolhapuri and Malvani Konkani dishes too.
Since this is in Pune and I am not able to go daily (like I do so when it is held at Chinchwad called as Pavanathadi Jatra) if you are staying in Pune do not forget to get on to Bhimthadi Jatra ….
Prepared by Women Self Help Groups (SHG) you are sure to get the best out of rural flavors.
Not only from  Maharashtra, but from Karnataka, Delhi, Tamil Nadu, Kerala, Rajasthan, Madhya Pradesh, Assam, West Bengal, Uttar Pradesh, Jammu, Goa, Bihar, Haryana, Gujarat, Uttaranchal and Orrisa are also part of this fair 🙂
Bearing aroun 90 food-stalls and 250 stalls of different items like Godhadi, handlooms which will enhance your food experience by adding flavor of shopping too 🙂
If you remember playing games like lagor, sagargote, kacha-kavadya, jibali and want to show them to your kids, this is right place to do it, Enjoy traditional games at Bhimthadi Jatra.
Further for those who has spent their childhood at villages and want to give a flavor of that to their children show them  bara-balutedar setup in a small village at Bhimthadi.
Its a complete entertainment package with Folk artist demonstrations like Waghya-Murali, Vasudeo, Pingala Nandibail and Potraj.
 So as I rightly said .. although main aim is food … this is right change to make a MEGA weekend … of spending holidays with your friends, family & relatives at Bhimthadi Jatra …
Here is a video shot by me during this food festival – interesting to see how they make such large Puran Poli easily
MEGA entrance- Shrimant Babuji Naik Entrance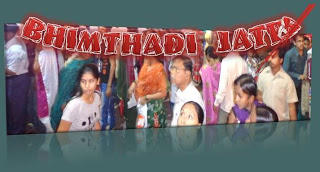 Location map Bhimthadi Jatra Pune
Summary
Reviewer
Review Date
Reviewed Item
Author Rating