Bhimthadi Jatra Pune has made considerable progress in the previous 15 years, and this year, we will actualize some genuine changes to control the nature of slows down and to get another intended interest group with recognizing taste and higher spending power. This years Bhimthadi Jatra to be held on 25 Feb 2021 To 28 Feb 2021 
Alongside a total basic cosmetic touch up, we will direct screening and meetings to limit quality slows down for the Christmas release of Bhimthadi jatra.
Alongside these means towards a more current and better form of Bhimthadi jatra following are a portion of the means taken towards a decent change.
Bhimthadi Select, an exceptional segment of 20 slows down curated by Mrs. Pallavi Dutta involving craftsmans, experts and architects working in the field of restoring and supporting the customary handlooms, handiworks and different specialties of India.
Highlights of Bhimthadi Jatra 2021 – 25 Feb 2021 To 28 Feb 2021 
– Participation of Women entrepreneurs from Afghanistan
– Turnover of about 2 crore Rs
– Participation from 14 states and 18 districts of Maharashtra
Bhimthadi Jatra Pune timetable for 2021
25 Feb 2021 – 4 PM onwards
26 Feb to 28 Feb 2021 – 10 AM onwards
Bhimthadi Jatra Stall Booking Phone umber +91 90672 78327
email : enquiry@bhimthadijatra.com / mobile number : +91 90672 78327
नोंदणी वेळापत्रक
भीमथडी जत्रा स्टॉल बुकिंग सुरु होत आहेत. बुकिंग साठी फोन करा: +91 90672 78327
ईमेल: enquiry@bhimthadijatra.com / मोबईल नंबर: +91 90672 78327
Bhimthadi Jatra Pune [2021 – Season 16] 25 Feb 2021 To 28 Feb 2021 
Bhimthadi Jatra Dates

25 Feb 2021 – 4 PM onwards

26 Feb to 28 Feb 2021 – 10 AM onwards

Time
10 am to 10 pm
Bhimthadi Jatra Location
New Agriculture College Ground,
Sinchannagar, Shivajinagar, Pune
Location co-ordinates
Google co-ordinates 18.543553, 73.841777
Official website
Bhimthadi Jatra official website
Remember
No plastic bags allowed
Entry Fee
xxx Rs per person
Parking
FREE


Festival Program Schedule
25 Feb 2021 – 7 pm onwards
Performance by Sufiyan Malik – Kashmiri Musician
26 Feb 2021 – 7 pm onwards
Tridhara by AabhaAuti and Hrishikesh Pawar
27 Feb 2021 – 7 pm onwards
Performance by singer Kavita Seth
28 Feb 2021 – 7 pm onwards
"Abhanga repost" – Marathi Abhangas in Jazz form
In the Twelveth year of this festival … I am again delighted by having food delicacies from all over India (yes this time it is from all over India) … Yummy veg and non-veg varieties … plenty of options to choose from … Taste your buds with authentic home made food …
One of Pune's greatest social occasions, Bhimthadi Jatra — a four-day reasonable that goes for conquering any hindrance amongst rustic and urban India through an interface that enables the city of Pune to associate with town networks crosswise over Maharashtra
Youget typical Maharashtrian (and my favorite) Purnache Mande, Hurdyache dhapate Wangyache bharit (with Bhakari & Thecha) and yummy Kolhapuri and Malvani Konkani dishes too.
Since this is in Pune and I am not able to go daily (like I do so when it is held at Chinchwad called as Pavanathadi Jatra) if you are staying in Pune do not forget to get on to Bhimthadi Jatra ….
Prepared by Women Self Help Groups (SHG) you are sure to get the best out of rural flavors.
Not only from  Maharashtra, but from Karnataka, Delhi, Tamil Nadu, Kerala, Rajasthan, Madhya Pradesh, Assam, West Bengal, Uttar Pradesh, Jammu, Goa, Bihar, Haryana, Gujarat, Uttaranchal and Orrisa are also part of this fair 🙂
Bearing aroun 90 food-stalls and 250 stalls of different items like Godhadi, handlooms which will enhance your food experience by adding flavor of shopping too 🙂
If you remember playing games like lagor, sagargote, kacha-kavadya, jibali and want to show them to your kids, this is right place to do it, Enjoy traditional games at Bhimthadi Jatra.
Further for those who has spent their childhood at villages and want to give a flavor of that to their children show them  bara-balutedar setup in a small village at Bhimthadi.
Its a complete entertainment package with Folk artist demonstrations like Waghya-Murali, Vasudeo, Pingala Nandibail and Potraj.
So as I rightly said .. although main aim is food … this is right change to make a MEGA weekend … of spending holidays with your friends, family & relatives at Bhimthadi Jatra …
What is Bhimthadi Select?
The 'Select' is a unique segment of 20 slows down, involving craftsmans, experts and architects working in the field of resuscitating and managing customary handloom and handiworks. Mold architect Pallavi Dutta, an outstanding name in the form business, is the keeper of the 'Select' segment. "We might want to help supplement the pay of ranchers, who are generally overlooked in the hustle of regular day to day existence.
India is a nation with a wide canvas of innovativeness and through Bhimthadi Jatra, we might want to advance that. Creators and NGOs from urban territories have worked as a team with craftsmans from towns, helping them with specialized know-how and funds to make these handloom items. Every one is not the same as the other. These fashioners are from everywhere throughout the nation, giving the occasion a Dish Asia season," Dutta said.
There will be a wide assortment of reasonable and ecofriendly form in plain view that incorporates both western and Indian styles. This is an undertaking to focus on the minimized commitment of ladies craftsmans specifically who advantage from this stage.
Set up in 2006 by the Agricultural Development Trust, the Jatra additionally has an area for neighborhood healthy cooking from all finished Maharashtra. There will likewise be a 'petting zoo' for kids and their folks, live shows and an insect showcase.
Here is a video shot by me during this food festival – interesting to see how they make such large Puran Poli easily
MEGA entrance- Shrimant Babuji Naik Entrance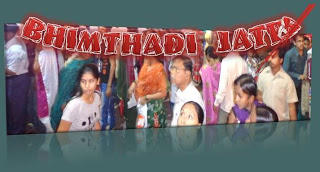 Location map Bhimthadi Jatra Pune