Nana Phadnavis (12/03/1742 to 13/03/1800)
The Nana Phadnavis Wada [1780] built over the ghat of river Krishna, today it is maintained partially, whereas most of it is in ruins.
Part of the wada is maintained well and you will be able to see it from inside.
There are corridors on the upper floor lined with teak wood fine work. Also you can step through concealed stairway in the thick walls directing out as escape route.
More or less at least this wada is maintained clean from inside, since maintained by someone .. however as I said in my previous post .. unfortunately places outside wada are not so clean … near to this place at 300~400 feets is location where the Song :Hud hud Dabangg" shoot from the movie "Dabangg" took place … however that place is also not so clean (i mean to say dirty)
There is an ancient tree, [as old as the Wada] In the movie Swades, the village Panchayat is hold on the stone platform around this tree.
Visiting this heritage of Maharashtra, you will get a feel of what could be there during the Peshwa era !
Timings :
The "Wada" remains closed from 1 to 3 pm for visitors.
Entry Fees:
Entry is FREE
Caretakers of this private property provides a tour of "Wada"
You need to remove your footwear to enter the premises.
Note : Being a private property so no video shooting is allowed.
Address
Menawali, Maharashtra 412803
Nana Phadnavis Wada, Wai, Menavali [Wada is a traditional mansion typically in Maharashtra, India ]
Side view of remains of wada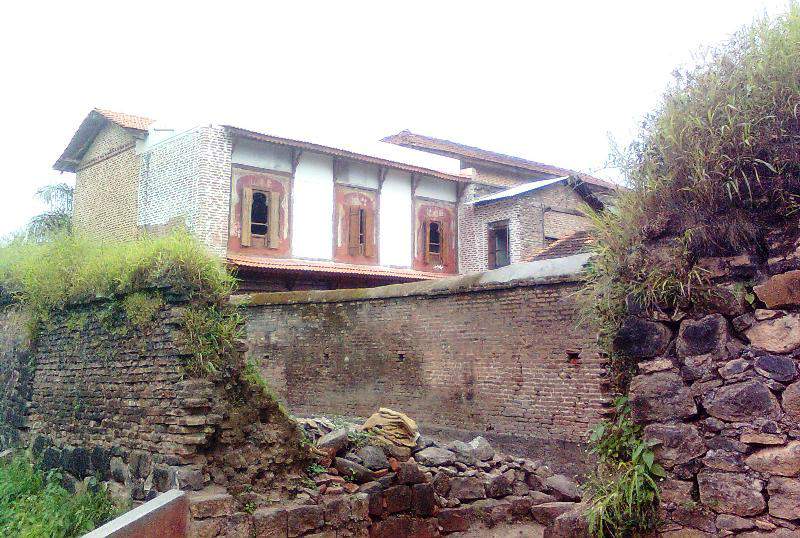 Front view of remains of wada
The "Darbar" hall has an attached bedroom with a teak wood bed. The floor here is swept with clay and cow dung in traditional way. Look at the legs of bed are kept on pot made of stone in which they used to put water which then prevents insect's entry .. so have nice sleep .. good night 🙂

An information board outside Nana Phadnavis Wada, showing details about birth & his life.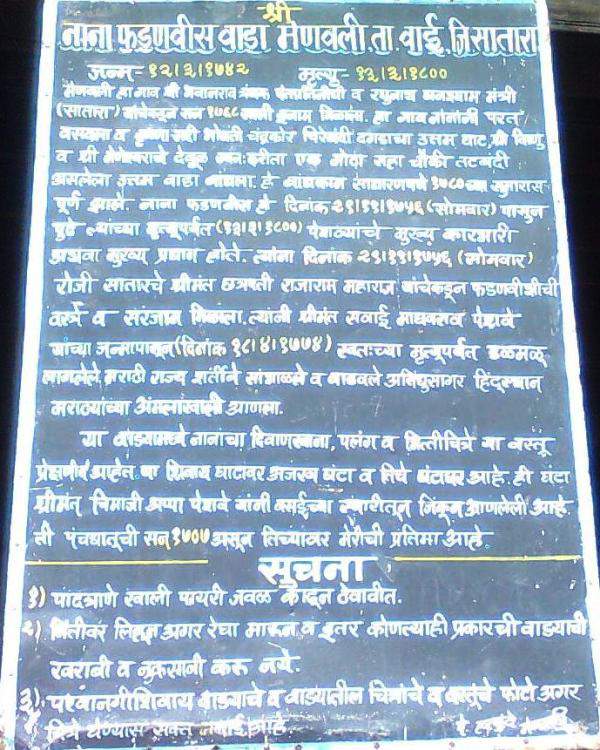 List of Bollywood movies shot at Nana Phadanvis Wada Menavali
Yudh (Jackie Shroff/Tina Munim)
Mrutyudand (Madhuri Dixit)
Goonj Uthi Shahnai
Jis Desh Me Ganga Rahata Hai (Govinda)
Ganga-jal (Ajay Devgan)
Sarja (Ajinkya Deo)
Swades (Shahrukh Khan, Gayatri Joshi)
Also movie The Rising: Ballad of Mangal Pandey : Scene  "Mangal Mangal" song during the credits was shot at this location.