I visited Phansad Wildlife Sanctuary and the experience was great 🙂 its real dense forest .. u can drive in the car long way .. but obviously then u can not see a single animal then !! due to the engine noise, and guess right I did use my car and could not see any animal !! ha ! ha !!! but I wanted to hv quick & deep look so as to plan for the next visit for staying there in tents or the bamboo house.
Latest update (Feb 2019) on contact numbers for Forest guard of Phansad Wildlife Sanctuary – shared with me by one of the blog readers 🙂
Mr NAIK 9225566024
Mr. Temkar is in the position of Forest Guard now and you may contact him at
08983098110 and 0927370957
phone no. update as on 14/04/2014    +91 9225 566 024 
Mr.Temkar's no is changed to 9273709574 (14/11/2014) – Thanks to Anish for update
Location
its located ~ 150 kms from Mumbai & 150 kms from Pune too :-)its on Murud – Roha road
What to see
And as I could get the preliminary information, the forest is known for the presence of Leopard. As well as u will find wide variety of flowers, butterfly, Heyena, Jungle cat, Palm civet, Sambhar, Barking deer, Bonnet Macaque, Wild boar , giant squirrel, 164 types of birds (including the interesting Pied hornbill, Three toed Kingfisher, Malkoha, Pitta), 90 species of butterflies (including Common Map, Black Prince, Nawab, Blue Mormon), 27 species of poisonous and non poisonous snakes, 718 types of trees !!! amazing !!! make sure u visit it with at least one stay, so that u will be able to see forest in early morning and night time with the help of forest guards.( refer to phone numbers in the blog post end)
Phansad wildlife sanctuary 
 It was hunting reserve of Janjira state, prior to 1948 this was game sanctury. It has uniqueness of vegetation normally associated with high altitude and inland areas, it ranks high among biodiversity hotspots of the Western Ghats ecosystem
Formation – 25 Feb 1986
Controlled by – Wildlife Division, Thane
Good time to visit
November to March is the best time to visit the sanctuary when you can see the Migratory birds.
The best places for watching birds are Chikhal gaan, Phansad gaan and Savrat lake.
Its all weather destination.
Summers could get a little difficult because of the heat and humidity.
Stay / Accommodation
Limited accommodation available in this wildlife sanctuary.
Tents (Rent 500 Rs per night – can accommodate 4-5 people) – Fan, bed, bed sheets, toilets available
AC tents (2 nos) 1600 Rs per day
PWD rest houses
Inspection huts
You can also stay at Kashid (10 km) or Alibag or Revdanda
Tent Bookings for the guest house contact :-
Deputy Conservator of Forests, (Wildlife),
Thane Wildlife Division, L.B.S.Marg, Naupada,
Thane (West), Maharashtra India 400 602.
91-22-25402522Bookings for the tent or the bamboo house :- phone numbers
Mr. Harishchandra Naik 9270892679 or 09270251369 (Forest Gaurd – Phansad)Enjoy Local Food :
There is a "Mahila Bachat Gat" named as "Gavdevi Mahila Bachat Gat" which can provide pure Gavran food to you during ur stay. Gavdevi Mahila Bachat Gat is headed by Savita Naik which consists of 12 team members. 9225566024, 9270739879, 9270892679
Madhukar Naik, Bullock cart owner: 9273682692
Kadam family at Revdanda for meal arrangement: 9209218382.
Food
Local village mahila bachat gat operates a cantee
Homemade food, snacks and breakfast available
Non-veg and non-veg food available
You can taste local konkan cuisine
Can I take my car inside the Jungle ?
When I visited I took my car inside jungle, but now a days you can go by Bullock cart (500 Rs for 6 km and 300 Rs for 3 km) remember that the bullock cart ride will be quite bumpy, not recommended for old age senior citizens.
How to Reach फणसाड अभयारण्य
By Rail
Nearest railway station is Roha at 30-km on the Konkan railway route.
From Roha, state transport buses are avalilable.
By Air
Nearest Airport from the sanctuary is Mumbai.
By Road
Nearest Bus Stand is Alibag at 50-km from the sanctuary. Roha Bus Stand is 1 hour drive from the sanctuary.
Phansad Wildlife Sanctuary from Pune

Route 1:
Pune mulshi road from Chandani Chowk – Tamhini ghat – Kolad (Do not take left turn of Nijampur MIDC area) – At kolad, join highway and take left for Roha – After Roha, drive till Talekhar village – At Talekhar village, look for signboard of Phansad Wildlife Sanctuary on your left.
Route 2:
Pune Bangalore-Mumbai National highway – Drive towards Mumbai via expressway – Cross khandala – Take khopoli exit – Pen – Alibag (No need to enter in the city) – Take left turn for Naogaon/Revdanda – Cross bridge on creek after Revdanda – Take left after bridge- Drive for around 7-8 km and look for signboard of Phansad Wildlife Sanctuary on your right.
 Pune – Phansad Wildlife Sanctuary distance = 153 kms
Mumbai – Phansad Wildlife Sanctuary distance 138 km
View Larger Map
Entrance to the Phansad Wildlife Sanctuary
Map of Phansad forest displayed at the entrance
What you will be able to see there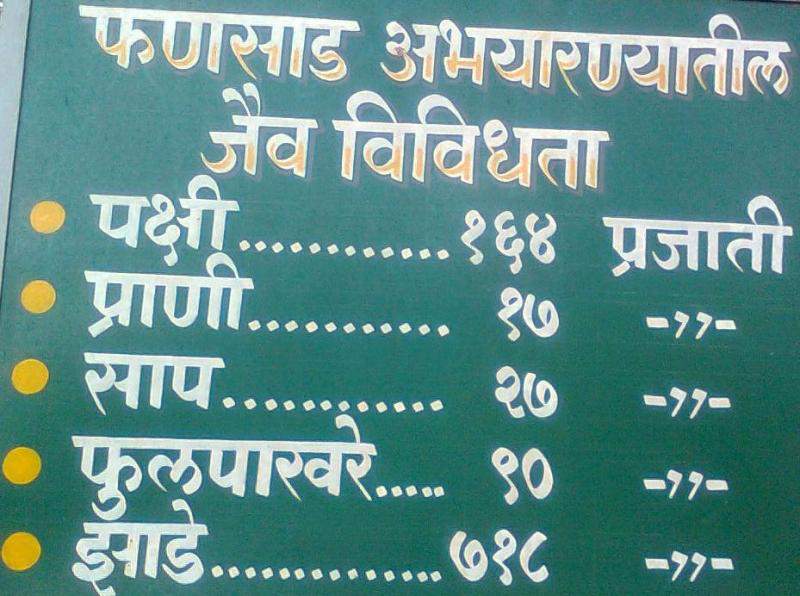 View from the observation tower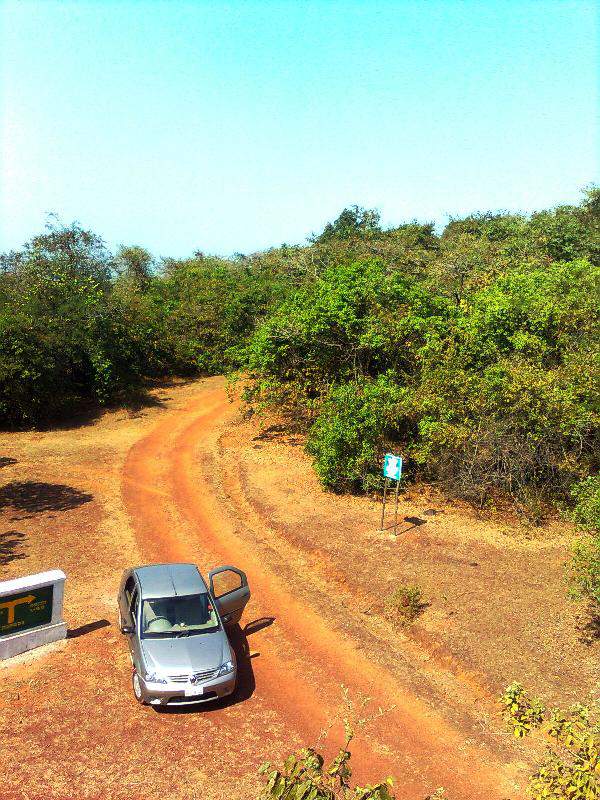 Aging !!
The shape !!!
Entangled !!!
Or the better option is this beautiful bamboo house
---
some more information can be found at :
http://www.indian-wildlife.com/phansadsanctuary.htm
They have launched official website for Phansad wildlife sanctuary – visit at
phansadsanctuary.com (However rescently this website is not working – as on Feb 2019)
for complete information on Revdanda & places nearby do read my post