Last weekend I had been to this place near Alibag, which is a small village place Revdanda.The sea beach there is pretty small.
I will be writing details of stay as well as other things, but as of now I will put quick view of what u can see in that area and add some glimpse photo's of place I saw there 🙂
Look at the freshly constructed beach sand sea fort at beach of Revdanda 🙂
Revdanda sea beach at a glance clean, calm and quiet (see no crowd at all !)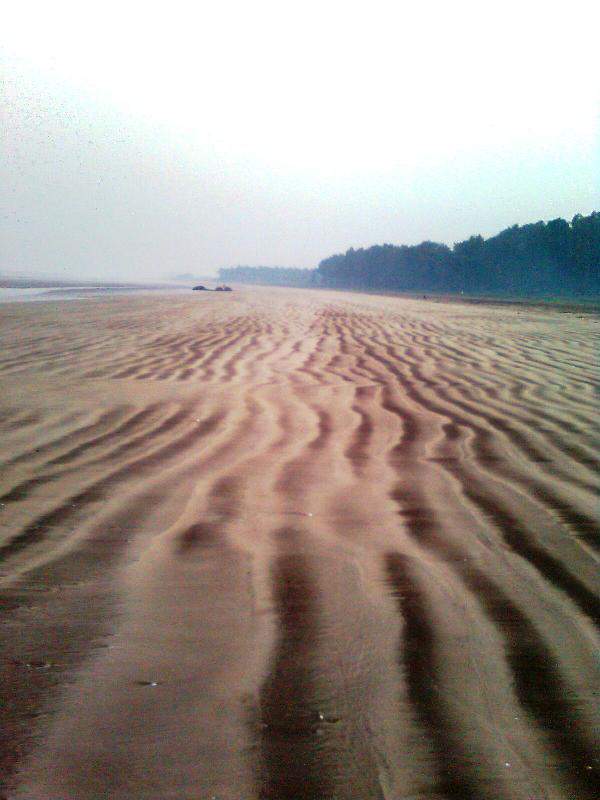 Sight seeing in and around Revdanda
1. Datta Mandir ( 3 Km )
Historical Dattatraya temple on hill in Chaul village. Has about 750 properly built steps. Can be approached from Hingulja devi mandir side. Hingulja devi temple is on a smaller hill and has 120 steps. From hingulja devi there is mountain path leading to Datta mandir. This is much simpler than climbing 750 steps of Datta mandir mountain. Take road via Hingulja devi for going to Datta mandir and come down by steps. This will be about 4 hours outing and reasonably strenuous.
A five days Yatra ( fair ) starting from Datta Jayanti day is a very important event for locals and for surrounding villages. The season during the period is very pleasant. The whole atmosphere is charged with yatra fever. This is some event every city dweller must visit once in a life time and enjoy the Yatra feel.
2. Daily Market
Typical village market near Maruti temple is a very interesting place to visit where fresh local farm produce are sold in the morning between 9 & 12 hours.
Fish Market
Runs in the mornings and evenings depending on the tide timings. You can have sea fresh seasonal catch.
3. Hingulja Devi ( 3.5 KM )
This temple is run and maintained by Bhansali community is situated on a hill which is a southern part of Datta mandir hill. 120 well built steps reach this temple. There are three temples and few other utility buildings. Bhansali community celebrates the temple festival annually on " Paush Pornima day ", the night fire works and a fair is attended by a large number of villagers & followers.
4. Sheetala Devi ( 3.5 KM )
Very old temple of Sheetaladevi, built by Peshawas & Angre families is a Gavdevi for locals. Renovated in 1997, this is a most important Gavdevi worshiped by all casts and religions. Tuesday and Fridays are special days for pooja. This temple is situated in the lush green coconut and supari plantations of Chaul. The road passes through plantations on both sides and journey itself is very pleasant. You can walk through plantations or go by car or riksha.
5. Rameshwar Mandir ( 1 KM )
Shankar temple in Chaul is an excellent specimen of Peshawa time architecture. Pushkarani ( temple lake ) in front is full throughout the year. It is a enjoyable swimming pool in monsoon season. All through the year temple festivals are celebrated with great enthusiasm.
6. Birla Mandir ( 4.5 KM )
Built by Grasim group near Vikram Ispat factory. This is a Ganesh temple of very modern architecture in white marble, situated on a small hill ( 130 easy steps ). This is a place visited by tourists from all around. The entire hill is a temple complex with beautiful gardens & fountains all around.
Visit this temple in the evening and enjoy the whole complex in floodlights. Temple is closed between 11 AM to 4 PM. Camera is not allowed.
7. Revdanda Harbor and nearby Beach ( 1 KM )
It is a very scenic spot whereby you can spend some time on way to Birla mandir. One Km. long bridge spans the Kundalika river which joins Arabian sea at Revdanda. You can have a nice view of Korlai fort, Revdanda fort, and curve in the sand leading to Revdanda beach and open sea.
You can watch fishing trawlers & iron ore barges going out or coming in from the sea. If you are a fishing fan, carry a hook & line. You can get some good catch from the bridge or from the rocks.
8. Revdanda Beach
This is a long stretch of over 5 KM of clean beach starting from Revdanda harbor with a green wall of coconut trees on Eastern side. You get an excellent view of sun set with color play in the sky which lingers far beyond the actual sun set.
Revdanda beach is very safe for sea bathing, however, avoid going in the water during low tide. Do check with us about the safe timings.
9. Korlai village & Church ( 4 KM )
The village is populated by Roman catholic East Indians & local fishermen. Korlai has a rich historical background dating back to 300 years during Portuguese rule. A village church and adjoining convent school are in a typical rural setting and worth a visit.
Korlai has small section of beach with beautiful view of open Arabian sea.
10. Korlai Fort ( 4 KM )
read my post on "Korlai light house"
Fort on the small hill was built by Portuguese as a watch post for protection of the Revdanda harbor. There is a new light house on the western slope for guiding the oncoming ships to Mumbai port.
Although the fort is in ruins these days, a medium tough day outing will provide lot of excitements for youngsters and history scholars.
This is an earthen dam situated in the thick forest. Excellent spot for day picnic in all seasons, however more exciting during monsoon. Ideal place for forest lovers. Do visit Kajuwadi village to get a real village feel.
12. Nagaon Beach ( 10 KM )
Nagaon beach is a flat clean stretch of sand with clear water and plantation of tall "suru" trees. Ideal spot for short or a day long outing.
13. Kashid Beach ( 17 KM )
Tiny stretch of beach on way to Murud. Popular due to vicinity of Suman motel resort.
Popular sto over on way to Murud
14. Siddhivinayak Temple at Nandgaon ( 23 KM )
A very famous Ganesh temple in Nandgaon – on way to Murud – is surrounded by lush green coconut and supari plantations
Siddhivinayak Temple at Nandgaon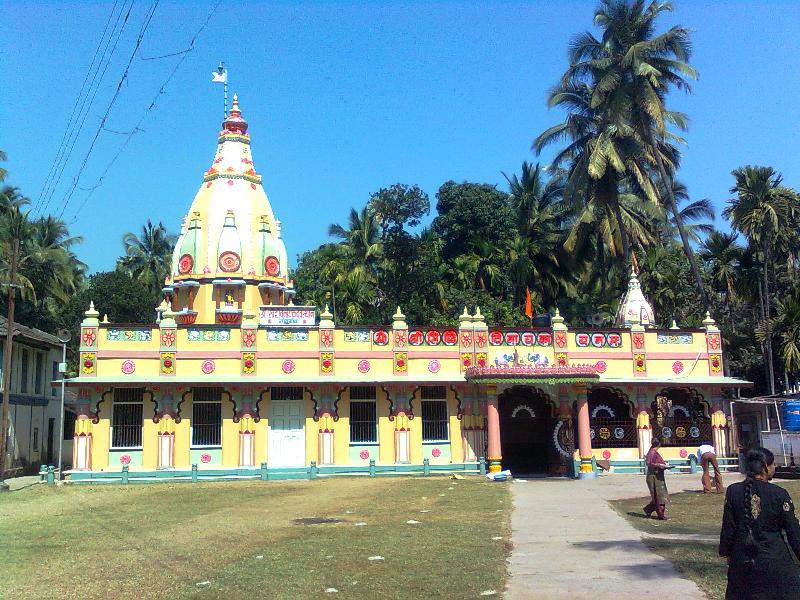 15. Murud ( 33 KM )
Murud is a typical konkan town mixing rural & urban facilities. Being a capital city of Nabab, Murud has a number of historical heritages. It has a small but beautiful beach.
Janjira Fort ( via Rajpuri )
4 KM from Murud – Janjira ( surrounded by water ) Fort is a unique historical place. Sail boats ply between Rajpuri village and Janjira. Journey by sail boat and grandeur of the fort are quite exciting.
Read my post "Shri Datta Temple at Murud"
Jain temple near Revdanda ( see the glass work ) read my detailed post "Paras Darshan"
Chinchwad to Revdanda distance ~150 kms, see map
How To Reach Revdanda
By road
from Mumbai via Panvel – Pen – Vadkhal Naka – Alibag – Revdanda ( 120 KM )
from Pune via Lonavala – Khopoli – Pen – Vadkhal Naka – Alibag – Revdanda ( 150 KM )
By sea via Gateway of India by catamaran to Mandva jetty – Alibag – Revdanda.
Daily S. T. buses start form Borivali, Mumbai Central, Thane, Kalyan and Pune.
( busses ending at Revdanda or going to Murud – Agardanda or Savli )
Where to Eat
| | | |
| --- | --- | --- |
| Kelkar Hotel | Veg. Snacks & meals, min.water | Tel.240082 |
| New Lucky | Veg. Snacks, meals | Tel. 240167 |
| Subhash Hotel | Snacks, V/N-veg meals | Tel. 240299 |
| Kinara Hotel | V/N-veg meals (Biryani) | Tel. 240291 |
| Prafulla Hotel | V/N-veg meals, Permit room | Tel. 240096 |
| Sahyadri Hotel | V/N-veg meals, Chinese food, Permit room | Tel. 240403 |
| Surabhi Hotel | V/N-veg meals, Permit Room | Tel. 241260 |
| Vishwas Bakery | Oven fresh Bakery Products | Tel. 240090 |
Where to stay
Mr. Ashok Deodhar, Maruti Ali, Recdanda, Alibag, 9869749028 or 952141-240443
Here I must mention that staying with Ashok was wonderful experience, full with hospitality. The house was very neat and clean as well as the food served was typical Konkani but simple food. The main part of enjoyment with him was learning new cards game called as UNO, which was really very very interesting. Also he provided me so much information and allowed to put it on the blog so that it can be used by people to visit Revdanda. My strong recommendation to stay at least a day to experience his hospitality 🙂 many thanks to Ashok for such a wonderful experience 🙂
As of now the charges are 250 Rs/person/day which includes one night stay + full bk. fast + morning tea/cofee + evening tea/cofee. If you opt for having lunch or dinner with Ashok, then the charges are 80 Rs / Veg-meal & 100 Rs/non-veg meal.
Cheers !!