After visiting Morachi Chincholi we also visited this famous "Padma-Mani Jain Temple" in village Pabal. This is one of the most famous Jain tirth with decent arrangement for stay and food.
This temple is ~ 12 kilometers distance from village Morachi-chincholi. Or you can say that while traveling from Rajgurunagar to Morachi-chincholi you can visit this temple on the way and then proceed.
Temple has been divided into levels
Ground level:
Houses the idol of Shri Manibhadraveer. MANIBHADRA VEER MANDIR jain sasan veer prabhu.
First level:
Houses the Moolnayak idol, Shri Padmaprabhu Swami idol
Topmost level:
Houses Shri Padmaprabhu Swami small idol
Most important day for Darshan is Thrusday.
Pabal Padmamani Tirth Dharamshala Address & Phone number
Address :
Post : Pabal, Taluka : Shirur, District : Pune – 412403.
Phone: 02138 – 292423 / 7414922152
Manager: Mr. Ganesh / Mr. Uday
You may please Contact Dharamshala phone numbers for Booking

32 Non A/c Rooms Capacity 5 People

Hall-1 Capacity 200 People
Food Timings & Price [Bhojanshala]
Navkashi (Breakfast) (As Per Panchang To 9.30 Am) @ Rs.40
Lunch (11.30 Am To 1.30 Pm) @ Rs.50
Chovihar (Dinner) (5.00 Pm To As Per Panchang) @ Rs.40
How to reach
Nearest Railway Station : Chinchwad, Distance 50.9 km
Nearest Airport is Pune, Distance – 46.0 km
Nearby Places to visit:
Yamai (Kanhersar) temple 4-5 km
Nimgaon Khandoba temple 8 km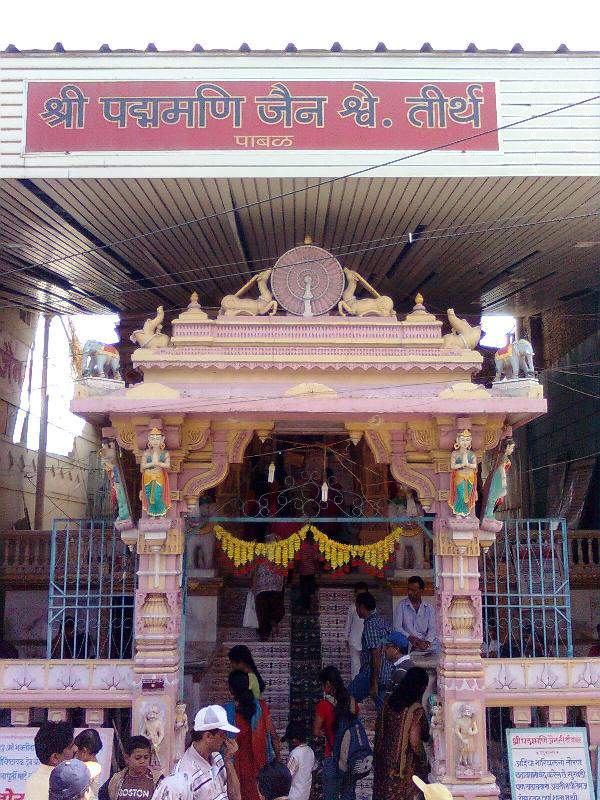 I liked the clean beautiful temple. Many devotees come there for pray. I could not get much information of this temple, but sure will put it here as I get it.