Every year in December~ January I have a task to find a place for Family Hurda Party  हुरडा पार्टी or Hurda festival or Hurda Mahotsav. Traditionally hurda party  हुरडा पार्टी is arranged at own farm or relative / friend farm ! But today it's difficult to own a farm which is near to house … that's history now !!! Either me or you don't own a farm nor have a farmer friend … so best is to search for places and enjoy Hurda season. Here is collection of places near Pune and Mumbai where you can get genuine Hurda and Marashtrian food (mostly), please leave comments if you find new places for hurda party this year 2020 – 2021 hurda season.
Hurda Party Locations near Pune Mumbai
हुरडा पार्टी 2020
Hurda Mahotsav 2020
Dec 2020 ~ February 2021 season
Hurda season this year will slightly get delayed due to

covid19

situation 
Hurda Season tentative dates 01 Dec 2020
---
HURDA Party at HOME
Home delivery

of Hurda in Pune and PCMC

is not available due to Covid 19 situation Sorry for the inconvenience

– please fill in this form –

Click here
This initiative is supported by Vavar Hurda Party – Pune (Subject to terms and conditions)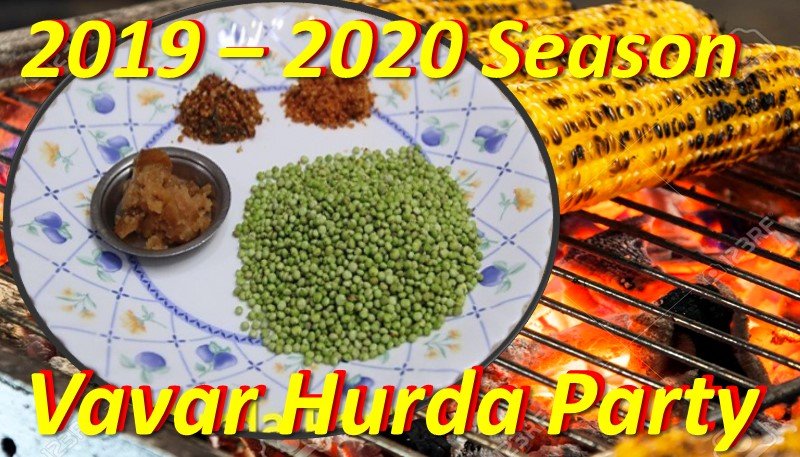 What are health benefits of Hurda?
Hurda is commonly eaten just by roasting, which retains the majority of the nutrients. Tendor Jower is fiber & iron rich, with fairly high protein levels. It is said that Hurda is rich in anti-oxidants and all sorghum (hurda) varieties are gluten-free.
How to store Hurda?
It can be stored in fridge in an airtight container (Keep in cool and dry place), can retain its taste for 5-6 days.
How much Hurda I need for family party?
1 Kg Hurda for 5-6 persons family is more than sufficient.
How to do Hurda party at home?
1) Roast it on frying pan without using any oil on low gas flame, eat it with Jaggary, Peanut chutny and Curd.
2) Fry it using oil and serve hot with twist of lemon, spicy sev to add contrast and big glasses of buttermilk to wash it all down.
3) Dry the tendor Jower grains in shadow, grind it to make flour and then make roties which tastes fantastic
4) Make Hurda Usal similar to what we do for other grains, with spices it tastes fantastic.
How to identify Good quality hurda?
Grains shall be tender, green in colour. It should be clean, dust free and without any foul odor.
Note : Hurda is also called as Ponk in Gujarat state.
!! हुरडा पार्टी आता घरी !!
पिंपरी चिंचवड व पुणे परिसरात हुरडा आता मिळणार घरपोच.
कृपया हे माहिती पत्रक भरा. 

Click here
ही योजना "वावर हुरडा पार्टी – पुणे" यांच्यामार्फत आहे.
हुरडयाचे आरोग्यासाठी फायदे?
१) हुरडयात तंतुमय पदार्थ असतात.
२) रक्तवाहिन्यांतील कोलेस्टेरॉलची पातळी कमी करण्यासाठी उपयुक्त आहे.
३) शरीरातील इन्शुलिनची उत्पादकता कायम, योग्य प्रमाणात व कार्यक्षम ठेवण्यास मधुमेह असणाऱ्यास, तसेच इतरांनाही उपयुक्त ठरतो.
४) शरीरातील अतिरिक्त चरबी, वजन कमी करण्यासाठी, कातडीचे आजार, जठरातील आम्लता कमी करण्यास उपयोगी.
५) काही घटक कर्करोगावर नियंत्रण आणतात.
६) दाण्यांमध्ये मुक्त अमिनो आम्ले, साखर, विद्राव्य प्रथिने, जीवनसत्त्वे यांचे प्रमाण अधिक असून, पिष्टमय पदार्थांचे प्रमाण कमी असते.
हुरडयाची साठवणुक कशी करावी?
हवाबंद डब्यात फ्रीजमधे ठेवू शकतो. ५ – ६ दिवसापर्यंत चव टिकून राहते.
कौटुंबिक पार्टीसाठी किती हुरडा घेण्याची गरज आहे ?
५ – ६ जण असलेल्या कुटुंबासाठी १ किलो हुरडा पुरेसा आहे.
हुरडा पार्टी घरी कशी करावी?
१) गरम तव्यावर तेल न वापरता हुरडा भाजून गुळ, शेंगदाणा चटणी किंवा दहि सोबत खाउ शकता.
२) गोडेतेल लावून, गरम तव्यावर हुरडा भाजून त्यासोबत लिंबाचा रस व मसालेदार शेव मिसळून आणखीन चवदार करू शकता. यात अजून भर म्हणून ताक पिउ शकता जे लवकर पचनास मदत करेल.
३) हुरडा सावलित वाळवा. त्यानंतर त्याच पीठ करून भाकऱ्या बनवून शकता. या भाकऱ्याची चव अप्रतिम असते.
४) कडधान्यांची उसळ जशी बनवितो तशीच आपण हुरडयाचे मसालेदार उसळ बनवू शकतो.
चांगल्या प्रतीचा हुरडा कसा ओळखावा?
दाणे स्वच्छ, हिरवट,परंतु दुधाळ व मउ असावेत. कसल्याहीप्रकारची धुळ किंवा दुर्गांधी नसावी
---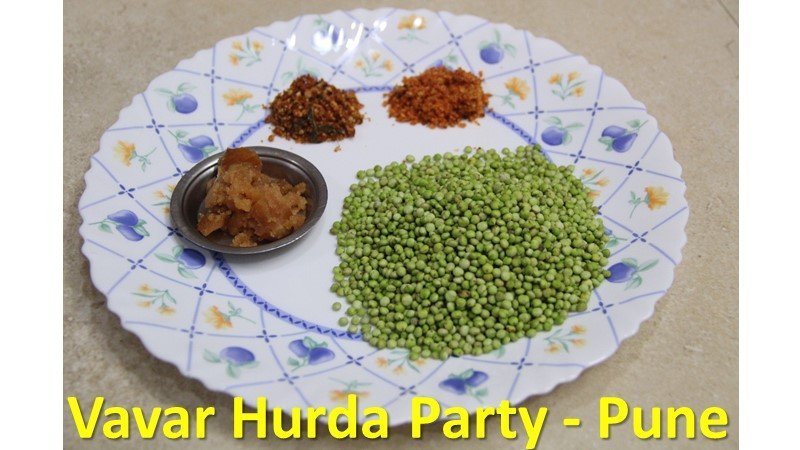 ---
But difficulty is to find good places providing quality hurda, so this year when I went to Gokhale farm (near Alandi), I came to know that they are no more doing this business 🙁
So alternative was to go to Ahemadnagar which is @ 110 kms away from my home. Obviously I can not go there frequently so my hunt started for hurda party places near Pune ! So now I have prepared an updated list of Hurda Party Locations near Pune, PCMC, Talegaon, Aurangabad, Nasik & Mumbai. [Hurda Party Locations list is updated as on Dec 2020]
The HURDA price starting from 200 to 600 Rs per kg in 2020 year is now soaring like anything !! and you need at least 3~4 Kg for 5 persons … This year due to rain some price hike is expected anyway.
List of places near Pune for hurda party, address & mobile numbers of farms providing traditional Hurda party at their farms with traditional food. What is Hurda – tender jowar stalks roasted /barbecued in hot coal ashes is HURDA served along with chutney (desiccated coconut garlic with dried red chili) & curd.
List of Hurda Party places near Pune, Aurangabad, Nasik, Mumbai  हुरडा पार्टी
Hotel Name
Contact Details
 Address & Hurda party details
The Empress Botanical Garden

Pune

020 26361840

Mr. Tanaji Shelake

Near Race Course, Camp, Pune

The Hurda Party will comprise of fresh Hurda, Jhunka and Bhakar, priced at Rs. 600 per person [Plz call for latest rates]

Shri Saraswati Lons & Farms

Pune

Pritam Chordia 7722075075
Survey no. 108/2, Patil Vasti, Maria farms chawk, Lohgaon, Pune-47
KOG Hurda Party

Pune

091683 98866
108, Patil Vasti Rd, Pune International Airport Area, Lohgaon, Pune, Maharashtra 411047
Megh Malhar Krushi Paryatan Kendra

Pune

751 77 44 111
Meagh Malhar
Hotale Village, Kolwan, Mulshi,
Pune- 412108
Email: meaghmalhar@gmail.com[ Stay + Food + Hurda Facility also available]
TND Woods

website : TND woods – Hinjewadi

GPS co-ordinates

18.627509, 73.650273

Pune

Phone: +91 7420066645 / ​+91 9833404323

email: fun@tndwoods.com

Corporate Inquiries: corp@tndwoods.com

Hurda Party Bookings

 

Season tentative date 1 Dec 2020

Not Confirmed

Hurda +chutney, Fog Dance, Boating (FREE)

New destination, Near to Hinjewadi, no traffic jam, no pollution, touching to backwaters of Kasarsai dam, Dining hall, Toilets available. Good and tasty food. Fog dance attraction.

Ask for House of Sarpanch Kedari, Kusgaon, Maval, Pune (Touching to Kasarsai Dam Hinjewadi)

Google Map link to TND Woods Pune (Hinjewadi)

Konkan Kanya Agri Tourism – Shikrapur
9923457899

9823047757

Unlimited Hurday in 700 Rs per person with Breakfast + Lunch
At post Mukhai (yeole mala), 5 km from Shikrapur, Pune nagar Road, Tal- Shirur, Dist- Pune – 412 218.
konkankanya.agritourism[at]gmail.com / rahulkumaryeole007[at]gmail.com
Borkar farms

Saswad

Akshay Borkar 9545020201
Borkar Mala, Veer phata, Pune-Jejuri Road, Saswad, Pune
Karan Krishi Paryatan Kendra

near Ranjangaon Ganpati

Mr. Ramesh Sangpal 09822654306
Bhambarde (near Ranjangaon Ganpati), Shirur, Pune
Kalpataru Baug

Theur, Pune

Pratik Kand 9545020220
Kalpataru Baug, Ganeshwadi, Theur, Pune
Chincholi Morachi, Shirur

Jai Malhar Krushi Paryatan Kendra

9823347233
Mayur Baag, Aamrai, Chincholi Morachi,
Tal. Shirur, PuneAlso read my own experience at The Morachi Chincholi – The Town Of Dancing Peacocks
Sankalp Garden, Alandi road
Annasaheb Tapkir  020-27185239
Near Sai Mandir, Vadmukhwadi, Post Chahroli(Bk.),
Pune, 412105
Narendra Mundada Ki Wadi

Piranghut

9822632571
"Narendra Mundada Ki Wadi" , Piranghut

Ref : Advertisement in New paper Sakal 31/01/2010
They have said that Hurda is available + Stay + food, but also mentioned that min. 25 group requirement ! I hv not called up and checked whether they can arrange for small group too 🙁

Shirole mala

Malthan

Manish Shirole 9860559151
Shirole mala, malthan, tal. shirur, dis. pune

1202, Kalpana Building, Opp. Hotel Deccan Randezvouz. Shirole Road, Pune – 411 004, manish.shirole[at]malthan.in, sales[at]malthan.in
Tour package available from Pune

Panjrapole (Gorakshan) Sanstha

nagar road hurda party

Ahmednagar

2470932 / 2471732 (STD code 241)
Panjrapole (Gorakshan) Sanstha
Arangaon road, AhmednagarHere you can get the most famous Special Mogra Hurda, believe me I have tested this & it is the BEST of all the Hurda I have tasted so far.
Krushi Paryatan Vikas Kendra 

Palshi-Baramati

020-25535599, 25539600, 9822090005, 9881133694
2, Karnik Heritage, In front of OBC bank, FC Road, Pune-4

Package – Pune to Pune bus travel + B-fast + Tea + Lunch + Hurda (Rs ?? per person)
also they have option of residential trip (Rs ?? per person)

Hiranya Resorts

Aurangabaad

+91 98506 33566, +91 93264 38801, +91 93263 65544.
Near Daultabad Lake, Ellora Road, Daultabad, Aurangabad – 431002, Maharashtra – India

contact@hiranyaresorts.com

Chaitanya Agri Tourism

Aurangabad

Harish Jakhete 9823142841

0240-2336200, 2336700

~25 kms from city (pickup available from a'bad)
Chaitanya Agri TourismShree – 216, Samarth Nagar, Aurangabad – 431 001
chaitanyagritourism[at]gmail.com
Nasik
9623445045 / 9822753212
Season upto 8 Jan 2017
Price 700 Rs, For Group booking plz call
hurda party near chinchwad – RainBow Island Hinjewadi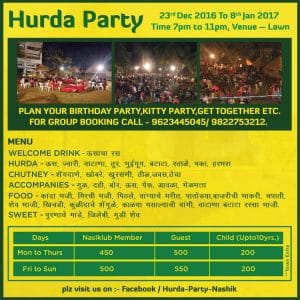 ---
What is HURDA party  हुरडा पार्टी ?
---
Jowar crop (Sorghum) grows in most of the regions of Maharashtra. Somewhere in month of December to January tender stalks of Jowar (Sorghum) are ready in farms.
So these tender jowar (Sorghum) stalks are roasted / barbecued in hot coal ashes & then the roasted tender Jowar (Sorghum) is called as HURDA.
So this HURDA is then served along with Chataney (desiccated coconut garlic with dried red chili) and curd.
Hurda is really very tasty and you will really enjoy this Hurda party.
---
So instead of going to hotel in city this week end why don't to think of this outing on a farm, giving tasty food, the clean air, showing your children the grown crops. let them interact with the mud, insects, animals, let them be part of the Hurda roasting activity, I am sure they will enjoy it. Remember your old days where this was available everywhere & now limited to the villages.
So let this be a wonderful & memorable family outing this weekend !
Enjoy the Hurda party this year December to January !
cheers !!