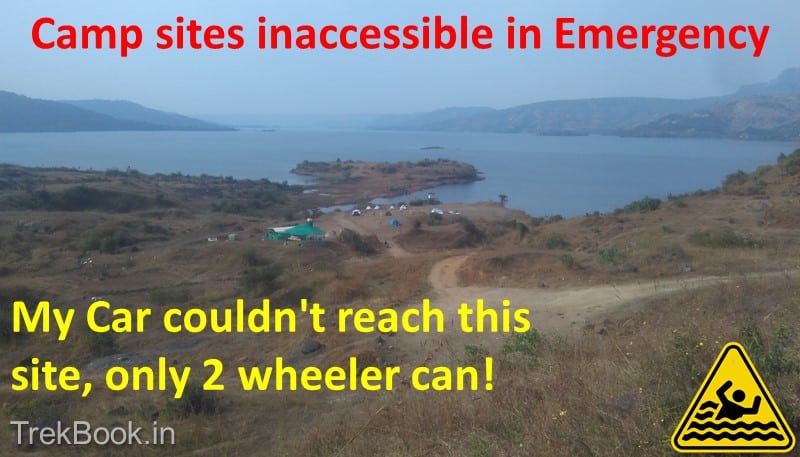 I am doing trekking and camping since 1989 … but concept of camping those days was purely to visit forts and stay when unavoidable on the fort base village mostly due to time constraints.
In past few years the trend of tech crowed from Pune & Mumbai has been to spend weekends by camping which is one of the attraction for youths and many such camping sites has been developed near Pawna dam backwaters and Thakurwadi side of it (most of them as unauthorized as per Forest department)
These Pawana lake campsites provide facilities like a camp fire, barbecue, music, swimming in the lake and boating .. and allegedly allowing boozing too!! Illegal activities are going on and no-one is interested in looking into it, everyone knows what is the reason behind this !!
However in first week of January 2018 hit by a sad news of two techies from Pune drowned in the backwaters of Pavna dam. I mean it is so sad to loose such a young man .. its not only a loss for the family but also a national loss to get such talent to nowhere in minutes 🙁 The Pavana or Pawana lake is beautiful if you look from outside, but if you get into it without safety precautions then this is what going to happen.
---
News 24 March 2015 – Indian Express, situation remained same in the year 2018 ! No one is bothered about life in India !
---
I read in newspapers about many such campsites being operational at the backwaters of Pavana dam and the sad incident made me think about visiting these sites to get in reality what is happening there … I thought to go there and see it myself what's the reality.
Reality report after my visit to Camping sites near Pawna Dam:
Illegal campsites situated by encroachment on Forest land (refer Sakal news below)
Drugs and liquor suspected at many places near Pavana lake camping
unsafe practices followed
Illigal construction
no toilets or hygienic places
non-veg, DJ systems, loud music till late night is followed without police permissions
Most of the Pavana lake camping Sites are not approachable in case of emergency:
Yes the photo at the beginning of post shows photograph of first campsite that you can see while you are on the way to Thakurwadi. I went on the campsite in my car and half the way got bad hit from ground, the car practically got stuck in big ditch and I fought to get it back in reverse gear ! I got down to take a photograph of campsite and could clearly see that the road is just raw patch created due to traffic from 2-wheeler & may be truck movements. Road is full of stones and ditches.
I saw a couple coming from pavana camping site on 2-wheeler and met them to ask if car can go till the campsite, they suggested to walk to the site ! So I dropped idea of visiting the site which was still half a km away and got back to the next site. I asked them why they have chosen this camping site and they said it is near Pune and hence they chose it. [There are alternate and safe locations for camping near Pune or Camping near Mumbai or Camping near Lonavala, read this post for knowing about them]
But if you see at the photograph closely, you will see that there are no toilets at the site! (which I also confirmed from the couple whom I met) …
And you can imagine if some accident happens, reaching the campsite during night time (Even daytime) is almost impossible, an ambulance can't reach the site but someone has to bring the person on a 2-wheeler!!
Campsites feature age old tents located just near to the water
I visited the next campsite in Thakurwadi, again here reaching the car was not so easy, I mean getting through narrow road of may be 6 feet wide, some ditches and I am on the campsite !
Tents lined up in space which were looking age old, with some makeshift arrangements for food. While I inquired about the food and drinking liquor , they said non-veg is not an issue and liquor is also okay !! wow !! what a facility !! here in Pune if a hotel has to serve liquor they need permit from government, but these sites which are situated on forest land (refer to news paper reports)
The campsite is not fenced/secured and directly touching to the backwaters, which means in night time if someone goes out of campsite, no one knows and get some help for !

Hygiene is an issue seen over most of the campsites:
I visited almost 6 campsites and found that most of them had single toilet or no toilet!
Best campsite I found was with 4 toilets, I have posted photo below to let you know about the condition these sites are operated without any control from Government, the news at the end of post shows that 19 such campsites are being illegally made on forest department land ! so obviously they avoid doing investments on construction and do some makeshift arrangements.
So readers beware before you visit such campsites and make sure that
Campsite is legal and has got permissions from local authorities
If touching to water, they are compounded to protect someone during nighttime
Power backup available specially during night camping
Hygienic washrooms, toilets available
If boating is provided, they have license for the boating and supported by life jackets
No illegal activities supported like liquor or any other drugs which are banned by the govrnment
Roads are reachable for ambulance in case of emergency
---
Additional references are taken from below news from most famous newspapers in Pune, refer below for the news and links
---
News paper Sakal news 13 Jan 2018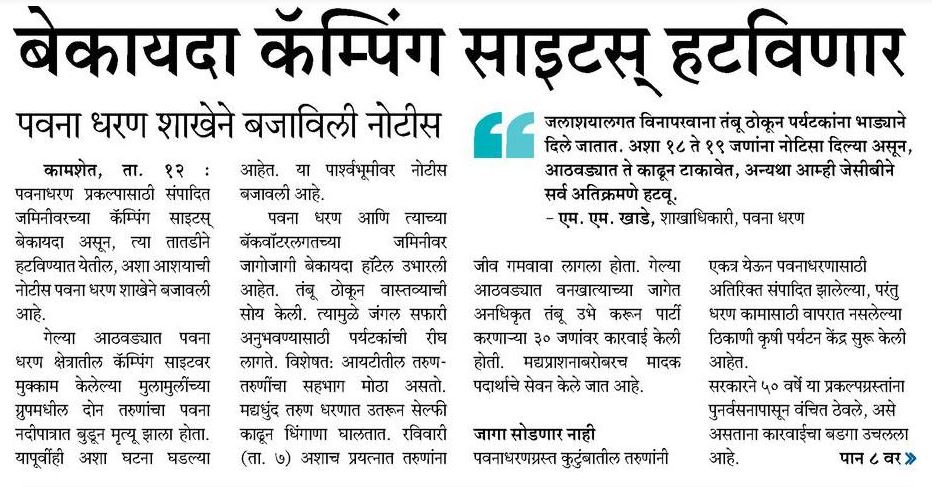 Please read the news below on illegal campsites near Pawna dam (
news

link

)