Stay Blessed if you are from Pune and Mumbai, And if you stay in Pune or Mumbai, you can easily follow the above saying as these places offer a very good number of treks nearby like Tikona fort trek, which is very easy for beginners, provides excellent views, beautiful nature around and full to enjoyment.
"Of All The Paths You Take In Life, Make Sure A Few Of Them Are Dirt."
… John Muir …
And the Health benefits too:
Trekking is very beneficial for the body, mind and soul. There are lot of health benefits associated with this activity like builds strong bones, cleanse the lungs, build a robust heart, weight loss etc. It releases stress, improves focus & memory.
Monsoon brings Joy in Trekking community:
To start this monsoon season with some trekking adventure we choose TIKONA as our first challenge. Tikona, a beautiful fort situated around a distance of 50 kilometers from Pune. An easy grade trek with some mesmerizing views from the top with a backdrop of Pavana Lake.
Tikona Fort Trek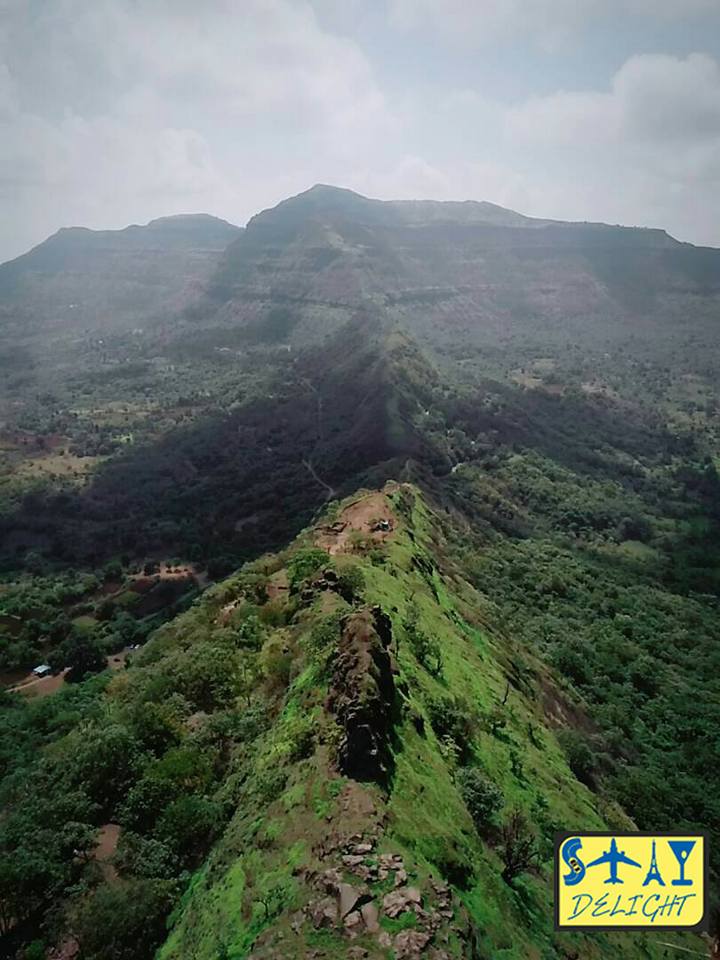 | | |
| --- | --- |
| Another Name of the fort Tikona | : Vitangad Fort |
| Base Village | : Tikona Peth |
| GPS Direction Name | : Tikona Hiking Trail |
| Route for Tikona Peth from Pune | : Chandni Chowk -> Pirangut -> Paud -> Take a right at Paud after Bus Stand -> Javan -> Tikona Peth |
| Contact Person for Food Requirement at the base village: | Tikona Uphargrah (Mohol Kaka) – 97659-80257/91588-02325/97663-58261 |
| Food/Water Facility on the Fort | : You can find a Mausi on the way and also a boy on the fort selling Nimbu Pani & Taak. |
| Cleanliness Check | : Fort is well maintained and kept very clean |
Easy Trek to Tikona Specially for Beginners:
The trek is very easy with some steep climb in between and just before the main entrance there are some big rock stairs. As lot of people trek Tikona fort in monsoon, sometimes there is a human traffic jam on these stairs. It's very necessary to be careful while crossing these stairs, there is a cable which is not very reliable and at some points (very few) there is nothing to hold on to except the rocks. So coordination, cooperation and patience among the people/trekkers visiting the fort can make a lot of difference. I believe a little care and presence of mind can enhance the trekking experience.
Travel For Change Initiative:
We at Stay Delight planned to bring a change in the way we travel and leave a positive impact at the place where we are travelling.
As it's a monsoon season, we started a campaign wherein we collected fruit seeds like Mango, Jamun, Jackfruit etc. from neighbours, households etc.
And later on while trekking at Tikona Fort trekkers sowed these seeds. It was around 20-25 Mango seeds, 10-15 Jackfruit seeds, 40-50 Jamun Seeds and few other small seeds too.
The concept is that even if all the seeds do not grow into plants, they are still going back to the soil and the water should not be a problem as its monsoon time. So probably if you go trekking to Tikona Fort after two or three years, you might find plants of some of these seeds.
If you want to contribute seeds or trek with us to sow these seeds, please get in touch with us.
Keep Trekking!
Do see a video on Tikona Fort trek
Summary
Reviewer
Review Date
Reviewed Item
Author Rating