Ghangad fort trek information on internet is rated as difficult or medium level, however after the installation of ladder by the Shivaji Trail group it is rated as Easy or Entry Level Trek 🙂 Many Thanks to Milind Kshirisagar sir for that from team FONA. This is one of the best monsoon trek I can recommend for beginners.
Beauty of Ghangad fort you can climb it easily .. get to ~3000 feet height and enjoy magnificent views of nature. On the mid way you see a huge rock piece fallen down creating awesome triangular wedge a scenic photo point for you.
Another interesting thing is that you have many neat & flat places for camping, even small caves give you sheltered places for tent camping. Surprisingly you see a well built toilet on fort !!! although it is not maintained so not so much useful.
Start of trail from the base village Ekole where we met Lahu Kadam a local villager who voluntarily agreed to guide us (Although it is simple trek we agreed so as to understand local area and his views)
From this point you can easily see views of Ghangad fort, within few minutes you get beautiful view of Chilkhati Buruj (Bastion) with the pride of Maharashtra … Saffron colour flag hosted onto it.
Now just before you reach the Garaai temple, on the left hand side (slightly inside, Lahu Kadam can guide you) you can see a Shivlinga, looks like rest of the temple has ruined over time period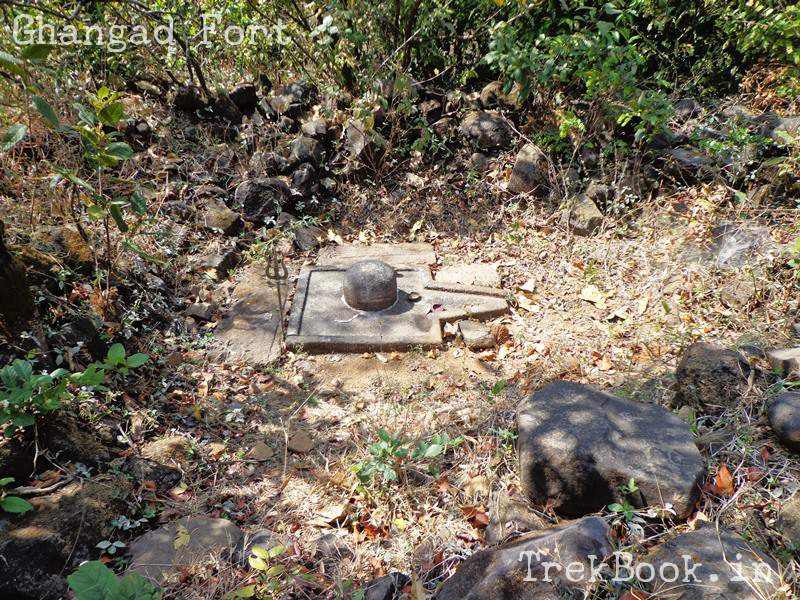 Further 5 minutes you reach a temple of Godess Garjai Temple – गारजाई मंदिर
Lahu Kadam showed us engraving on temple wall stone saying "Shree Garaai Maharajachi and Kille Ghangadachi"
As you move up gradual climb you can see ladders fitted to cross difficult rock patch
Now that you reach the most interesting spot which gives you super views and a photo studio spot … a huge rock fallen apart the cliff creating triangular shape hole in between … super geometrical creation of nature 🙂
This time Manoj and me decided to collect plastic garbage generated by fellow trekkers or picnic people all around the fort, Shahane sir and Nikalje sir also helped a lot. We could collect almost two big bags full of plastic waste from fort.
And finally fun part on the fort top … Boys having fun on trekking …
And then .. Why Should Only Boys have a Fun !!! Girls too …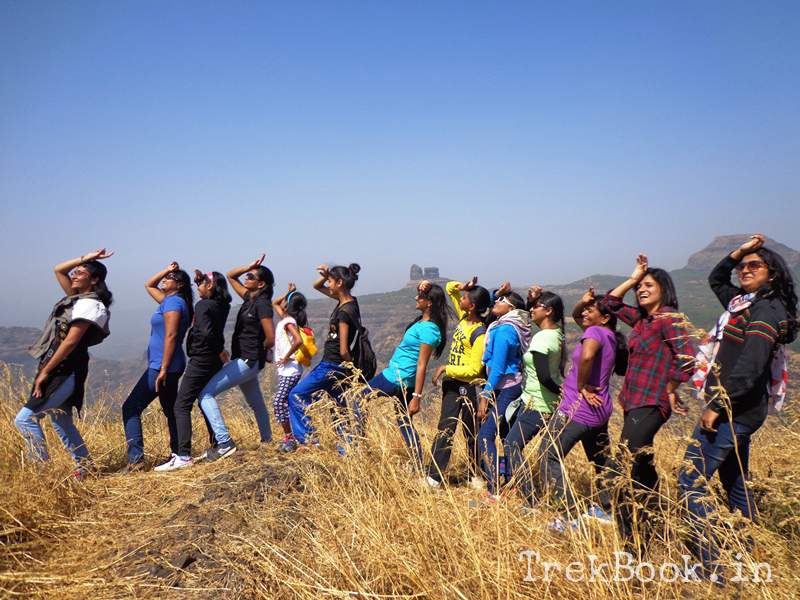 Ghangad fort trek [Excellent for camping and fun for beginners]
Ghandad Fort History as written by Shivaji Trail Group
In June 1665 Shivaji Raje and Mirza Jaysingh, the muslim (mogal) army chief, agreed on a truce, called "Truce of Purander". Accordingly Shivaji Raje had to hand over 23 forts of his empire to the mogal addressors. Ghangad was one of the forts.
In 1670-71 Shivaji Raje ran a series of attacks against the mogals, winning back the said forts and land lost due to the truce. Ghangad was acquired again and was hend by the Marathas till the rein of Hon. Rajaram
After King Rajaram's demise Ghangad was again taken over by the mogals. Then again during the rule of Queen Tarabai, it was brought back by Pantaji Shivdeo, a man under the directives of Shankaraji Narayan Sachiv
Around 1713 the navy chief Kanhoji Aangre hend Ghangad and handed it over to Shahu Maharak on 28 Feb 1714 as per the treaty Hon Shahu Maharaj gave the possession of Ghangad to Hon Balaji Vishwanath Peshwe
Between 1737 and 1739 the Marathas attacked northern region of Konkan, then possessed by the Portugese, which is known as "Vasai crusade", 25 soldiers then stationed on Ghangad
In the later days of the Peshwe rule Ghangad was turned into a prison, housing political prisoners as well as social criminals
n 1779 Arjoji Rao Dhamale was the administrator ("Killedar") of Ghangad. During these days Sakharam Hari Gupte, a dashing military chief of Raghoba Peshwe was imprisoned and died here.
August 1783 Ghangad saw many women prisoners and some important political once too. Raghoba Peshwe's trusted aide Bhaskar NArayan, Morobadada Phadnis (cousin brother of Nana Phadnis, the brilliant administrator of the Peshwas), Jayasinghrao Gaikwad etc
During the rule of Bajirao Peshwe the second, fort Ghangad was administered by Baioji Junji
On 17 March 1818 Ghangad was taken away from the Peshwes by Lt Col Prother of the British army without any resistance
Difficulty level of fort Ghangad
Easy
(Recommended for beginners under expert trek guide)
Difficult rock patch while climbing is being taken care by putting ladder by Shivaji Trail Group
Caution to be taken since at fort top there is no boundary / protection
Fort Ghangad Height ~3000 feet (782 meters)
Time to reach : 45 minutes~ 1 hour to climb from base village Ekole
What to see !
Godess Garjai Temple – गारजाई मंदिर
Chilkhati Buruj (Bastion)
Shiv linga on the way to fort
Photo spot below the huge rock piece fallen creating triangle wedge
Views of Telbaila, Sudhagad, Sarasgad
Beautiful views of Mulshi lake backwaters,
Nandand ghat, Vashnicha ghat and Bhorpaychi Nal
Place to stay/take food & water
Water : Cistern at fort, however water is not drinkable
Food and stay : You can carry food or cook on your own during camping or you can get it at base village Ekole (refer to contact details with person photographs at end of post)
Good Time for trek to Ghangad : Monsoon, Winter and Night Summer trekking
Fort Ghangad Location
Google coordinates 18.545965, 73.359558
Trek start point : 18.549220, 73.364043
How to reach Ghangad fort (~85 kms from Pune)
Drive down :
Pune > Piranghut > Mulshi > Tamhini ghat > Ekole
Amid of Tamhini ghat you will see diversion to Ghangad fort
ST Bus Route :
Lonavala to Bhaburde village [40 kilometers]
Bhaburde to Ekole village [walk 20-25 minutes]
Suggestions :
We combined this trek with Andharban trek
Other possible combinations is Telbaila (base without rock climbing) or Korigad.
Ghangad fort map (Courtesy Shivaji Trail)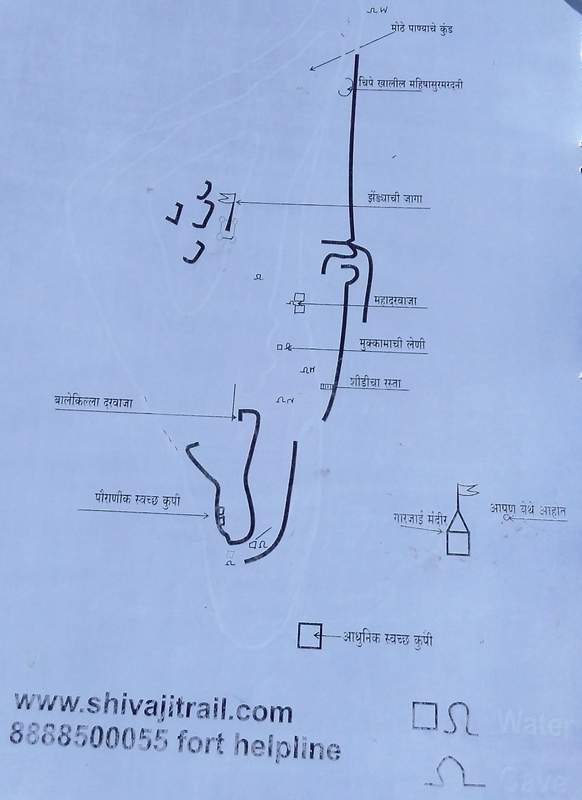 Lahu Kadam Guide Phone number 7741808547
I have added his photograph below for you. I visited his home to see if one can stay there and found to be of acceptable level of cleanliness ( his house also has toilet facility) So you can pre-order food to him
And finally the most important learning of this trek … acquaintance to the plant called as Dat Padi [Teeth Falling Plant !] Yes .. from years you must have heard stories about trekker who chewed bush plant stem and found all of his teeth fallen by morning !!! I saw that plant .. I came to know that villagers apply this plant juice to their bullock before selling so that he looks strong and stout to get high price !!! This happens due to swelling of skin !!! here is photograph of Dat Padi plant for you.
Summary
Reviewer
Review Date
Reviewed Item
Author Rating