Update 10 March 2018: Similar Volcanic caves found near Hinjewadi too, read more
Last month you must have heard about discovery of over 66 million years old lava cave at Ghorwadeshwar Caves [Ghorawadi].
Today I was at Ghorwadeshwar hills with my friends Anil & Doctor Pawar.
Anil was bit curious about these volcanic Ghorwadeshwar Caves and started beating around, he was suspecting caves location (here is a photo from the first spot we saw caves)
When we went ahead, a person called me since he was also going to the caves ! Bravo !!
Here is a photograph of location from where we got down to the ….
New Vlocanic Ghorwadeshwar Caves
Once you get down for ~20 feet from the photo spot, you will see a light trail on left hand side going to the caves
For your convenience I have jotted down the GPS Coordinates of the caves
GPS location of Ghorawadi Volcanic caves 18.689116, 73.708659
(Since now people have started going there, a small trail has been created)
Doc posing at the mouth of volcanic cave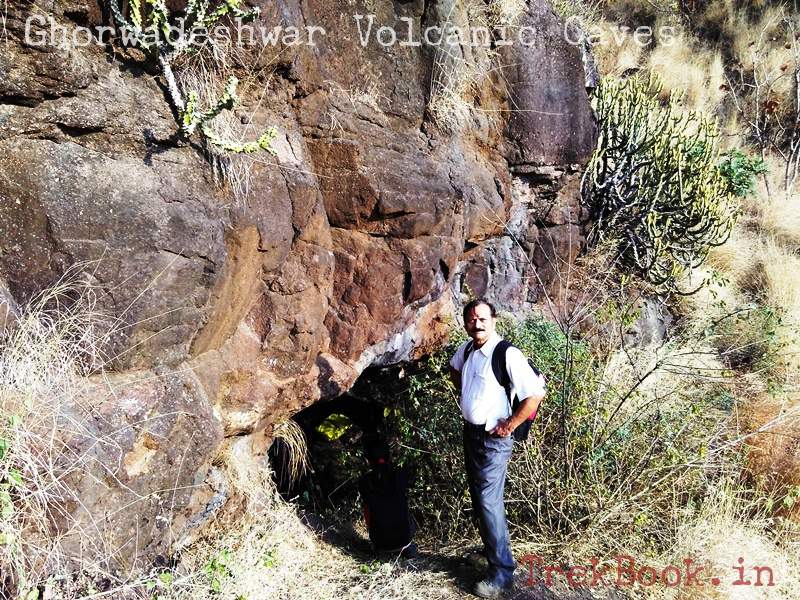 I did not measure it but it is said that the cave is ~20 meters length, ~148 cms height, ~310 cms width.
You have to sit down and crawl inside the caves.
It is a naturally formed lava cave from the Deccan Volcanic Province (DVP)
Research paper says that Ghorawadi Volcanic cave is formed by draining of a segment of lava tube forming lava distributaries. The roof of the cave entrance exposes a reddened glassy crust.
Erosion of the Ghoradeshwar plateau with isolated hill ranges has exposed this lava cave. The caves are modified over the years due to weathering and solution activity due to water seepage
A few small bone fragments collected from the fine-grained cave sediments of the cave, showing habitation evidence. Fluorine dating technique used to determine the relative age of these bones.
Here is a photo shot from inside the caves, these two small tube cavities inside …
Reference Article submitted to International Journal of Speleology
The genesis of a lava cave in the Deccan Volcanic Province (Maharashtra, India)
Read more about Gorawadeshwar temple and other treks you can do during visit