We started early morning ~7.30 am from Nairobi and reached the Aberdare Country Club by 11.00 am
Entry to the club itself was pleasant with beautiful ambiance with Giraffe's crossing the road, this was my first siting in Kenya 🙂
Since there was an hour time for lunch at the club, I took a short trek into country club jungle alongwith club guides. It was great to look at different bird species (although it was almost noon so they were few)
Immediate siting was of the wart hogs, with due respect to him I took some photographs (no selfies plz 😛 )
Although these warthogs look simple, please be careful and keep safe distance since they can harm you in a while. Use of tele lens is recommended.
Further about half a kilometer distance I could see Zebras in the open field, guide told me that there is water available and hence Zebras are being around almost throughout the year.
Thing to note that Zebra and Giraffe seen here are having different colour shades than that would be seen at Masai Mara, you will see it in my post on Masai Mara Jungle Safari.
This was a nice small trek in Kenya, other than this place you will not be able to take any jungle walk so easily, so I was happy to have first trail in grass fields of Kenya.
My guide indicated return to the dining area as the lunch was ready.
Look at the beautiful building, actually this was a home of English couple that decided to settle in Kenya. Almost 50 years later their home "The Steep" was converted into the Aberdare Country Club. This beautiful property is considered as heritage property in Kenya.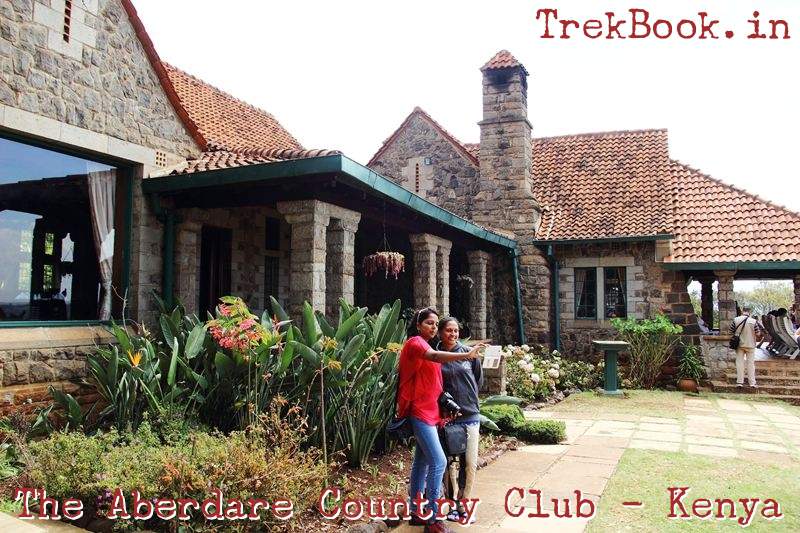 Look at the a slope of Mweiga Hill in the Aberdare Highlands, which is the part of the Great Rift Valley. I wish I can stay here for long time 🙂 watching birds & mingling into the wildlife around …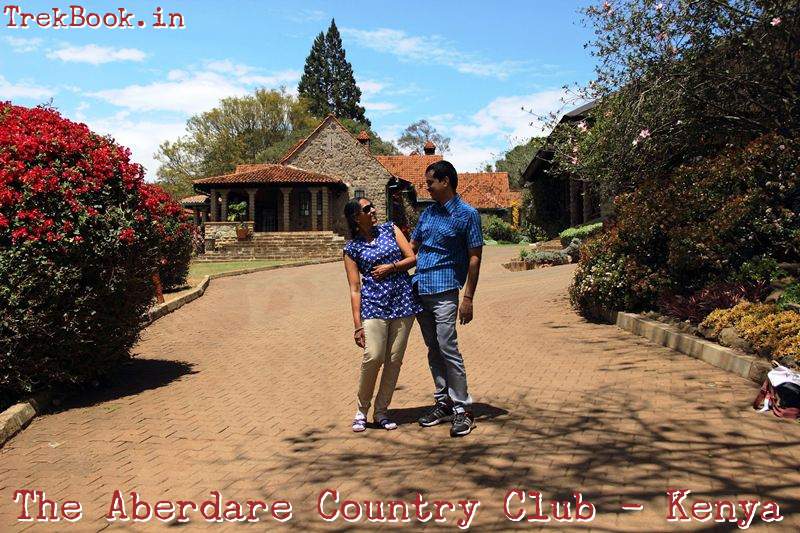 Lunch was fabulous with barbecue on board, sweets were no so sweet ! So we added some honey and sugar to it (its normal all over Kenya you will keep doing this adding sugar & spices to everything you eat !)
Fabulous outdoor dining .. you will love to spend rest of your life here for sure …
Peacocks roaming around will make the lunch delightful … looks like they are so tamed that they let you get closer and closer ..
I have added here interior photograph to show the typical English architecture even on furniture … looks great to be in a heritage building like this ..
Finally what is most important is human rather than buildings and land …. Everyone working at the country club was friendly, courteous, and accommodating.
Below photo itself is self explanatory, needless to say anything more ..
After lunch, we handed over the bigger baggage's to the cloak room and took only hand bags with us to proceed to The Arc situated in the Aberdare national park. They allow one hand bag per person, so take care to pack cloths, food, water, medicines, chargers etc.
They have their own bus which takes you to The Arc …. Continued in the next post …