By the time we completed the VISA and security formalities at Jomo Kenyatta International Airport, our Safari vans were awaiting for us.
We converted our USD to Kenyan shillings, bought local SIM cards and loaded luggage into our vans.
On the way to hotel, we had small brunch (Samosa, Green Apple & Orange juice)
First surprise to me was at @11 PM the signals were ON and people were respecting them !! Sorry as respecting traffic signals is so uncommon in India I must mention this !! Roads were free from traffic, but our driver (cum tour guide) told us that these roads are very busy during daytime, which we experienced badly on last day on the way to Airport [where we were almost to miss our flight due to traffic jam !!]
We checked in Hotel Heron Portico at ~11.30 PM [hardly 20~25 mins drive at night time from airport]
The room was normal sized with small bathroom, but I felt it okay for one night stay.
The first shower gave me another surprise !! Water was sooo soapy !!! Wash your hands any number of times you feel like you washed it with soap water ! firstly I thought it is soap problem, but soon realized that it is Soapy water ! Even in morning washing mouth was a real fun !! May be this is reason why drinking water costs you~3 USD per liter !
Good Points :
Internet is available in room and it's FREE [ Some hotels there charge 6$ for 24 hours of internet access ]
They do provide FREE drinking water during break fast [ 1 Liter water price in Kenya is ~3 $]
Water bottles are provided in room
Coffee maker available in room
Swimming pool available [ I could not use it since we left the hotel early morning ]
Break fast quality is good [ Get fresh egg omelet ]
Improvement Points :
Entry to the room was problematic, electronic key was not working !
Tips to help you out for comfortable stay :
Get ready instant mix with you [from India], so that you can get good Indian taste egg omelet, they do not put masala/salt ! and whatever you attempt ..putting their chilies, salt it won't taste like Indian food, so instant masala mix is the only easy solution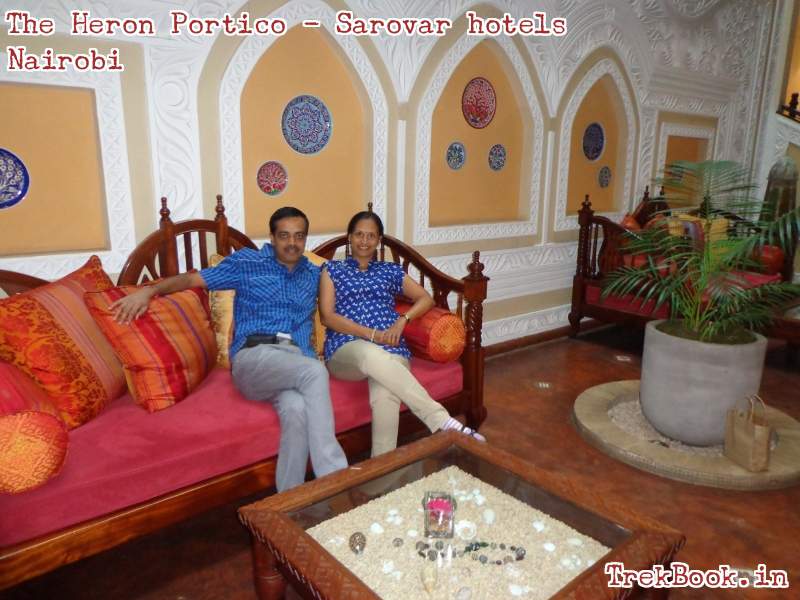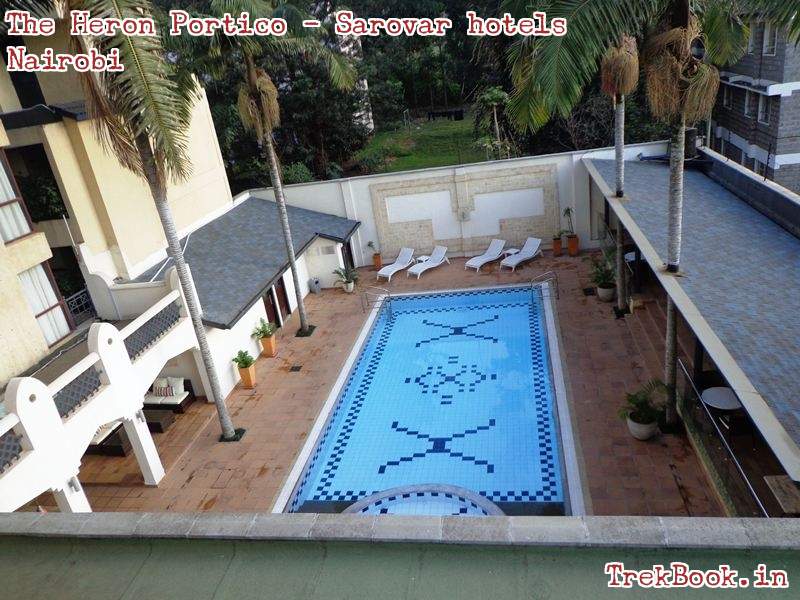 After early morning break fast we moved on to the Aberdare National Park
Based on experience at Heron Portico – Sarovar Hotels & Resorts is recommended by TrekBook for stay at Nairobi.