From Aberdare National Park my next destination was to Lake Nakuru to watch thousands (Even lacs) of Flamingos …
Already my tour guide David told about crossing the equator line during this journey… I was bit curious about looking the famous Coriolis effect on the equator line .. and how I will feel at the mid of earth ?
[ Read details about Coriolis effect on National Geographic ]
Since I studied few things about Kenya before my tour, I was aware that Since Kenya is on the Equator it experiences the quickest sunrises and sunsets ( the sun rises and sets almost vertically throughout the year) Also the length of a day (sunrise to sunset) is almost constant throughout the year
Obviously near the Equator there summer, winter, autumn, or spring are almost the same and the temperatures remains usually high through out the year.
By the way as I reached the Equator line marked as number 79 (not sure what that signifies for ?) from a distance I saw water jugs kept on ground in between road signs marked Equator ! later I understood the reason for !!
Obviously there is a curio shop (location Nyahururu) at the back side of this equator line, so that tourists who stops there will definitely buy some souvenirs. Although Mahesh sir told us not to spend time in shopping at this place Roopa did small shopping of Mummy Papa 🙂 and African scarf for 2600 Kenyan Shillings (Only $25 USD) .. Since that was our first bargain purchase (he started from $50~60USD) I felt that that is costly buy .. but later in rest of the trip I realized that that was the best buy !! The same thing happened during my Switzerland tour too !! may be Murphy's law 😛
After shopping there was a experimental demonstration of Coriolis effect by shop person using water and a jug (here I understood why they were kept on the ground). The experiment showed us that while water drifts down the jug cap, the direction of water at the Equator was still and on the North it's clockwise and South it's anti-clockwise.
Check the video to see complete experiment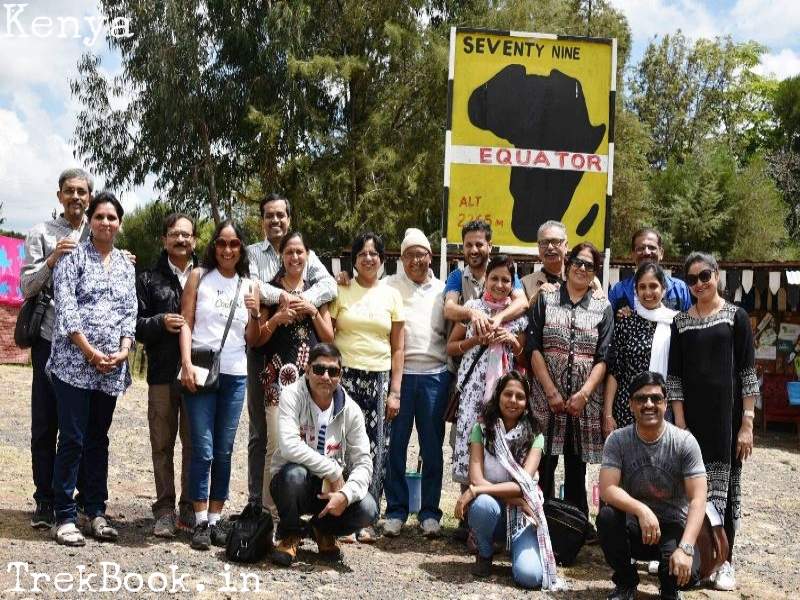 Also you can buy a certificate of visiting the Equator line for $4 USD but no one from group bought it, rather we took our group photo for FREE !
Here is someone who has claimed that demonstration of Coriolis effect is fake .. you may like to read it and observe during your tour .. you can even check this on my video …