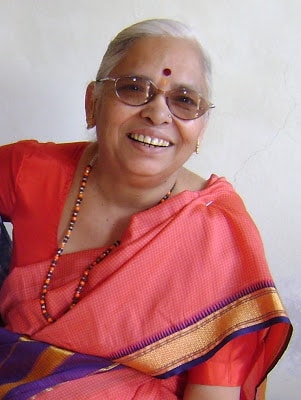 Long time ago I published my mother's recipe for Metkut (मेतकुट) , and further to the demand from my blog readers I started adding more recipes from my mother….
So Mother's Recipe series continues with Kachyya Karvanda che Lonache (Karonda Aachar) कच्या करवंदाचे लोणचे a.k.a. Carissa conjesta  … a pickle prepared at the beginning of summer season in Maharashtra, India. When you get plenty of unripe Carissa conjesta (Karvanda) fruits easily while you go out for any trek.
Also many readers wanted links to more recipes from my mother so I have posted links at the end of this post 🙂
While you get out for any summer trek in Sahyadri mountain ranges, you ought to see the small and green color berries? (They turn reddish & then black color as they ripe), They are sour when unriped and becomes sweet as they ripe just like mangoes. They are black from outside and vibrant red flesh inside.
Locally called as 'Karvand' or 'Karonda a.k.a.'Carissa conjesta'
Unripe raw green fruits are used for making pickle or chutney.
I love the pickle and to get that unlimited supply I get my trek sack full on each weekend visit to Sanhyadri mountains and forts .. its free and abundantly available everywhere … 
Karvand Lonache Karonda Aachar – Summer Special
Ingredients Karvand pickle
| | | |
| --- | --- | --- |
| | 2 cups | Karvand or karonda |
| |  12 to 15 tsp |  Redymade mango pickle masala (Masala on Amazon) |
| |  5 tsp or to taste |  Salt |
| |  ½ tsp |  Turmeric powder |
| |  ½ tsp |  Asafoetida (Hing) |
| |  10 to 12 tsp |  Oil |
 Preparation :
Remove the stalk and keep in bucket of water with turmeric & salt for 4 hours.
Wash them and dry it with a cotton cloth. Keep it overnight.
Option 1 : Cut into halves and deseed. Rub with 4 tsp salt. Keep this covered overnight in a glass or plastic bowl.
Option 2 : Which is my preferred option, use them as it is without cutting or removal of seeds
Add pickle masala, turmeric powder and 1 tsp salt in it. Mix well.
Heat oil till it smokes. Switch off the flame and add hing.
When oil come to room temperature, add this oil in pickle mixture bowl and mix well.
Transfer the pickle in to clean, sterilize, dry and airtight glass jar.
Again I like to eat it immediately after my mother prepares it … I do not like to wait till it marinates which takes @8~10 days.
After marination, you may refrigerate it (for me it won't last that much)
Special Tip : 
If karondas discharge some water/juice, discard it.
If you wish to see other recipes from my mother visit following blog posts …. cheers !!