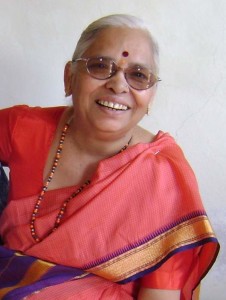 Long time ago I published my mother's recipe for Metkut (मेतकुट) , it was just for my own reuse since its not that every day you make such things. Now looking at demand from my blog readers I am writing down few selected ones ….
So Mother's Recipe series continues with How to make Kachya Phansachi bhaji (कच्च्या फणसाची भाजी) (Unripe jackfruit curry) fanasachi bhaji which is seasonal curry prepared at the beginning of summer season in Maharashtra when you have unripe jackfruits available easily and at pretty cheap price (due to the fact that if you keep too many jack fruits on the tree then all of them can not grow well and hence you have to remove some of them, they are to be sold unripe state) in fact you will find it made in every Mararthi home during summer season.
Also some of the readers wanted to know all recipes from my mother I have posted so far hence I have added links to previous blog posts (goto the end of this post to visit links)  …
I like this tasty curry very much and today got up 6 am to goto Khadilkar kaka to get fresh one for me 🙂
Kachya Phansachi Bhaji (कच्च्या फणसाची भाजी) (Unripe jackfruit vegetable curry) fanasachi bhaji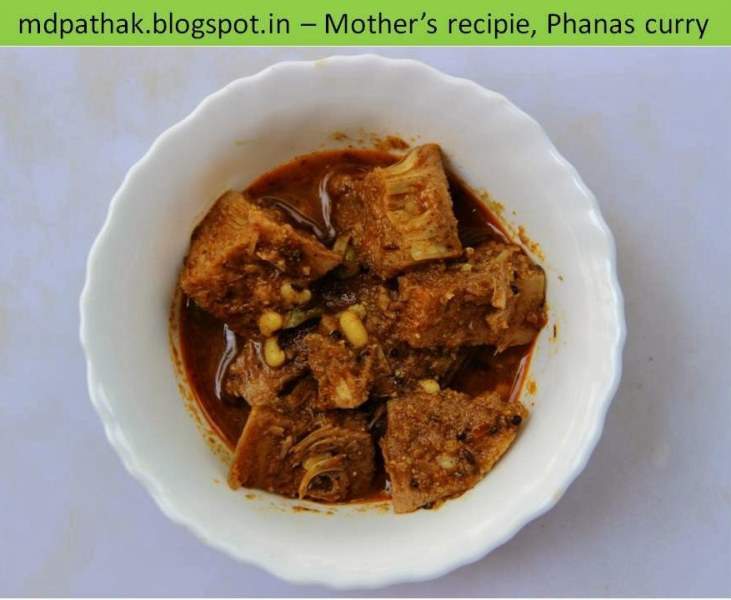 Ingredients for Unripe Jackfruit Curry (fanasachi bhaji)
| | | |
| --- | --- | --- |
| | 1 Bowl | Hara vataana (Green peas) |
| | 1 Bowl | Cahvli (black eyed beans) or 1 bowl, Pavta (Lima beans) |
| | | Fresh Coriander |
| | 1 Spoon | Garlic paste |
| | 1 Spoon | Ginger past |
| | 2 Numbers | Onions (roasted) |
| | 1 Kg | Unripe jack fruit (Kaccha Phanas) |
| | 1/4 Tea spoon | Turmeric powder |
| | 1/2 Bowl | Grated coconut |
| | 1 Tea spoon | Coriander seeds powder (Dhane) |
| | 1/2 Tea spoon | Cummin seeds (Jire) |
| | 1 Tea spoon | Kala Masala or Goda Masala |
| | 1/2 Tea spoon | Salt |
** Bowl = Catori (in Hindi) or Vati वाटी (in Marathi) 
How to prepare Kaccha phanas bhaji (कच्च्या फणसाची भाजी बनविण्याची पद्धत)
First step is to cut Kaccha phanas (unripe jack fruit) into @1 Sq Inch size pieces, now this is the main skilled job in making this preparation. So read the cutting guide carefully, feel free to drop me message in case of any difficulty 🙂
How to cut unripe Jackfruit Guide
While cutting the unripe jackfruit main issue is a sticky milk excrete which sticks to your hand which is very difficult to clean or if it sticks to the floor it will leave tough to clean stains 🙁 So follow these simple steps plz
Put jackfruit on plastic bag on the floor, so that it don't stain the floor.
[some people suggest to put newspaper, however as you know the ink on newspaper is toxic, hence not recommended to put any edible item in it, hence I use plastic bag]
Apply edible oil to your hands and knife too
Cut the jackfruit into two halves
Chop it further into big quadrants
Remove the thick green back skin
Chop the pieces further to produces nice triangular & rectangular shapes
After cutting each piece, immediately put them into the water else it will turn rustic colour due to its iron content.
Now roast the onions on to the gas flame, grind them with grated coconut + garlic + ginger + salt + kala/goda masala + red chilli powder, to make paste as shown below photograph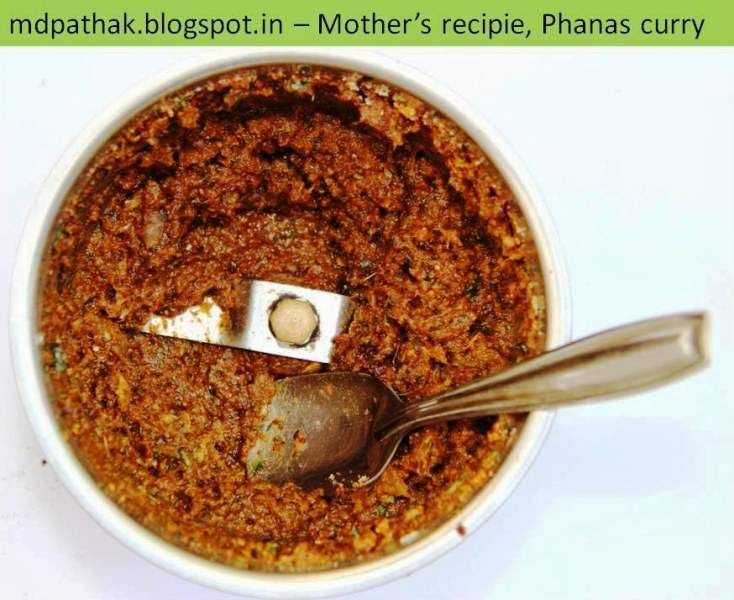 Heat 2 spoon oil into pan, add mustered seeds + jeera seeds to it.
Then put red chilli powder + turmeric powder to it.
Turn gas to high heat and add hara vatana and chavali, fry for 2 mins
Add Kaccha phanas pieces to it, mix and close the lid with a plate.
After few mins add hot water to it alongwith the ground masala.
Keep on low heat till it cooks (poke with fork to check that it is just done, over cooking will spoil taste of this curry)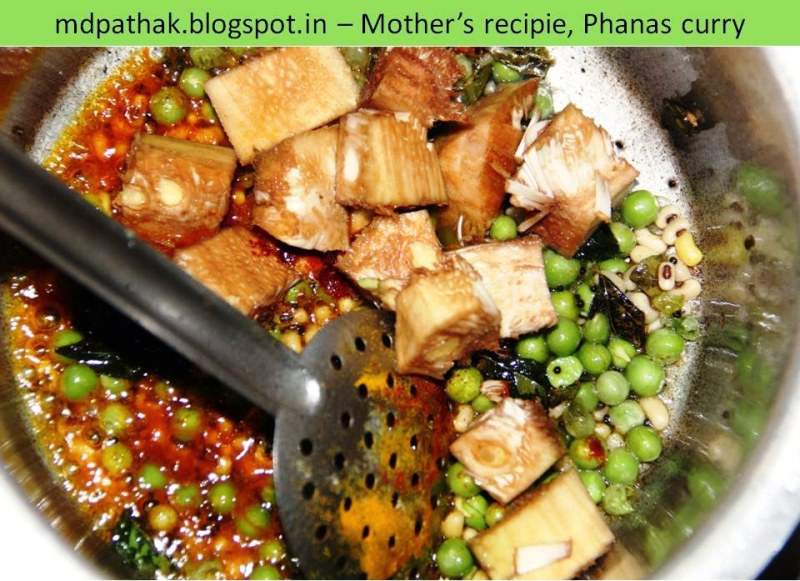 And yummy curry is ready to eat 🙂
Special Tip : Remember this curry is not like other ones, this is semi solid type, do not add too much of water since it will loose the taste
Lastly for you I have snapped photo of jack fruit tree today morning at 6 am (why 6 am ? because Khadilkar uncle do not give it once sunrise happens !! so u hv to be in time if u want to get fresh one !!!)
and finally got 1 kg kaccha phanas at 30 INR 🙂
if you wish to see other recipes from my mother visit following blog posts …. cheers !!


My Mothers Recipes