Most of you must be busy day night working to the high stress levels and as a yearly work going through a medical examinations … right ? One of the test done during medical test is the famous Treadmill test, which many of you are being recommended after your ECG goes for a toss !! btw I did it last week and observed that I could get it through nicely .. no quick  increase of heart beats even after 10 minutes … I am sure that is because of rule of one trek per month and regular exercise I am following now a days….
Coming to the point that Friday night we did Full moonlight trek "Katraj to Sinhgad (K2S trek) Night Trek" which I will compare with big treadmill test which is a must once i a year like our medical test …. honestly I did not find this trek attractive as the other treks for nature .. yes for sure u get Magnificent night views of Pune city  … but do not compare with other trek in Sahyadris giving nature views … but this trek makes you aware of your fitness levels … it stretches u to the best of ur hear bits … flushes up your blood vessels !
I could not get the information on distance covered in Katraj to Sinhgad (K2S) Night Trek … people claiming anywhere between 5 to 22 kilomters of stretch hence I decided to map route using OsmAnd software (which also has Katraj to Sinhgad (K2S) Night Trek route in it) … my precise GPS route measurements shows 11.8 kilometers route length to the Sinhgad tar road from which then the fort is 4 kms or the bust stand 7 kms away.
---
K2S Trek Katraj to Sinhgad Night Trek 2020
Difficulty level :
Medium (due to slippery descending, heavy ups and downs, distance to be covered ~12 kilometers)
Time taken – 6~7 hours
Hills to cross ~13 nos. (2~3 of them are really good to climb !)
Special instructions for K2S trek :
– Water is not available anywhere in this route, due to exhaustive nature of this route, make sure to carry at least 2.5 liters of water per person
– Shoes must be in really good condition, since the land is slippery (Murum land) – See Trekking Shoes Selection Guide
– Battery lasting at least for 5~6 hours (u get LED's these days) is a must (Even it is moon light trek, sometimes due to clouds u don't get sufficient light)
– carry jacket, protects when u stop for a rest facing chilling winds
– keep ur backpack weight minimum .. remember u hv to carry things on ur own 🙂
– Android mobile with software like OsmAnd will guide ur track
– Do not ever attempt to skip climbing on hill and get on from side of hill, I am sure u will loose ur track if u do so. (we tried this and could get to the track with help of GPS, but suggest u not to try this)
What to see
– Beautiful lightening views of Pune city
How to reach start point of K2S trek
– Get down to the Katraj old route tunnel (GPS co-ordinates 18.397383, 73.85766)
– Catch bus from Swarage bus stand towards Kondhanpur (last bus time 10 pm)
– Or u can get jeeps from KAtraj bus stand, if u share with team, u can get there in 20 Rs per person
– On the way back from Sinhagad u get jeep down the hill (40 Rs/person)
First view of Pune city when you reach Waghjai mata mandir (temple)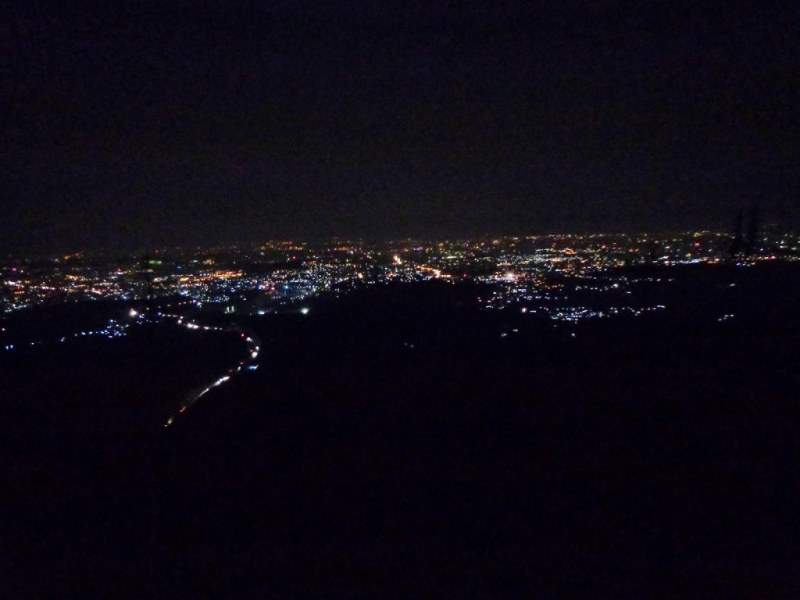 You will reach the temple in just 5 mins after start of trek … I am thinking of going this point with my DSLR Canon 600D one night at this point to have nice shot of Pune city night views…
Team lead Mandar Tharwal (FONA) giving necessary instructions before we start the trek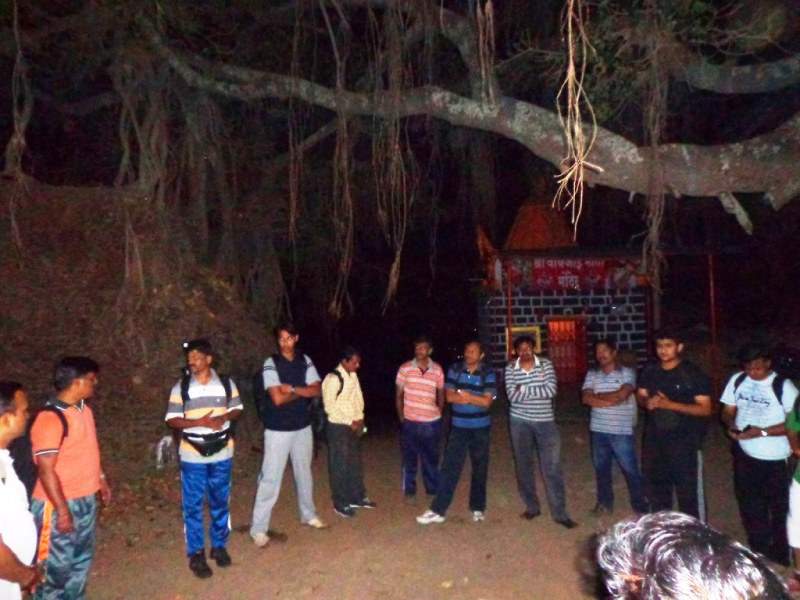 Mandar on the climbing .. Look at the city lights behind him .. it is barren way … No greenery in month of March .. this was one of the most boring walk btw 🙁
 We reached around 6th or 7th hill and decided to have dinner at 2 am early morning ! or mid-night !!! after 3 hours of walk u deserve it !! and let me tell you after dinner . ohh .. the chilling winds … just experience it ..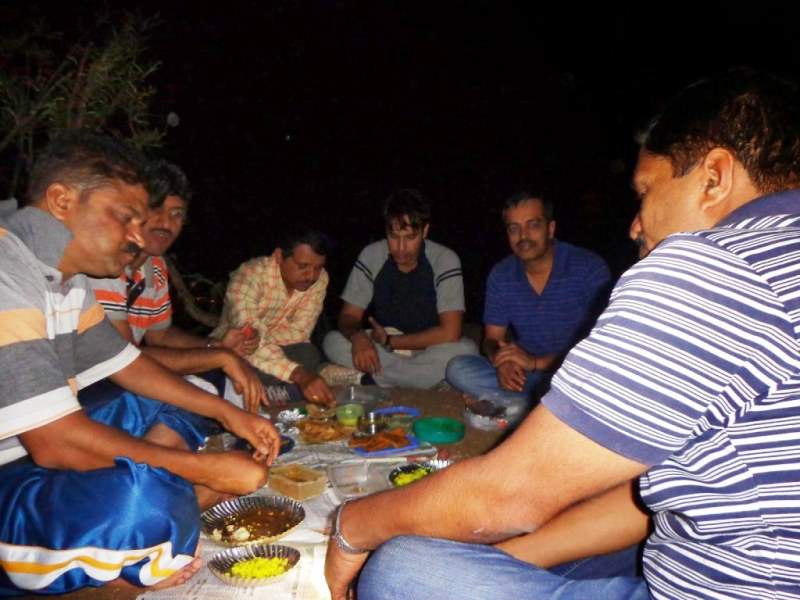 Way down the hills is so slippery … you can see my camera flash not highlighting the path at all … too dark to see anything … and that is where it is difficult …  many of members do slip of .. so take care of your trekking shoes .. they must be in good condition.
  And finally after ~11 kilometers of walk over the hills, you get to the Sinhagad road .. Just walk down the hill to get bus to Shaniwarwada or Swargate … (if you are too tired then you do get jeep service at some nominal price per person)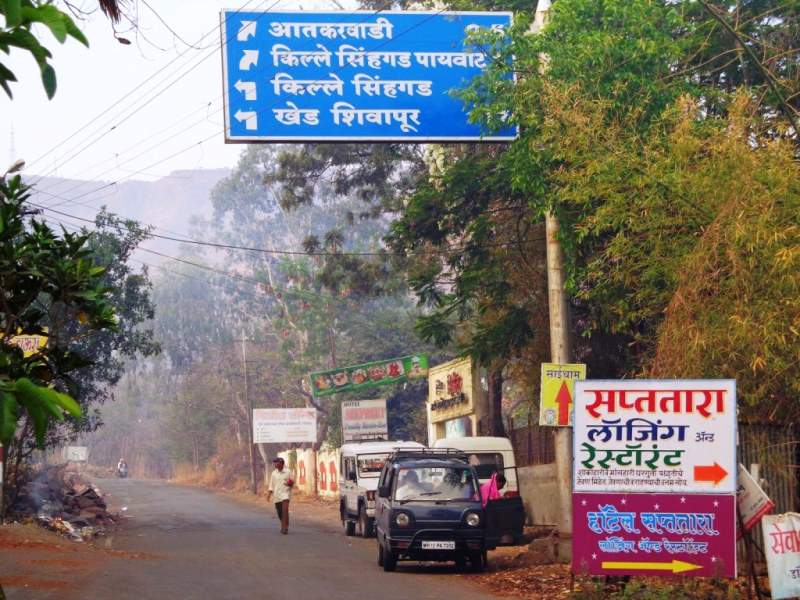 Team FONA … 26 members in total ! where are others ?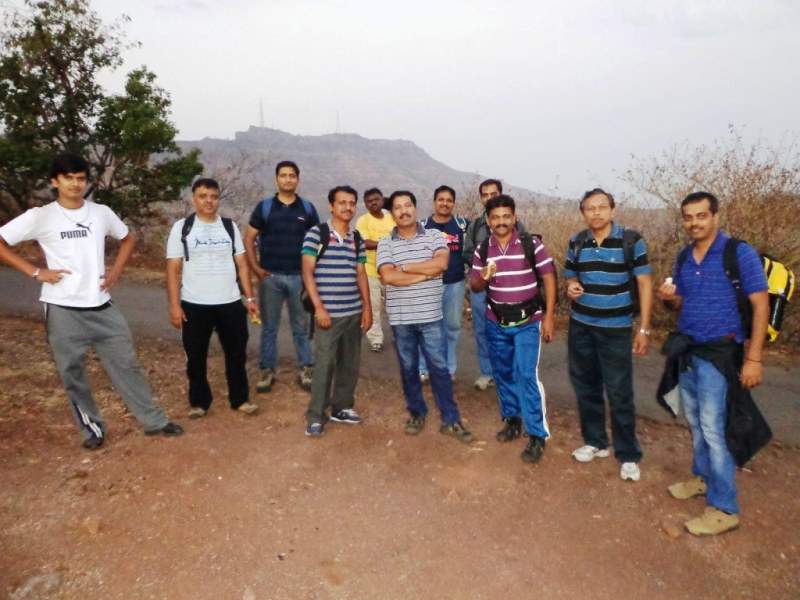 So I am sure you will enjoy Katraj Sinhagad trek at full moon night … cheers !!
Recommended reference reading –
One day trek in Sahaydri mountain ranges – Do's and Don't, Things to carry list
Best Hiking & Trekking Shoes in India [New Recommendation in 2019]
Summary
Reviewer
Review Date
Reviewed Item
Author Rating