When Mandar sent me invitation mail for Kothaligad trek, I googled for information .. everyone mentioned that it is very simple trek ! someone said it as torture trek !! for the reason that u can see the fort from a distance but do not reach it till ages to go !!!
After completion of the trek I can surely say that Kothaligad trek is torture trek if u walk from village Ambivili upto peth and then start the climb, if there is no rain then u r gone for a toss ! all the energy will be sucked by the sun and humid atmosphere (at least for persons from pune)
so my suggestion is to drive upto village Peth using SUV and then do this climb 🙂 the road is not that good but I saw SUV reached village Peth hence this suggestion.
Kothaligad trek aka Peth [ fort near Karjat] Update 2019
Visited again on 14 July 2019 – New information which I felt to be updated for you is as follows –
Entry fee to Kothaligad is Rs 20 per person

Road to the fort from Village Anmboli is in very bad condition, so there is no choice but to walk distance of ~5 km from Village Amboli to Village Peth.
On top of fort you get hot cup of tea, sweet corn and Maggie, so carry money if you wish to have a hot cup (I did not carry money since was not aware that you can buy something at top of fort)
Food available in many small houses / hotels at village Peth, however the food quality is very much BASIC. So do not expect extraordinary hotel style food.

BAD Thing

is that at village

Ambivali there is a liquor shop opene

d at the precise entry point and I saw many people drinking and buying liquor, I am sure if this continues this fort will be hell for real trekkers and nature lovers.
Basic information on Kothaligad (also called Kotligad or Kothligad) trek
13th century fort which is located near Karjat-Murbad Road. It is called as Kothaligad since the shape looks like removal of "Kothala" from stomach.- means fort looks like removed intestine from stomach, hence called as Kothaligad ! sounds interesting !!
Difficulty level : Simple torture !!
Height – 3100 feet above sea level
What to see !
Scenic views (Bhimashankar, Siddhagad, Matheran)
Hanuman temple at village Peth
Temple at fort base
Large cave at fort base
Carved steps inside pinnacle forming a staircase as way to the top.
fireflies (at beginning of monsoon season)
places that can be seen from fort kothaligad

View Kothaligad – viewpoints from fort in a larger map
Place to stay/take food & water
Water – carry along (alternate source – a cistern at the fort, but having dirty water !)
Food and stay – large cave named as Bhairoba cave (not sure one can stay here due to smell)
suggest to carry food or call hotel at village peth and tell him to prepare food for u, better to stay at hotel at Peth
Below Kothaligad Peth Fort Karjat – Hotel names and phone numbers are taken on 14 July 2019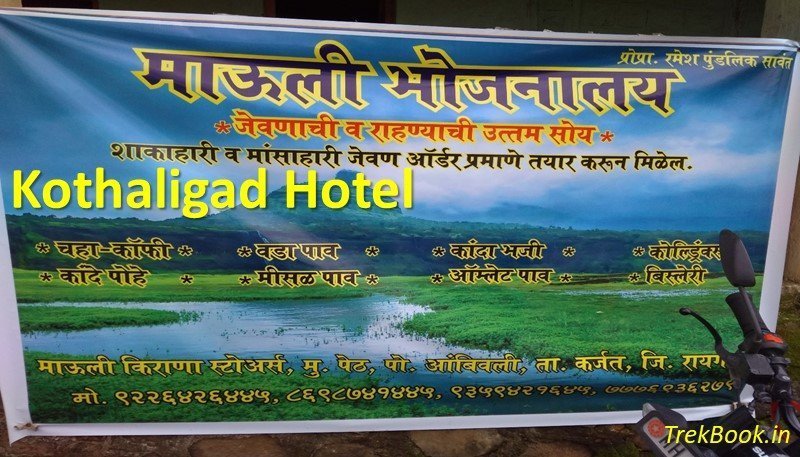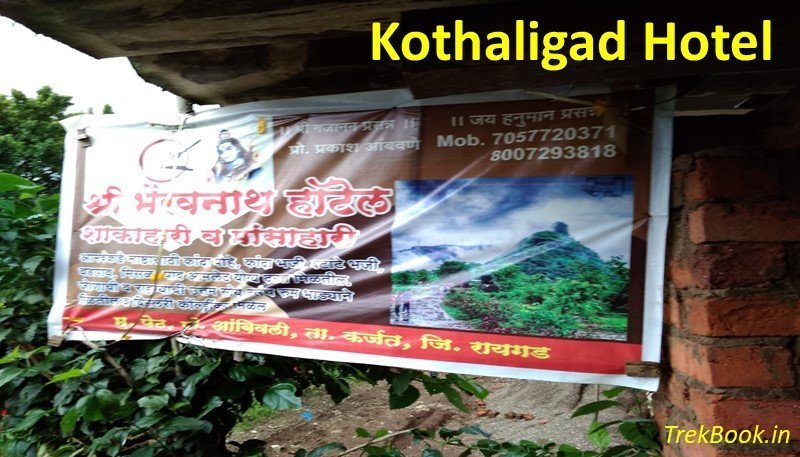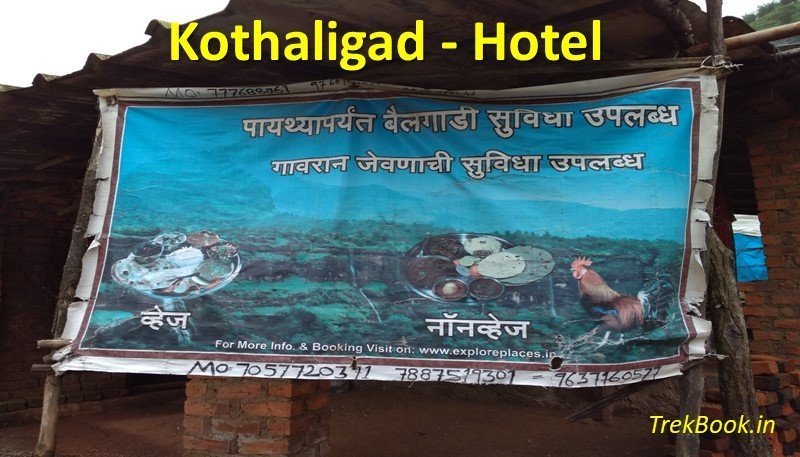 Location
Karjat-Murbad Road (google coordinates 18.992783,73.513028)
How to reach Kohaligad trek?
Karjat (reach by train or bus from Mumbai or Pune)
The distance from Karjat to Ambivali is about 30 Kms.
1) Karjat >> Kasheli Bus
Kasheli >> Ambivali – 6 seater tumtum rickshaw
2) Karjat >> Jamkhed ST Bus which goes from Ambivali village
3) Neral >> Kasheli – 6 seater tumtum rickshaw
Kasheli >> Ambivali – 6 seater tumtum rickshaw
Ambivili to Peth (walk, travel by private rikshaw/jeep)(walk time 1.5 hours) – my suggestion is to go upto Peth using SUV.
Peth to top of fort (1 hour)
Best time to visit Kothaligad Fort
Monsoon will be the best time to visit due to low temperatures, greenery, misty clouds and waterfall views.
Winter is too cold, you can enjoy morning mist and fog all around the fort.
Summer is absolutely NO, since its too tiring to walk from Ambivali till Peth as well as the views are not that great in summer, due to no greenery, no waterfalls and no mist.
Precautions
use proper trekking gears for this trek
Since we went by bus, we parked it in village Ambivili and had our morning tea at Hotel Kothaligad, Obviously mandar had a phone call to keep tea ready for the team of ~65 members 🙂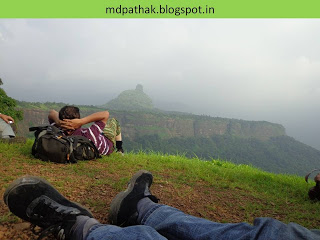 The first rest point u can get a look at magnificent views, i am sure this will look best while it is raining ..
By the time u reach to village Peth . u see board of Bhairavnath Bhojanalay (hotel) wherein u can pre-order food before u go for a climb and get ur lunch when back .. but since as per regular practice we had our lunch packed we did not take food .. but if u r going there in early season like july .. do ring them before to get hot lunch …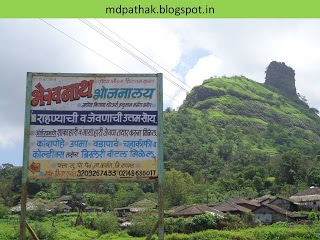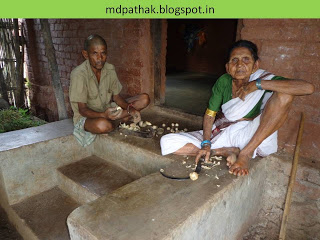 Once we reached village Peth, got a first house where a couple was cracking beetle nuts, I liked the simplicity of their house (and life too) .. the old aged women started looking with curiosity since she did not understood reason for photographing ! the regular work !!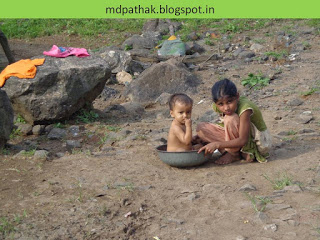 As i left the house saw girl giving bath to the smaller one 🙂 nothing better than this bath .. not even i a five star hotel . humm … that;s the life one can look for 🙂
By the next house .. saw a girl slicing the sticks ..as the siblings play on the side… as soon as they see u .. they come to u asking for food .. as roopa shared an apple .. it was joy to look at their happy faces .. jumping inside the house to share apple with all … for sure u will like this experience ..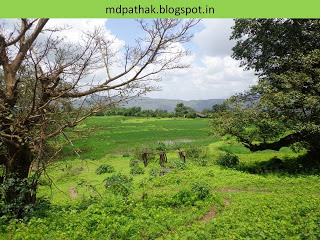 The way along as u get over with adivasi houses .. enter to the greeny rice fields .. lush green .. walk through .. towards the fort kothaligad ..
After 30~40 minutes of climb u see the entrance to the fort.. steps from here are still intact …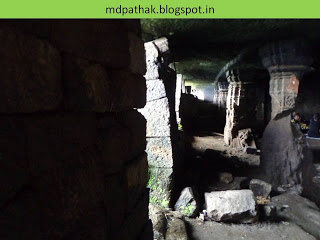 Immediately after the steps u get across to the caves which are really big and have remains of carved pillars .. some rooms .. I read that u can spend night here ..but practically don't think that is needed since u can spend 50 rs per person and stay any house at the foot of fort .. where u can get village food and stay .. water .. everything .. instead spending night in the smelly caves having bat shit around 🙁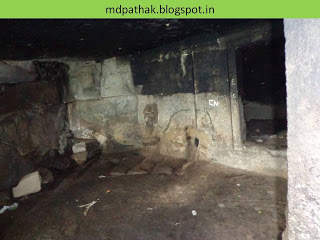 Caves master bedroom .. i could not enter inside as the smell from bat shit was really strong .. only could sustain to take a snap for all of u ..
Outside the caves is a temple ..not sure of which god and godess .. but was fairly clean .. having shoes on i did not went inside .. but had a snap from outside …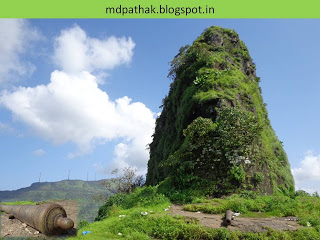 On the way where u enter to the caves .. get on to the other side before u step on to the pinnacle .. to get a front view of this fort .. u must have seen this photograph for fort kothaligad all over internet ,.. unfortunately things are becoming dirty since visitors are dropping their shit plastic there !!! ..god who can stop them littering things ?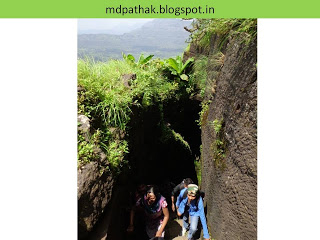 When u r done with photographs and cave visit… proceed through the carved steps through the pinnacle . steps are still intact and are very high to climb for us .. we are not so used to have such high steps … though one can keep climbing having support !!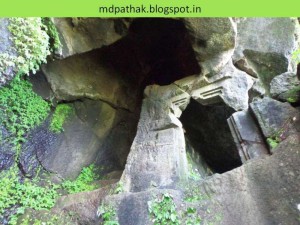 Keep looking at the marvelous carvings telling u that there must have been proper rooms to stay for ..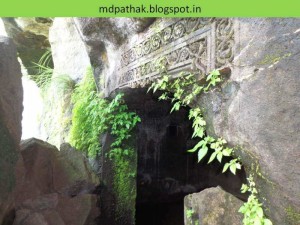 Look at the carvings .. the remains remind u of golden era that this 13th century fort must have experienced .. although no one is looking for maintaining this history .. it has success to survive thorough centuries !!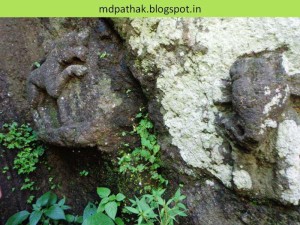 Looks like someone wanted to carve Lord Ganesha …a Lion .. and many things … but not finished …
Reach to the top to get panorama which one can not capture in one go .. keep looking for matheran .. bhimashankar .. all over for sure u hv to visit during rains to see waterfalls over the huge walls of sahyadris …

On internet people has mentioned about availability of water on fort top, but
u can see that it is not drinkable .. so do carry ur own bottles ..
On the way back the rest point was a Hanuman temple .. it was pretty clean inside ..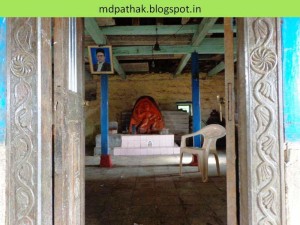 I just went to have Darshan of God Hanuman .. nice feeling … simple temple… having wooden doors with carvings …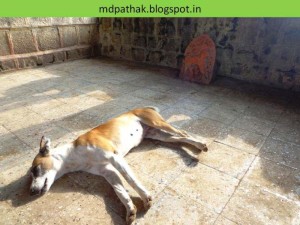 The interesting thing here .. notice that alongwith the sleeping dog .. there is idol of someone looking like a dog to me !! actually i wanted to ask someone for the history or reason .. but was already lagging behind the team .. so left the though in my mind and went on !!!
In front of the Hanuman temple & outside the hotel one can see the huge casting of bell .. sized around 3.5 feet high and 1.5 feet in diameter i wondered the time when this was made and surprised that till date this has survived from theft !!!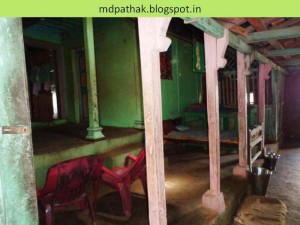 By the way just wanted to tell u that if u wish to stay at hotel Bhairoba .. then they do have lot of space to stay for with charges of 50 rs per person per night . having provision for food ..one can try this out ..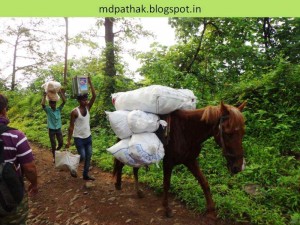 On the way back met with transporter II .. horse carrier … saw after so many days ..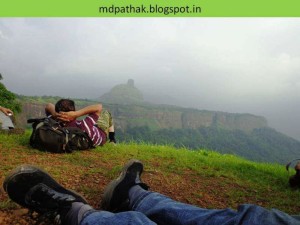 Finally trek leader Mandar, having rest after having successful trek of ~65 members aging from 8 years to 60 years .. and so as me …
do not forget to check for the list of things to carry for trek
https://trekbook.in/2008/08/things-carry-trekking-india.html/
cheers !!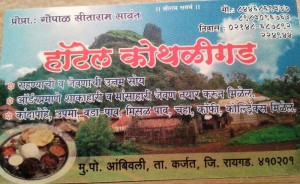 Hotel Kothaligad visiting card (if u wish to call and pre-book tea or bk-fast) Gopal Sawant 8446869377 or 8983096763
If you wish to stay near kothaligad fort then see photographs i have added above for the room of bhairavnath bhojanalay hotel,
contact kiran sawant 9209267433 or 9273433840

Recommended reference reading –
One day trek in Sahaydri mountain ranges – Do's and Don't, Things to carry list