The most important thing to go to Jungfrau, top of Europe is to select right route for going up and then coming back …. you can refer to the map below (and the new one which u will get once u r at interlaken) later i shall try to scan this and upload better version of map.when u catch train from interlaken ost (or catching a bus u can directly goto Winderswil which is next station saving your valuable time to go back to interlaken ost, so from hotel sonne we catched a bus and went to Winderswil saving about 25 mins of time) ..  so at any of the railway stations u can get ur jungfrau tickets (since i bought them from India, only i have to show and get exchanged for day pass tickets)
from interlaken ost or winderswil ..
now remember that the train first half goes to Lauterbrunnen and the second half goes to Grindelwald ! and we have to goto Grindelwald(since we have decided to have a round trip) … no worries .. in case u r in the wrong half of train .. at Zweilutschinen railway stop these trains gets separated .. so u can get down and goto other half as u wish …so we have selected to goto Grindelwald route .. from where u will goto Kleine Scheidegg .. now this is the point where the other route train will also arrive .. so this is junction point to goto the top of europe …
from Kleine Scheidegg .. u get to see the famous RED colour Jungfrau train … this  is last train change for u to goto top of europe .. now the most important point to remember is sit in
RIGHT hand
side window seat on the way up so as to get magnificent views 🙂

now on the way back you will reach the same station from where u hv to get train to Lauterbrunnen(so we are selecting other route to get down to Interlaken) .. get down at Lauterbrunnen and then catch a bus to Trummelbach waterfalls … remember that they get closed in evening 6 pm or so .. hence i was not able to visit them … so goto top of europe early morning and while comingn back goto these waterfalls … again come back to the railway station and continue ur travel to interlaken ost or west as per ur wish ..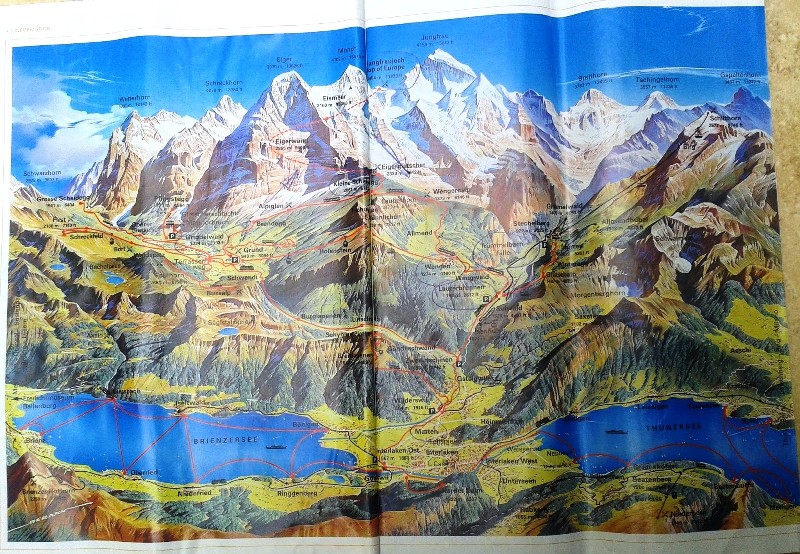 Blue on white … white on green … green on yellow  …on the way to Grindelwald ..
 the Kleine Scheidegg railway station, photo taken from train to Jungfrau …
The famous .. RED .. Jungfrau train at Kleine Scheidegg railway station .. u can see rack tooth in the corner of photographs .. these are the once to get u to such high altitude in short time span .. the railway hangs to it using rack and pinion mechanism .. climbs without slipping from route 🙂 mind it this train has complete 100 years of service in 2012 !!!
on the way .. the tunnel that u see on left hand side in below photo is having train it in ! see carefully .. we will pass through the same in a short while
Eiger Trail railway station where u can get down and have a trek back to the main station .. i could see many trekking paths there .. next time I would there for sure I will spare two days at least for this tour …
finally after passing through a looong tunnel … u reach the base station at "Top of  Europe"
from base u can see the top most point … where u can go through high speed lift … after spending 2 hours at the base we took our lunch in the Hotel Bollywood .. and started going back .,, the hotel waiter asked whether we had been to the top most point ? called as Sphinx Terrace ! we went there 🙂 thanks man for reminding …
now remember that this view from Sphinx Terrace .. on clear sunny days u can even see the Vosges in France and Germany's black forest !
Sphinx Terrace – 3571 m …
magnificent views from Sphinx Terrace – top of Europe
from Sphinx Terrace u can see the bottom station point .. where ant like dots are people playing snow, skiing, walking all around .. this given an idea of the height difference .. and this height u can reach in the Switzerland's fastest lift which takes u this top point in mere 27 seconds ..
please mind it .. as Indian u aught to do this anywhere in world .. even at Top Of Europe 🙂
and u know God Shiva stays at the top of mountains ..
|| Jay Shiv Shankar .. Jay Bholenath ||
In the Ice Palace .. created in 1930's !
Alpine sensation ..tour sub-way, presents the past and present of tourism in the Jungfrau region
Train on the way back to Lauterbrunnen
I recommend that one day to spend on top of europe and second day for the Trummelbach waterfalls, it is possible to do both in a day but then u can not spend sufficient time then on top of europe .. u decide .. but if u wish to complete in a day then catch the first train early morning .. i think from 5 am .. check at the station for timings …
hope this helps .. before start of the tour from India .. i searched a hell for understanding the map .. and deciding the trail .. but now i think i have clearly spelled out for u the round trip path including waterfalls 🙂
hope this help 🙂
cheers !!
and if u wish to refer to the index page where u get links to all posts for my Switzerland trip then do visit ..
https://trekbook.in/2013/07/planning-trip-to-switzerland-from-india.html/