Selection of airline and selection of hotels was one of the important task for applying for schengen VISA.So firstly I gave task to the travel agent to find out any dates in July 2013 with target of coming back on 9th day (due to use of Swiss 8 days unlimited travel pass) where I get best price for direct flights to Zurich from Mumbai.
There were other options too, where halt has to be done (mostly gulf countries airlines) and then u fly to Ziurich, at lower price, however since I gave task to find best price dates to the agent, was able to get direct flight through Swiss airlines at price of 45,500 return airfare (including all taxes)
Highlights – Booking well in advance and searching for best dates gave me Swiss Airlines direct Mumbai-Zurich flight for only 45,500 Rs return airfare including taxes
After getting dates for the flight, I started looking for the hotels and booked ones with some study for the prices ! but here I forget the importance of hotel location, in my lessons learnt section I have mentioned about this and MOST IMPORTANT learning is do book hotels near to the railway station is a MUST. and my experience is if you book hotels early enough you get decent prices. actually when I started study the prices were around 7000 rs per night however after a month or so the prices soared to 10,000 rs per night for the same hotels, hence it is necessary that u book the hotels well in advance.


Highlights – having booked the same hotels late I had to pay 10,000 Rs per night instead of 7000 Rs per night, so book early.
after having things in place and VISA in hand I booked the Swiss train pass and the mountain tickets, all of the above i.e. hotel, airlines and swiss train + mountain bookings I could do using INR only.
Last thing that came to me is travel to Mumbai airport, for which after search on internet I found that KK travels and Sandies are the most famous for airport pickup-drop service, after inquiry they said the price is 800 INR per person and there will be 2 more persons in the vehicle. also they said that pickup time would be 1 hour since they have to pick other couple too. i.e. if i have to leave at 5 pm then I have to be ready from 4 pm onwards. so I started inquiry about private vehicle for only two persons, here one way drop by Indica was ~3000 INR.
Since I was aware of Car Ozone (since when I travel for company work vehicles are from car ozone) I called them and surprisingly they recently hv started low cost airport service, hence I could get one way drop at INR 1800 only for two persons ! so if u compare with other travel options, where i spend 1600 INR and have to share taxi with two more persons I could get private taxi only by spending 200 bucks more 🙂
also the service by them was good and fast (in terms of travel time)
contact person is Nitin 9763728635, most important thing is that he is available on what's app, so i was able to contact him from zurich to ask for car confirmation for night pickup at 10.30 pm. also they charged 1800 rs only for the night pickup too 🙂 at no extra night charges.
Highlights – Car Ozone has cheap airport drop service which is good
So after reaching Mumbai International airport, I got my air tickets issued from Swiss airlines help counter. After preparing tickets, my wife asked for the window tickets, and the girl on the counter simply teared the printed tickets and provided fresh ones with window seat 🙂 I thought such small things makes a real difference. So i was really happy to choose Swiss airlines. you know each small thing makes a difference.
then we checked in the baggage and proceeded to the immigration  counter.
there first I had  to fill in required immigration details in the form and stand in the queue, after verification of VISA we proceeded to the security check.
Then started the Swiss experience, selecting this airlines gives u a feeling of staring real swiss tour from Mumbai itself 🙂
Morning view nearing to Zurich, about 1.5 hours before ….from the right side window …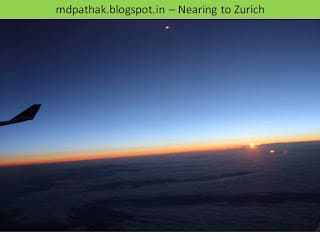 approaching Zurich – the morning view from flight
reached at the Zurich airport
at the airport you have underground train station from which you can proceed to the stations
the last day, leaving from hotel express holiday inn, zurich,
hotel has got free drop service and the shuttle starts every half an hour to the airport (only u hv to pre-book)
Magnificent views while flying back, since it is a day flight you can enjoy the view.
remember to carry your own memory stick to see your favorite movies in travel ..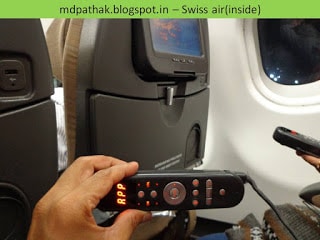 the last and not the least, that Swiss airlines have separate machines to checkin, here you have to enter the booking reference number, select the seats, insert the passport for verification and you get the baggage slips printed as well as the air tickets.also u can do web checkin before u go to sleep to catch the morning flight, this will give u a chance to have window seats (morning flight gives u nice views of the mountains)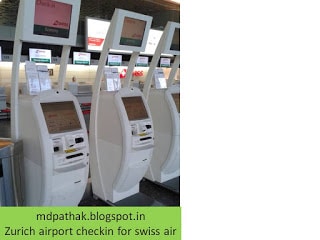 hope the travel story helps you …
may be some points are well known to frequent travelers …
but u know it may help if u r traveling for the first time…
cheers !!
and if u wish to refer to the index page where u get links to all posts for my Switzerland trip then do visit ..
https://trekbook.in/2013/07/planning-trip-to-switzerland-from-india.html/