Recently I had been to Kolhapur to attend the 61st Birthday function of my relative, held at Daivadnya Shikshan Samaj Boarding, Kolhapur.
As I came to the location, I got rear side view of Vitthal Rukmini & Rahi mandir, which has beautiful carvings in stone. however temple is not maintained well, some cattle's were tied in the backyard! (later I came to know that this is under control of Puratatva vibhag! which is obvious reason of this condition) anyway, looking at the rear view of temple I was tempted to look at which is this temple, so I went ahead to see the main entrance.
Back side view of temple
The main eEntrance of the Vitthal Rukmini & Rahi mandir Kolhapur
is in real traditional style,
the pillars are in wood & its base in stone fascinated me to enter the temple.
When I entered the temple I could see two temples inside, one of lord Shiva and the other one of Lord Vitthal.
The most amazing thing is that Lord Vitthal is standing here alonwith his two wives, Rukmini and Rahi ! by tradition it is only Rukmini standing beside in any Vitthal temple in Maharashtra, however this is the only temple I saw with his another wife Rahi with him.
I met elderly person there who came and started massaging legs of God Vitthal, he was doing it from the bottom of heart 🙂 I was so impressed and asked him the reason behind doing this and got super amazing answer. he said "God Vitthal is standing on this posture from 28 Yuga's and I must serve him doing this Seva, he must be feeling tired standing for such long time" ohh man .. I just came to tears by listening to his logic. I think nothing goes beyond this belief !!! all things in this world are aside his logic. I felt this is INDIA, this can happen only in INDIA.
There is a story of God Vitthal standing for such long time (28 Yuga's) which again relates to my hometown Pandharpur, I shall describe it in my next blogpost for you.
Adding to this the elderly man also told us to look at all of them (Vitthal, Rukmini & Rahi) wearing chappals.! again by tradition gods are not with their chappals (footwear) in any of the temples ! On inquiring how about wearing the chappals a old man told me that these
gods in this temple travel to the nearby place where actual Vitthal
situates and hence they wear footwear !
अहो इथे विठ्ठलाने चक्क चपला घातल्या आहेत … अशी मूर्ती इतरत्र बघयला मिळत नाही …
आणि एका वयस्कर माणसाला विचारले तर त्याने सांगितले कि हा विठ्ठल वारीला जातो त्यामुळे त्याने चप्पल घातल्य आहेत …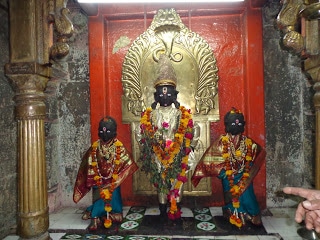 Look at the beauty of stone carvings outside the temple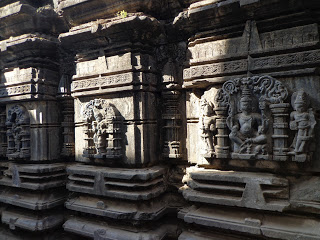 yep, its me again !
So if you are in the nearby area of Daivadnya Shikshan Samaj Boarding, which is 5 minutes walkable distance from the main Mahjalaxmi temple of Kolhapur, do visit this beautiful temple.
|| Shri hari Vitthal ||
|| बोला पुंडलिक वरदे हरी विठ्ठल श्री ज्ञानदेव तुकाराम ! पंढरीनाथ महाराज कि जय ||