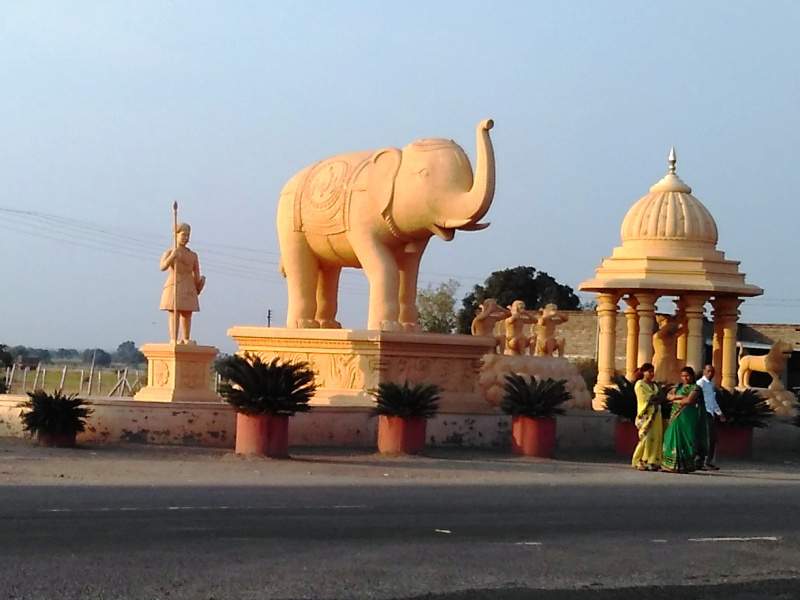 So many years I have been traveling to Aurangabad for official tours, used to see Devgad Sansthan beautiful entrance on the way, this time got an opportunity to visit it.just 53 kms from Aurangabad (on the way towards Pune) or 70 kms from Ahemadnagar (on the way to Aurangabad) you can see huge entrance with elephant statues on both sides, just drive in 5 kilometers from the main road to get to this place, it takes hardly 15 minutes to get in.
Primarily this is the temple of lord Dattatrya. The temple area is huge and noticeably clean, having stay facility (Bhakta niwas), boats if you wish to take a ride in river Pravara, plenty of parking place. shops are also organized in main entrance building. i could see lot of efforts being put in to maintain the premises.
Village Devgad is situated just east of Shaneshwar.
The temple is 24 hours open for the visitors.
Annadan (distribution of free food) is available.
A Dharamashala as called as Bhakta Nivas (a place of free shelter and food) is also available.
History of Devgad Maharaj
Shri Samarth Sadguru Kisangiri Baba born in 1907 at Godhegaon, near Devgad.
Kisangiri Baba always thought of the welfare of the society.
After enduring hard austerity for 12 years one banks of river Pravara, he returned to Godhegaon.
With his divine knowledge he became the spiritual preceptor, advised the religious massess to go for the pilgrimage of the fourholy places i.e. Char Dham.
He founded the temple of Shree Datta prabhu & the Devgad Sansthan.
When he felt the spiritual manifestation of Datta Prabhu, he laid down his life in the year 1983.
His SAMADHI is situated in the vicinity of Datta Mandir. A small temple is erected over the "Samadhi of Baba".
Shri Kshetra Devgad Sansthan – Aurangabad
Shri kshetra Devgad Aashram Dinacharya (Daily schedule of Ashram)
| | |
| --- | --- |
| 4 am | Ghanta naad (ringing bells) + Sanai vadan (musical instrument) |
| 4 ~ 4.30 am | Prata:snan (bath), Puja |
| 4.30 ~ 5 am | Shri Nitya-Abhishek |
| 5 ~ 6 am | Kakada, Bhajan |
| 6 ~ 6.30 am | Aarti (using various musical instruments) |
| 6.30 ~ 7 am | Darshan & Kshetra pradakshina |
|  7 ~ 7.30 am | morning tea |
| 7.30 ~ 8 am | Shri Geeta Path + Vishnu Sahastranam |
| 8.30 ~ 10 am | Ashram seva |
| 10 ~ 10.30 am | Reading |
| 10.30 ~ 12 noon | Maha nevedya and Bhojan |
| 12 ~ 3 pm | Vishranti (rest) & Chintan |
| 3 ~ 4 pm | Nityopkaran seva |
| 4 ~ 5 pm | Shri Dyaneshwariparayan |
| 5 ~ 5.30 pm | Shrinchi darbar seva |
| 5.30 ~ 7 pm | Haripath and Sayam-Aarti |
| 7 ~ 7.30 pm | Darshan |
| 7.30 ~ 8.30 pm | Bhojan |
| 8.30 ~ 9.30 pm | Naam jap, Bhajan |
| 9.30 ~ 10 pm | Shejj-Aarti |
| 10 pm ~ 4 am | Purna vishranti (sleeping) |
Devgad Datta mandir bhakta niwas booking : Contact numbers
Manager Devgad – 9763171073
Office Devgad – 0242-7283111
Please note that there is no online booking facility for bhakta niwas
Address
Devgad, Taluka, Nevasa, Newasa,, Maharashtra 414603
Jay Gurudev – Shri Samartha Sadguru Kisangiri Maharaj
Summary
Reviewer
Review Date
Reviewed Item
Shri Kshetra Devgad Sansthan Temple
Author Rating