Friends Of Nature Association monthly trek for July 2019 is declared. The treks by FONA (Friends of Nature Association) are organized on No Profit No Loss basis for the purpose of Conservation of Nature through Education.
FONA is an NGO working in Talegaon and Chinchwad region of Pune – You may please read detailed information about this NGO here.
---
Update as on 13 July 2019
FONA monthly trek booking is FULL. 2 buses shall ply tomorrow morning 5.30 am.
If you are interested in joining FONA NGO and become member to contribute towards nature please call us.
---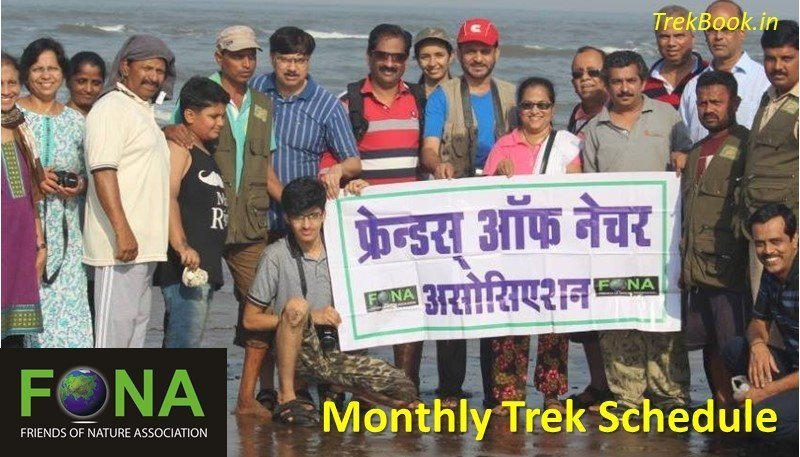 ---
Dear Nature Lovers…
FONA has organised it's Monthly Trek on 14th- JULY 2019 to KOTHALIGAD near Karjat.
Read complete information on Kothaligad trek here (this was last year trek of FONA)
Trek Type : Semi-Hard Trek.
Minimum Age: 15+
Contribution : Rs. 450 /- Per Head
(Contribution is Non-Refundable, Please note we conduct treks on "Minimum Cost Basis")
Contribution Includes :
Transportation by Private Vehicle, Toll & Parking Expenses,
2 Tea, 1 Breakfast ,
& First Aid Facility etc.
Contribution Does Not Include :
Lunch, Cold drinks, Mineral water, Private orders,
Insurance Coverage, etc.
Departure :
0n 14th July 2019 @ 5:30 am from Chinchwad.
Departure timings will be followed strictly. Please be present in time at ur pickup points which will be conveyed in advance.
Arrival :
By 6 pm on 14th July.
Must things to carry :
1. Tiffin for Lunch.
2. A proper sturdy rucksack.
3. Water Bottle.
4. Some snacks (If u need to eat in between)
5. Personal Medicines (If any)
7. Cap, Napkin, Spare Dress, Thermal wear.
8. Sports shoes / Hunter shoes.
9. Raincoat / Jerkin.
Lunch arrangements can be made there on additional charges approximately below.
1. Veg :- Rs.150=00
2. Non-Veg:- Rs.200=00
( Gavran Chicken )
Your seat will be confirmed only after transfer of contribution amount.
(You may also transfer contribution by Net Banking)
*So Hurry up..!!
(Seats are limited – 30 Only.)*
Contact for more details :-
Vivek Ramayane:- 9890500226
Jay Gore:- 7769955501
Kedar Gore:- 9420171944
Amit Potdar:- 9021875940
Smita Potdar:- 7040703250
Nirmala Vhatkar:-
9623867691
Suparna Gaikwad:- 9503140631
Sunil Godse:- 9922401834
Mahesh Mahajan:- 9822458440
---
Friends of Nature Association organized monthy treks and half yearly Jungle safaris on no profit no loss basis as an NGO. Any profits generated from this activity goes for expenses on Convervation of nature.
FONA conducts various activities for saving nature, works in different villages to teach the villagers about snakes and their importance.
FONA's project Mahaseer is one of the most successful project in India on conversation of Fish species called as Mahaseer.
Till date team FONA have saved thousands of snakes and released them in their natural habitat with proper permissions.
Various bird watching camps, treks to forts, jungle safaris are organized where proper information is given to participants and it is not like professional travel companies where the motive is only profit making.
This NGO is supported by hundreds of volunteers who spend their valuable time and money for conservation of nature.