Purushwadi fireflies festival was in my bucket list since so many years, and finally decided to head down there in pre-monsoon of 2020. Really its amazing experience in itself, to have such destination so close to Pune and Mumbai. So instead of travelling abroad or thousands of kilometers, simply head down to Purushwadi on weekend to enjoy this marvel of nature.
So mid June I spent a splendid weekend in a picturesque village of 109 houses of a tribal community called as Mahadeo Kolis. Village is still untouched by any external influences.
Fantastic experience to taste the authentic organic food, breathe pollution free air and the mineral water was really re-energizing.
The village Purushwadi which is famous for appearance of millions of fireflies in pre-monsoon season.
And mind it … you can even goto any of nearby villages like Wanjulshet or Gundoshi to see millions of fireflies, its not only Purushwadi. The complete area is blessed by nature to have cultivation of fireflies in more numbers than any other place in Maharashtra.
So in this blog post I will be giving information on how to reach, where to stay, what to eat and what to see at Purushwadi fireflies festival.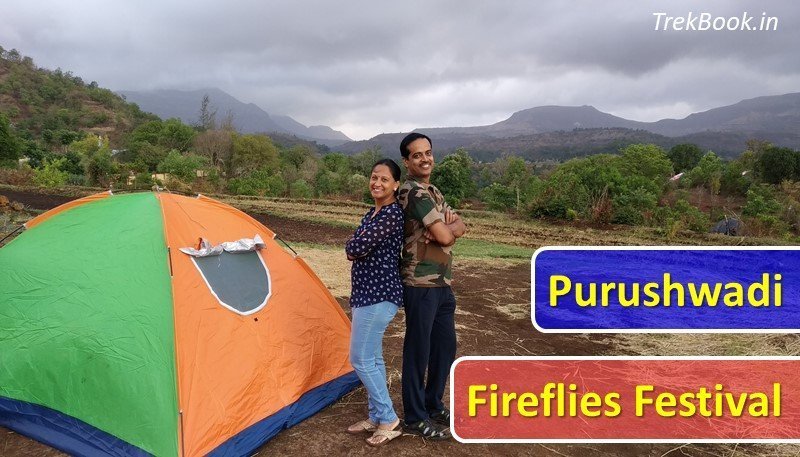 Purushwadi fireflies festival 2020 dates
01 June 2020 to 30 June 2020
Information on village Purushwadi
Purushwadi is a tribal village mainly Hindu Mahadeo Kolis reside there. Its very small village with about 109 houses.
As you enter village you will see temple of goddess Zakubai. It is said that Zakubai protected the village without help of any male gods. And that is the reason you will see deviation in standard practice of temple of lord Hanuman at the entry point, here lord Hanuman is in tilted condition, since he was unable to protect and Zakubai did it.
The lord Hanuman idols are kept on the banks of river near Khadki, with faces down, it is said that if you attempt to make the idol stand upright, next day morning, the idols get flat on their faces again! Anyway, all Indian villages have such stories !!
This village is situated in Akola taluka of Ahmednagar district.
Best time to visit Purushwadi is early monsoon i.e. End May till End June, even first week of July (sometimes). However if you wish to enjoy only village life, then you can try visiting in Monsson or Winter season too.
Things to do at Purushwadi
Watching fireflies

Main attraction of Purushwadi is fireflies festival which happens in June month or pre-monsoon period when millions of fireflies gets resurrected and start glowing on trees in village purushwadi. So watching fireflies is a feast to your eyes.

Trek to hill

Second activity that can be done is a small trek to a hill in this village, where you can enjoy mesmerizing sunset views. While you reach top of hillock, you will see sun set .. slow movement dipping behind the mountain ranges of western ghats.

Swimming in river Kurkundi

Yes, if you wish get into clean water of river Kurkundi, but make sure that your host is accompanying you to avoid any accidents.

Indulge in village activities

Sowing rice,
Milking cows and goats,
Chopping firewood (take extreme care)
Grind pulses on grinding stone
Catching crabs
Purushwadi homestay
The first thing I did is checking on internet about staying at Purushwadi and found that there is a company which facilitates tent stay for about 8,000 Rs per couple!! Surely I can't afford to spend such hepatic amount for a tent stay. I told my friend and group leader to visit Purushwadi first to check facilities.
After entry to the village he was stopped by the company persons asking for stay reservations. They clarified that if he has no reservations he can not enter inside village!!
Surprise, how can someone stop from entering a village if no stay reservations!! I don't think the constitution of India permits such powers to a private company!
Anyway since we are trekking in Maharashtra since last 35 years, the instruction was completely ignored and my friend entered inside the village and found nice stay facility for him (and later our complete group stayed there in very minimal cost for stay and food)
I am not giving details of person where I stayed since the company people will surely cause some trouble to him since they are loosing business case.
Anyway to cut it short, you can directly do inside village and find suitable stay for you. Only keep in mind that this is tribal village and the facilities are very much primitive. Toilets are available due to the efforts from Government and newly built, so at least main facility is available (all are Indian toilets)
Food
Food is organic, simple, home cooked. Do not expect 5 star lunch or dinner. The villagers do not have access to city like facilities. If you are going in large group, it is must that someone visit there first and informs about food requirements. I am giving a sample photo of food which I had.
I had chapatis, Brinjal subji, Mirchi thecha, rice and dal. Not so spicy but surely tasty. They use very less salt so you need to ask separately (if needed).
Note –
Villagers do not have plates to serve more than 3-4 people, so if you are large group, then make sure to carry disposable plates (made from leafs called as Patravali) and disposable tea cups. Do not litter them but carry everything back.
Tea
Mostly you will get black tea since villagers do not have milk for so many guests, but believe me, the black tea tastes miraculous.
I also asked him for non-veg food and he said that crab and chicken can be prepared by advance intimation.
Further you can enjoy mango, jamun, and karwandas, of-course with permission of village people, best way is to roam around with your guide, generally the home owner who knows the ownership of trees in village.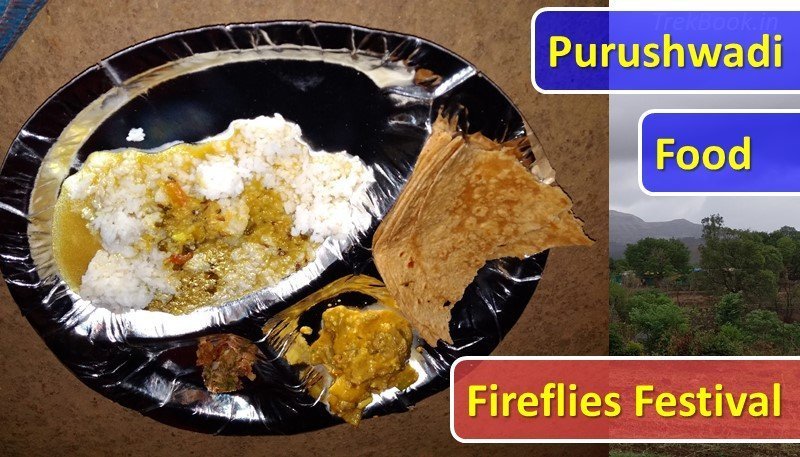 How to reach Purushwadi?
Pune to Purushwadi
Purushwadi is 200 kms from Pune.
Take the Pune-Nashik road to Sangamner, take a left turn at Sangamner towards Rajur, from Rajur take one more left turn to Purushwadi.
Although Google maps will show shortcut route to Purushwadi, do not take it. The road is narrow + too many small ghat sections + bad road. So go via Sangamner only.
Mumbai to Purushwadi
Purushwadi is 185 kms from Mumbai.
Take the Mumbai-Nashik road to Igatpuri, continue towards Ghoti, take the road to Rajur, and then turn towards Harischandra Gad. Purushwadi is 20 kms before Harischandra Gad.
Precautions to be taken when you are at Purushwadi fireflies festival
Remember that snakes will be around, so take care while you road around to see the fireflies. Since you will not be using powerful torch, be extra careful to wear shoes.
Nights will be cool, do not forget to carry blankets and sweaters
Road conditions are not that good, so be prepared for bumps
Do not touch or catch fireflies
Do bot use flash (even a mobile phone flash) while you watch fireflies, it disturbs their natural way of attracting female fireflies.
Do not smoke or drink. Lets preserve the virginity of this place.
Do not litter plastic bottles, bags etc
Do not play loud music (not even in day or night) – keep this place calm and quiet as it is
Stay humble to the villagers, they are adiwasis and not so used to urban interactions.
Carry mosquito repellent
Use cotton plugs to ears to prevent any insects entering inside ear canals
Overall visit to Purushwadi was enjoyable with experience of fireflies with rustic village stay and organic food. I feel I shall be visiting there in December month to have a relaxing weekend.
Cheers!!
---
To read about other locations for fireflies festival in Maharashtra please read my post