Last weekend I did a 2 days trip to Pune-Nasik – Saptashrungi Devi – Trimbakeshwar – Nil Parvat especially planned for my old aged mother (75 years). So the plan was to make the journey comfortable in terms of number of kilometers clocked in a day, simple food (as far as possible) and comfortable stay (with western toilets facility)
It was great success and in all total I clocked 650 kms in 2 & 1/2 days of travel.
I started my journey on Friday 12 noon from Pune and reached back on Sunday evening in Pune.
Day 1 – Friday – Start time 12 noon from Pune
Google Route Map Link – https://goo.gl/maps/n9banjQ5sBo
Pune to Gondeshwar temple distance
 183 kms
(time taken approx 3.5 hours from Pune)
Gondeshwar temple to Gargoti Museum
7.5 kms
Gargoti Musium to Saptashrungi Devi (Vani – Nasik)
Total distance from Pune 280 kms
I Started from Pune at around 12 noon, and reached Gondeshwar temple at 3.30 pm, Its beautiful temple indeed and a must visit to this ancient temple to see the carvings which are intact till today (around 1000 years old)
Time spent here was around 30 minutes to see the temple and take some photographs with my mother.
Now I drove down to Gargoti musium which is just 7.5 kms away from the Gondewhwar temple – Sinner.
Reached the museum at around 4.30 pm, spent around 1.5 hours watching the museum, I have already written a detailed post on this visit,
After the visit, drove down towards Vani (Saptashrunig devi) via Nasik. From the museum you get to the main highway in just few minutes.
Had a stop for tea and went ahead to Nasik, used Google Maps to get directions, luckily without much traffic I went towards Vani road. So Nasik city it was less traffic, however as soon as I went towards Vani, the road became narrow and heavy traffic of trucks faced. So this consumed much time since overtaking was difficult, even a two wheeler overtake is difficult!
Anyway finally the Vani ghat is there which is about 10 kms long! and pretty steep with sharp turns, so be careful while driving the car.
So I started at around 6.15 pm from Gargoti museum and reached Vani at around 8.15 pm.
Once you enter the village on the hill top, keep driving down through the narrow village road towards Bhakt niwas of temple and stop in front of booking office.
You can get rooms at nominal rates, if you want to have western toilet, specially ask for it since most of the rooms have Indian toilet. Rooms quality is at just acceptable level, Sansthan needs to put more efforts to clean it up, but that's fine, I mean for one night stay one can manage. It costed me around 650 Rs for two rooms (each room had three beds)
Remember to carry ID cards like Ahdar card which is a must while booking rooms at Bhakt niwas.
Now immediately I went to book Prasad (dinner) in Bhakt niwas which closes at 9 pm (two types prasad thali available 15 Rs basic Prasad, 50 Rs VIP Prasad, I suggest to go for VIP Prasad, since crowd is less and you get more options with Buffet food) The food was okaish, Chapatis are not possible to eat for senior citizens, but fine, rice and dal as good enough (and finally it is Prasad from temple, so my mother felt lucky to have it immediately after we reached Vani)
Day 2 – Vani – Nasik Darshan – Tryambakeshwar
Google Map link – https://goo.gl/maps/zfbFkXhsFHS2
In the Bhakt niwas, you get hot water in each room at 5 am (look for tap with Black colour coding on it to indicate that its hot water tap). Also tea seller boys will come to the doorstep at 5 am (10 rs per cup – tea quality is damn good)
So after taking bath we started to the funicular base point by car, parking available Rs 50 per car near the funicular base.
Funicular ticket 90 Rs per person (for old age people over 75 years ticket is 45 Rs – age proof needed)
Two trains available left side is for all persons, right side have provision of lift for old age people. The lift is available at bottom so that old age or handicap person need not climb the stairs (see in photo) also once you reach top, there is one more lift which takes old age people directly to the Garbha-Graha of temple.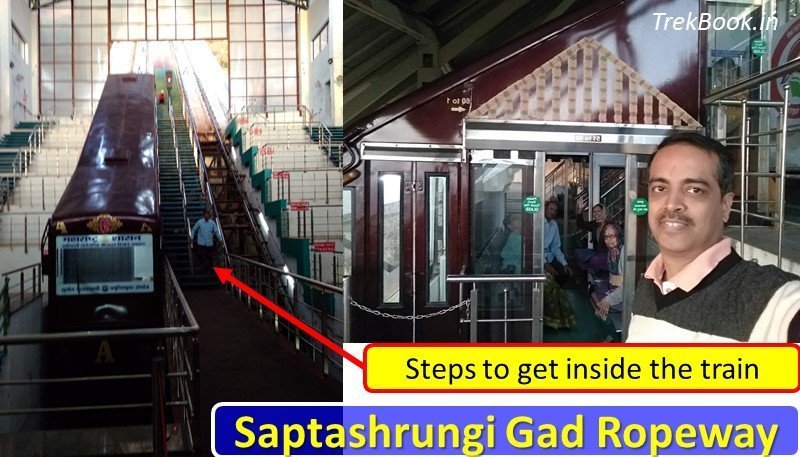 Toilets available in funicular area which are clean
You can reach top of temple in hardly 1 minute using the funicular.
After darshan got back to the base, where we took our bk-fast, in the same area. Food here is costly and just acceptable quality but no choice in Vani village, so we took bk fast there (Idli 50 Rs, Cofee 20 Rs, Tea 10 Rs)
now went back to Bhakt niwas and checked out (they take 500 Rs per room as deposit, which you get back after checkout)
Vani to Nasik
After that started journey to Nasik (distance 65 kms)
Went to Panchvati – Parked car near the Ram ghat (FREE parking available)
From here I hired a auto-rickshaw to see below points in Nasik (Rickshaw charges 300-500 Rs – negotiate)
It takes around 2 hours to see all points. Only for reference I took phone number of rickshaw driver 9096885857 अरुण Tive .. Purpose is if you park car in some non-crowdy place, you can call him there and do this Nasik darshan trip.
Just see below snapshot for things to see in couple of hours by spending around 300 to 500 Rs per rickshaw (I paid 500 Rs for 5 persons) – its fast mode of transport and almost difficult to be done using your own car.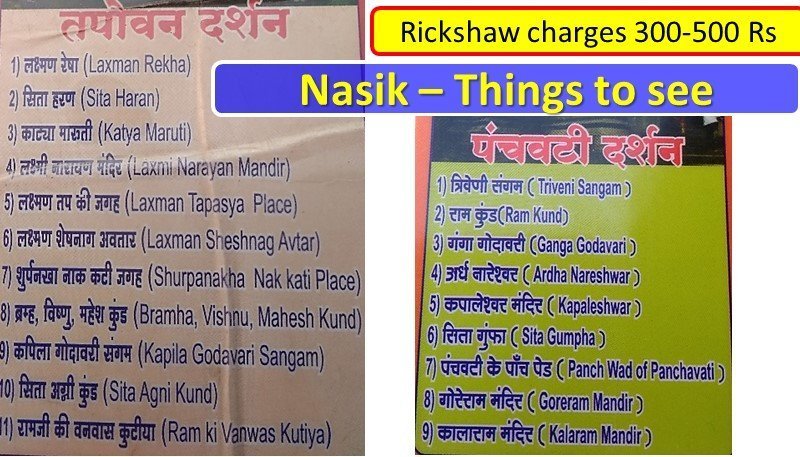 Then at around 1.30 pm we started journey to Trimbakeshwar.
Had lunch on the way in one Udapi restaurant.
Reached to Gajanan Maraj Bhakt Niwas Trimbakeshwar at around 3 pm (5 start cleanliness and super rooms at negligible cost)
After refreshment, walked down to Trimbakeshwar temple (about 1.3 kms walk – alternatively you can take auto-rickaw at 10 Rs per person)
Got one home where ordered home made food (Bhakri, Methi bhaji, rice and dal) and went ahead to take Darshan.
At Temple there was huge line, but the persons at door allowed entry through VIP line for FREE since I was having my old age mother with me (VIP pass is 200 Rs per person) so could do Darshan in 10 minutes 🙂
After darshan went to the Kushawrat Kund  (walked in 10 mins) .. unfortunately people have made this auspicious place so dirty beyond imagination that I was stunned! look at the photo below and decide yourself .. I don't understand what happens to the funds the temple gets through millions of visitors!! or its just lost in air?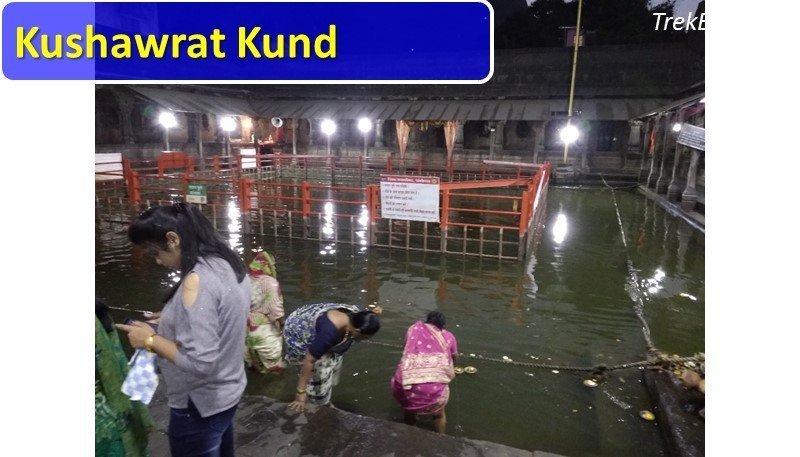 from where returned for dinner in that home. The home made food was excellent and tasty.
Walked back to Bhakt niwas
Day 3 = Trimbakeshwar to Pune 246 kms
Early morning after taking bath and refreshments I went from Gajanan Bhakt niwas to Nil Parvat which is just 2-3 kms driving distance.
Please take care since driving skills must be good to reach to this hill, there are steep and narrow roads to reach hill top.
But my recommendation is must visit point in Trimbakeshwar, the views from hill top are good and there are ancient temples of Nilambari devi
Spent about an hour at Nil Parvat and came back to Swami Gajanan Maharak Bhakt Niwas aka Shri Gajanan Vatika (See Google map link to bhakt niwas https://goo.gl/maps/Gug8m48JrBz)
After having breakfast (7 Rs for Upma or Pohe and 7 Rs for tea or cofee – Quality is very good) started my journey back to Pune.
On the way just after 2 kms you can goto Swami Samarth math (Bhiu Nakos Mi Tuzya Pathishi Aahe) which is situated at hill top. Here also you can get rooms for stay at nominal cost. At 10.30 am there is Aarti performed which my mother liked.
From here we went forward towards Pune, within couple of kilometers visited Siddh hanuman temple which is again famous place near Anjaneri hills. You need to climb around 100 steps to reach temple top, however if you have senior citizens with you, simply drive down further and you have road till top of the Hanuman temple.
From Siddh hanuman temple directly drove down to Pune and reached by evening.
Hope this helps planning your trip.