I visited the Indrayni Thadi village food festival yesterday which is located at Bhosari area of PCMC. You can drive down to this location within 5 minutes from the Nasik Phata. As compared to the Bhim thadi and Pavana Thadi Food festivals this one is really a grand one 🙂 with authentic options of food from local villages. (as against that in Bhinthadi or Pavanathadi most of the food options are from city area groups – since I am visiting each and every of these festivals I can surely say that options at Indrayani thadi food festival are real authentic Gavran and you can see real local villagers serving and making food). dates of year 2020 for this Jatra are 30 Jan to 2 Feb 2020
---
ENTRY to this festival is FREE
VENUE
ANKUSHRAO LANDGE NATYAGRUHA, BHOSARI GAONTHAN, BHOSARI, PIMPRI-CHINCHWAD, INDIA
Look at the gavran village food options specially the non veg one with fish fry, mandeli fry, pomfret, prawns, crabs and mutton, chicken too. I loved the variety and authenticity of taste. I will be going today and tomorrow too, so that I can taste most of the stalls and each spice.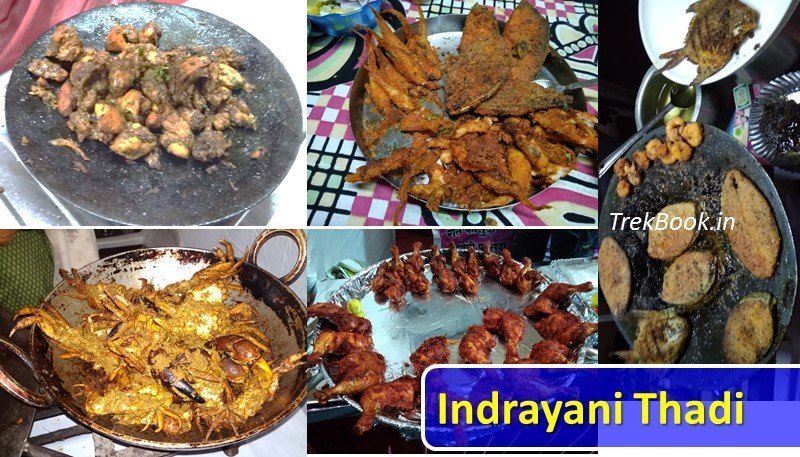 Another interesting thing I loved is the exhibition of Raje Shivaji Fort photographs, as well as the display of arms and ammunition from the Shivaji era is fascinating one for trek goers and Raje Shivaji fans. In all around 130 forts photographs are on display.
They also have prepared replica of two forts there and a big statue of Raje Shivaji.
I this this is a must area to visit in the Village area section of this festival.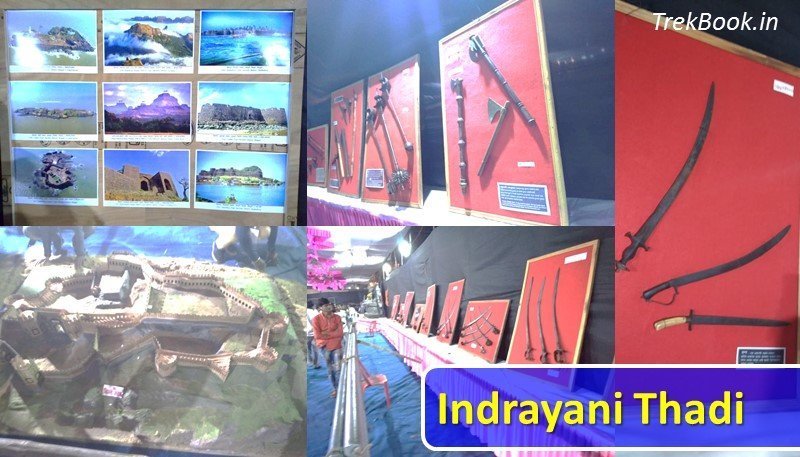 Now coming to the grand entrance prepared for the IndrayaniThadi Festival aka Jatra.
Lot of efforts have gone into the design of entrance, I loved the concept as well as the presentation explaining the importance of Bhosari, Alandi, PCMC and the essence of village culture is being captured in the custouts put in at the entrance.
In the night time it looks beautiful indeed.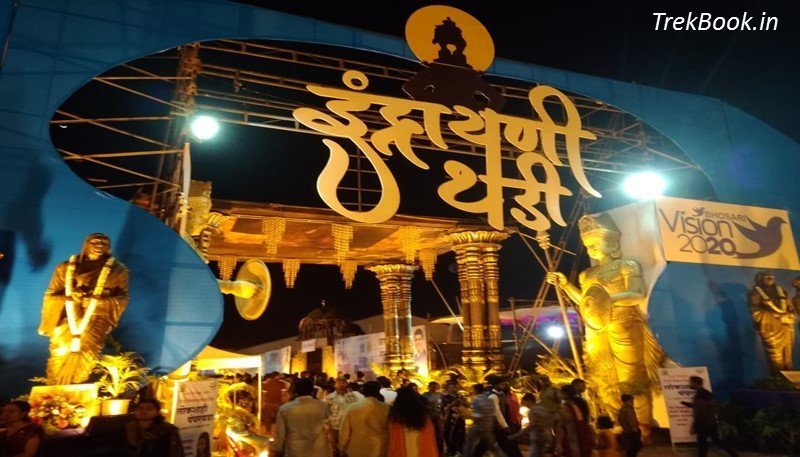 Since it was day one, I went there at 7 pm and spent about an hour in exploring the village section, then moved on to the food section .. in testing the veg food like Hurda Bhakari, Khandeshi Wange Bharit, Handavi (this is really a tasty dish and you must taste it), Ukadiche modak and so on … I was there till 10 pm … left promising that i will visit again …tomorrow and day after ..
Indrayni Thadi Jatra will be happening in the Bhosari area of Pimpri Chinchwad. This Jatra (meaning fair) is a way of enjoyment in Indian villages, the same theme is being picked up by Shri Mahesh dada Landge who thought of motivating women to enter into entrepreneurship by using the traditional skills and culture that they own. Providing a way for people to enjoy as well as provide a new identity to women.
So Indrayni Thadi is a kind of replica of a rural carnival (fair) with entertainment and food to taste from different villages in vicinity.
Come to enjoy the local cuisine, live shows, flea market, home made food, hadicrafts, and much more with your family and friends, especially kids would love it.
Indrayani Thadi Jatra 2020
Cultural exhibition, Food market, Flea Market, Live Shows, Packaged/Homemade food products, Handicrafts, Handloom, Food that includes Non-Veg as well and much more
It will be inaugurated on Friday (8th February) at the hands of Women and Child Welfare Development Minister Pankaja Munde.
Dates
30 Jan to 2 Feb 2020
Time – 10:00 AM to 10.00 PM
Location
Gavjatra Maidan, near Ankushrao Landge natyagruha, Bhosari, Pune
The location co-ordinates are 18.627200, 73.850812 Check this link of maps
गावजत्रा मैदान, भोसरी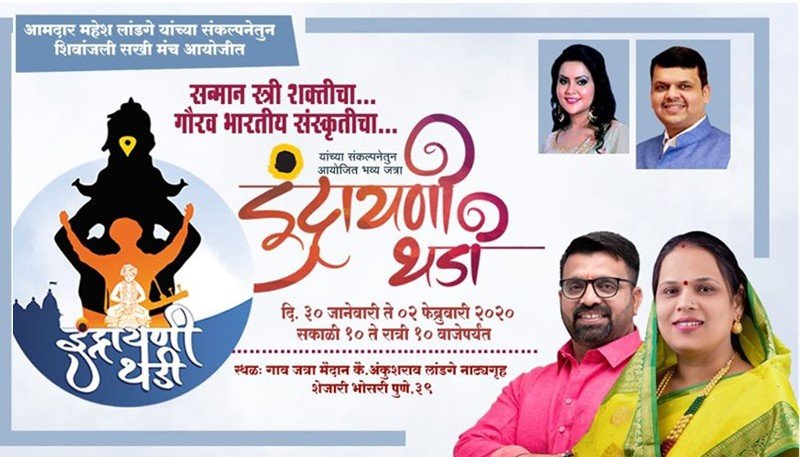 ONLINE Registration for Entry Pass process
Fill in the form
Now press Submit button
You will receive SMS on your mobile
This SMS is your entry ticket, you can show it at the entry door.
Contact – Phone: +91 7057053737
info@indrayanithadi.com
Organized by:
Shivanjali Sakhi Forum in association with Mahesh Dada Sports Foundation
---
Jatra is a local carnival cerebrated mostly once in a year in villages in Maharashtra, its kind of gathering to celebrate local deity. All locals get together to celebrate a festival and have food together.
Fun activities and local entertainment is part of these celebrations.
in a way Jatra is a way of rural villages in Maharashtra.
So you can enjoy all the fun of Jatra here in Bhosari, where you can enjoy local food like Gavaran mutton and Gavran Chicken, authentic recipes from village women.
This grand festival being organized in such a way that city people will also be able to enjoy to fullest. And to do so you need not go to kilometers, but just few minutes distance for PCMC people and Pune people too.
This jatra, as called as Indrayani thadi has been organized by Mahesh Dada Landge for the residents of Pune and Pimpri Chinchwad area.
With a purpose for women to earn, and get confidence to run their own house responsibilities, such festivals become a reason to sustain and develop a new society.
In Indrayani thadi , will last for four full days starting from xx Feb 2020.
Activities in Indrayani thadi Jatra
baal jatra for children- where they can thoroughly enjoy the games, the food, etc.
bhajan competition for ladies- where different groups of ladies can come and perform their bhajans and the best one will win. And people visiting will learn about culture of Maharastra and enjoy.
a fashion show organized for women. Again a way to participate and demonstrate your skills (and get more business as well)
dance competition – folk dance, bharatnatyam,kathakali,kathak, kuchipudi, odissi Manipuri, western dance forms like salsa, tap dancing, balley
Stalls will be made available in this jatra for the women bachat gat who can sell their self-made products by the women in Pimpri-Chinchwad city and in the rural areas of Pune district.
As a part of package, you will be able to enjoy, Gavaran food festival, children ballots, hymns for women, dance competition, women's health camp, fashion show, home minister program, women entrepreneurship guidance, yoga and zumba aerobics training for traditional women.
Mahila bachat gat groups can get the stalls for FREE. Stall booking is available at the Public Relations Office of Shishalbagh, Bhosari MLA Mahesh Landge or simply contact Sandeep Thanekar (7720043860)
Note : bookings can be done till January 30