Grapes Festival Junnar aka draksha mahotsav Junnar ( द्राक्ष महोत्सव ) is planned to take place this year on February 2021 at Grape Village- Golegaon ( Lenyadri ). Junnar Grape Festival 2021 organised by MTDC Resort Malshej Ghat & Farmers of Junnar.
The Junnar taluka is famous for its beautiful nature. Tourists are attracted towards several natural ghats like Naneghat , Daryaghat and Aneghat, for enjoyment of numerous natural waterfalls on the way.
Several rivers originate from Junnar.
Also, the Junnar also have Giant Metrewave Radio Telescope and Vikram Satellite Earth Station at Arvi which is an attraction for the sky lovers.
Grape tourism is another effort to attract people here from different places of Maharashtra and all over India, also foreign tourists are seen now a days visiting Junnar.
This initiative is inspired by the grape harvest festival held in France, Italy, Spain and Napa Valley. It aims to popularize Indian grapes, raisins, wine agricultural and industrial production in rural parts.
Grapes Festival 2021 Junnar aka draksha mahotsav Junnar
द्राक्ष महोत्सव 2021 – MTDC Website link for festival details
Dates
February 2021 (19-20-21 Feb 2021 – 3 days)
Location
Grape village, Golegaon, Lenyadri
Distance from Pune to Golegaon is 93 kms
Distance from Mumbai to Golegaon is 163 kms
Maharashtra Tourism in collaboration with Junnar Tourism Development Institute, Department of Agriculture, Center for Agricultural Sciences, Rural Development is organizing Junnar
Grape Festival in Junnar, Pune district on 19, 20 and 21 February 2021.
 *जुन्नर द्राक्ष महोत्सव-2021*
आपल्या राज्यात, टेबल परपज ग्रेप्स, मोठ्या प्रमाणात पिकवणारे ठिकाण म्हणजे जुन्नर तालुका.
 5000 एकरपेक्षा जास्त एकरवर, विविध जातींची द्राक्ष शेती आहे. अनेक शेतकरी अतिशय प्रगतीशील दृष्टिकोन ठेऊन निर्यातक्षम द्राक्षे पिकवून जगभर पाठवत असतात. ही द्राक्षे सुरक्षित आहेत, रेसेड्यु फ्री आहेत. ही रसाळ आणि मधुर द्राक्ष चाखण्यासाठी द्राक्ष महोत्सवाची पर्वणी आपल्यासाठी उपलब्ध होत आहे. लेण्याद्रीच्या पायथ्याला असलेले द्राक्षग्राम, गोळेगावच्या शिवारात आयोजित होत असणाऱ्या द्राक्ष महोत्सवात द्राक्षांच्या चवीसोबत, ग्रामीण कृषी संस्कृती, जुन्नरची खाद्यसंस्कृती, लोककला तसेच जुन्नरचे पर्यटन वैभव अनुभवण्याची नामी संधी आहे. राज्यभर पर्यटन विभागाच्या वतीने, एकूण 20 महोत्सव आयोजित होत आहेत,
️ त्या शृंखलेची सुरवात, जुन्नर द्राक्ष महोत्सवापासुन होत आहे. याचा जुन्नरकर म्हणुन सार्थ अभिमान आहे. या सहभागी व्हा…जुन्नर पर्यटनाचा आस्वाद घ्या.
कालावधी-19 ते 21 फेब्रुवारी 2021
*जबाबदार पर्यटन…..जुन्नर पर्यटन*
Key Attractions at the Junnar Grape Festival 2021
• Visit to the vineyard
• Visit to the wineries
• Wine Tasting Sessions
• Junnar Heritage Walk
• Bird watching Trail
• Visit to Devrai
• Naneghat Trek
• Boating
• Visit to Ojhar Ganpati temple
• Visit to the Gibson Memorial
• Visit to the Lenyadri Ganpati temple
• Visit to the Tamhane Museum
• Visit to the Amba Ambika Caves
• Shopping at the Junnar weekly bazaar
• Campfire, Cuisine and Entertainment
To register for Grapes festival kindly fill the form
For more details email to us at punetourismevents@gmail.com
Grape Festival Accommodation Options (घेऊ इच्छित असणाऱ्या निवास व्यवस्था)
Amantran Agritourism
Near Sai Baba Temple, Golegaon, Junnar-Otur Road, Junnar, Maharashtra 410502
099755 49319
आमंत्रण कृषि पर्यटन केंन्द्र / आमंत्रण गोशाळा
जाधव शशिकांत सावळेराम
गव्यसिद्ध , पंचगव्य चिकित्सक ,
गोळेगाव ,ता जुन्नर ,जि पुणे ,
पिन कोड ४१०५०२.
मो ९९७००५६४१२
आपल्याकडे ४ पॅकेज आहेत 
१) फक्त जेवन 
पुर्णपने घरगुती पद्धतीने बनवलेले जेवन
व्हेज :: जुन्नर तालुक्याची प्रसिद्ध मासवडी थाळी
नाॅनव्हेज :: घरगुती पद्धतीने बनवलेला अस्सल गावरान मटन व चीकन रस्सा चुलीवरची भाकरी व इंद्रायनी भात
२) वन डे पिकनिक  :: सकाळपासून संध्याकाळपर्यंत 
यात चहा नास्टा जेवन या सह
३) वनडे वन नाइट ::यात चहा नास्टा जेवन या सह मुक्काम व उद्या सकाळचा चहा नास्टा
४)फक्त मुक्काम :: अटेच कमोड बाथरूम , २४ तास गरम पाणी सुविधा
View directions from Mybhumi Agro Resort to Lenyadri Devasthan Trust Mahaprasad And Hotel via Amantran Agritourism, MALSHEJ TULSI VIHAR AGRO TOURISM, and 1 other stop in Google Maps.
१) श्री लेण्याद्री गणपती देवस्थान ट्रस्ट , गोळेगाव – 8600073925
२) श्री विघ्नहर देवस्थान ट्रस्ट , ओझर – 9822319495
३) हॉटेल लेण्याद्री इंटरनॅशनल , गोळेगाव – 9890261781
४) हॉटेल आर्या रीजन्सी , ओझर – 7755932424 / 9167718063
५) हॉटेल आनंद एक्झिक्युटिव्ह, जुन्नर – 9960870451 / 9130365757
६) आमंत्रण कृषी पर्यटन केंद्र गोळेगाव – 9970056412
७) समृद्धी कृषी पर्यटन केंद्र , गोळेगाव – 9890777549
८) माय भूमी कृषी पर्यटन केंद्र ,बनकर फाटा – 8454880906
९) तुलसी विहार कृषी पर्यटन केंद्र , पारगाव तर्फे मढ – 7378586777
१०) पराशर कृषी पर्यटन केंद्र , राजुरी- 7038890500
११) माळशेज रिसॉर्ट एमटीडीसी – 9822043175
१२)ध्यास सह्याद्रि – निखिल कोकाटे – 9309187676
Contact Details of Junnar Tour Guides (टूर गाईड व साहस पर्यटन साठी कॉन्टॅक्ट नंबर)
ओंकार ढाके – 8830041858
राजकुमार डोंगरे – 7447771133
राहुल पातुरकर – 8983604312
सुभाष कुचिक – 8960448461
निलेश खोकराळे – 9011583475
सिद्धार्थ कसबे – 7757891409

Entry Fee
100 Rs per person (fees are for common vehicle arrangements per person)
The tourists who are interested to visit this grape festival kindly contact –
Resort manager, MTDC Resort Malshejghat,
Mr. Vishnu Gadekar Mobile 9822043175, 7768036332
Time

Grapes Festival program details

10:00 AM
Welcome to MTDC resort, Malshej Ghat
11:00 AM
Visit to vineyards at Golegaon, to know about grapes, history, its farming, its nutritive value, its export packaging and processing. One can buy farm fresh grapes directly from farmers. (Entry fees Rs 100)
1:00 PM
Delicious lunch of food culture of Junnar (Veg and non veg food) at Amantran Agrotourism
Veg – Masvadi Thali xx Rs
Chicken Thali xx Rs
Mutton Thali xx Rs
1.30 pm
Presentation about historic journey of Junnar with Bapuji Tamhane
2:00 PM
Farm tour at Amantran Agri tourism (Optional)
3:00 PM
Visit to wine making unit, wine testing and purchasing at Agargaon near Junnar (Entry fee Rs xx)
4:30 PM
Visit to mushroom production unit run by tribal self help groups, one can purchase fresh mushroom from them (Entry fees Rs xx)
5:30 PM
Return journey back to MTDC resort Malshej Ghat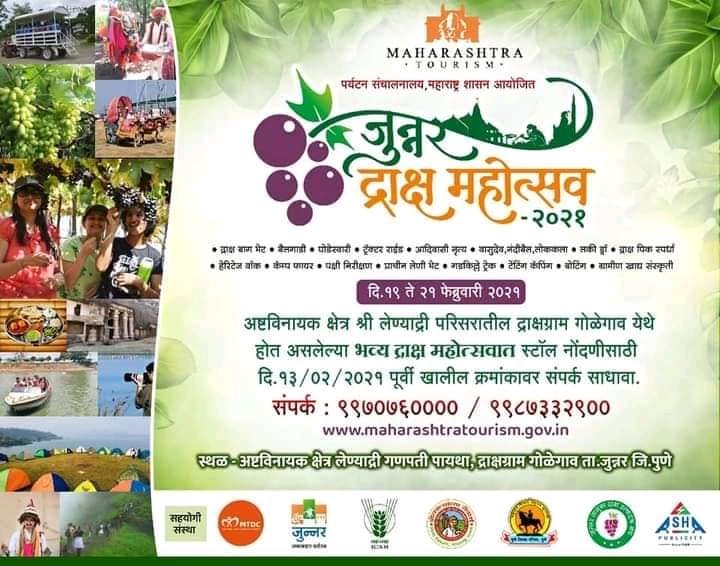 जुन्नर ग्रेप फेस्टिव्हलची वैशिष्टय़े
द्राक्ष बाग भेट,
जुन्नर हेरिटेज वॉक,
वायनरी भेट,
पक्षी निरीक्षण उपक्रम,
देवराई भेट,
नाणेघाट सहल,
बोटिंग,
ओझर,
लेण्याद्री गणपती दर्शन,
अंबा अंबिका लेणी समूह भेट,
जुन्नर आठवडे बाजार भेट,
कॅम्प फायर व मनोरंजनात्मक कार्यक्रम
When you talk about quality grapes, you obviously name the Nasik Grapes.
Although Junnar also have the same quality of grapes in terms of sweetness, colour and shape.
Many people are not aware of this since publicity or advertisements not done by government or farmers.
So in an attempt to make this happen MTDC has organized this Grape Festival 2021.
The package includes stay at MTDC resort at Malshej ghat which is beautiful place to stay in this season.
Alternatively you can also drive down on your own to this place to participate in this festival.
Things to do at Grapes Festival 2021
Visit the grape farms, pluck grapes on your own and buy at bottom rock prices from local farmers
Enjoy full day in grape farms, eat and drink …
Consume grapes as much as you want (

WARNING

– Eating too much grapes can cause health issue, so take care especially for kids)
You can also plan visiting nearby places like

natural ghats like Naneghat , Daryaghat and Aneghat
Giant Metrewave Radio Telescope and Vikram Satellite Earth Station at Arvi
Lenyadri Caves
Lenyadri Ganesh temple which is one of the famous Astavinayak temples in Maharashtra
As you attend this festival, you will be able to visit the grape farms nearby, pluck the grapes yourself and then buy from local farmers on the spot. Farm fresh indeed.
You can even visit the vineyards in nearby areas, consume the wine as well as purchase it on the spot.
You will be able to see how the wine is produced and packaged.
The Junnar farmers do produce grapes of supreme quality and still, it is Nashik grapes that gets highlighted and known for.
Hence MTDC effort is to boost the agro tourism in Junnar area, making awareness about the less known places in and around Junnar, for this Junnar's historian, Bapuji Tamhane will be helping during festival.
You will have special visit to places like trip to Amarpur village where farmers ferment wine in their homes, wherein they will be able to sip it fresh.
The Godare village will also be accessible, to witness how tribals produce different mushrooms at the household.
The tourists can spend an entire day in our farms to know various experiments that are undertaken to produce organic grapes.
https://www.maharashtratourism.gov.in/