Jadhavgadh Fort Pune is a Heritage hotel in Pune near Mumbai. You can experience 300 years of Maratha history at this five star facility with luxury of Marathas!
History wiki
Jadhavgadh Fort Pune is a Heritage fort built in 1710 situated 22 km away from Pune at a height of 2511 ft above sea level.
Built by Pillaji Madhavrao who was a Maratha General in the army of Chatrapati Shahuji  created this beautiful example of Maratha craftsmanship.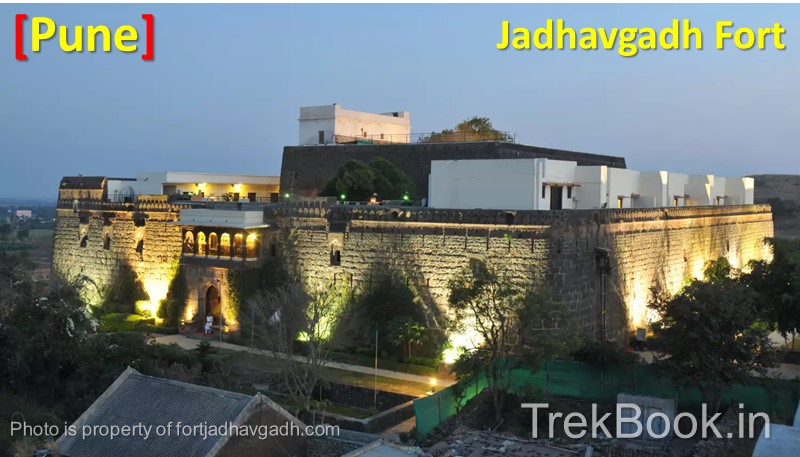 Entry fee
Day Trip

Weekends – INR 1999 AI PP | INR 1599 For Kids (3 – 12 Yrs)
Weekdays – INR 1799 AI PP | INR 1499 For Kids (3 – 12 Yrs)

Inclusions

Breakfast | Lunch | Hi-Tea | Audio Tour of Magnificent Fort & Royal Museum | Archery (10 Shots) |Air Rifle Shooting (10 Shots) | Pottery Making | Volleyball | Badminton | Football | Cricket
Activities
Shivaji Martial Arts – DaanPatta
This is a 45 minute show that takes place at our royal lawns or at 'Payatha' at the backdrop of the fort wall.
Spa
Rejuvinate at the Spa at Fort Jadhavgadh Resort.
Bullock Cart Riding
A common means of transportation in ancient times, 'Jinker' bullock cart riding has been revived by Fort Jadhavgadh for its residents.
Ghazal Nights
Occasionally, Fort Jadhavgadh's roof top restaurant comes alive with 'Ghazal Nights' filling the air with a nostalgic ambience.
Adventurous Trekking
We have tied-up with reputed adventure companies that organize activities such as river crossing, mountain climbing, adventure trekking, etc.
Bird and Animal watching
At Fort Jadhavgadh, you can engage in bird & animal watching almost year round.
The Aai Museum at Fort Jadhavgadh
Fort Jadhavgadh is the only hotel of its kind with an in-house museum.
Swimming
Now you can enjoy swimming at the at the temperature controlled Swimming Pool (7AM to & 7PM).
Badminton | Volleyball | Cricket
Conference Amenities & Facilities
Cycling
Massage & beauty services
Meeting rooms
Internet
Folk Dances, Martial arts & Ghazals
Sightseeing tours
Ayurveda and Wellness Spa
Croquette
Kite Flying (Seasonal)
Rooms
A total of 38 rooms and 12 tents are spread across 3 wings.
The rooms have luxury interiors with a mix of old world charm.
Maharaja Suite

The Maharaja suite is a royal indulgence in the true sense. Be treated like Royalty at this kingly suite. With a panoramic view of the surrounding hills, the Maharaja Suite was where the seat of power rested.

Museum Suite

Located on top of the Aai museum and with its very own private entrance, the Museum Suite is one of the most sought after rooms at our fort.

Hill View Daalan- Premium Hill View Room

Situated on the top level of the main fort, the Hill View Daalan- Premium Hill View Room have a balcony overlooking the lawns and providing a view of the vast open spaces.

Varsha Suite- Premium Rain Shower Room

Located on the lower level of the main fort, these spacious rooms have an uniquely designed bathroom that let you gaze up at the stars and feel the cool hill breeze- all while taking a relaxing shower.

Kholi- Deluxe Room

The Kholi or Deluxe rooms of the Fort are equipped with all conveniences and luxuries of the modern world.

Chhavni- Royal Tent

Live in something different – a Luxurious Chaavni Royal Tent equipped with all modern amenities and an attached bath area.

Neem Forest Cottages

Four quaint Neem Forest Cottages are located amidst nests and chirping birds. These eco-friendly cottages are unique in nature. Completely air conditioned and with all the modern amenities, our Neem Forest cottage will certainly amaze you.
Wedding cost
Can accommodate 102 guests in our 53 luxurious rooms and royal tents. While the sprawling lawns, that can accommodate around 3,000 people
Places to visit near Jadhavgadh Fort
Dive Ghat

Get a panoramic view of the Mastani Lake in the valley.
This lake used to be the meeting place of Bajirao Peshwa and Lady Mastani.

Purandar fort

Distance from Hotel is about 14 Kms
Located on the Narayanpur- Saswad Road
Purandar Fort consists of two fortresses with the satellite fort Vajragarh situated on the east of Purandar
One of the famous trekking destination in Pune.
Visit the temples of Purandeshwar and old temple Kedareshwar on the hill summit.
Visit the statue of Murar Baji Deshpande, the brave fort-keeper ("Killedar") who was killed in the fight to protect the fort.

Narayanpur

Famous Lord Datta temple and Narayaneshwar.

Balaji Temple, Ketkawale [

Read complete information on

Prati Balaji Pune

]

Its replica of the world famous Tirupati Balaji temple.
You can visit, do mundan, get prasad, this is a must visit mandir to give you a truly divine experience.

Purandar wada, Saswad

Near to Jadhavgadh  you can reach here in just 10 minutes
Purandar wada known to be Maharashtra's oldest standing structure.

Sangameshwar Temple and Malhargad fort

Located near the confluence of the rivers Karhe and Chambli, you can reach here in half an hour.
The temple of Sangameshwar is from Yadav era
Malhargad is the last fort built by the Marathas lie in Soneri village

Jejuri

Located about 20 kms from the hotel
Jejuri is most famous temple of Lord Khandoba
See the array of deep mala – light stands made of stone, on display as you climb up the stairs.
Also see prehistoric weapons and musical instruments of the past.

Morgaon Ganapati Temple (Astavnayak Ganesha)

Located further 15 kms from Jejuri, you can visit this Astavinayak Ganesha of Morgaon.
Address & contact number
Jadhavgadh Fort Pune
Hadapsar Saswad Road, Jadhavwadi, Pune, Maharashtra 412301
Reservation, please call +91 86 008 79620 / +91 86 008 77220
How to reach
From Mumbai to Jadhavgadh Fort Pune

Exit Mumbai-Pune expressway to get the Pune-Satara bypass Road (Mumbai-Bangalore Highway-NH4).
After Chandni-Chowk keep moving till the road meets Katraj Bus Depot.
At Katraj, plz take right turn and ask for Kondwa Road, drive 13 kms to reach Phursungi (Pune)-Saswad Road.
At Khadi-Machine Chowk, a right turn leads to Saswad city directly, Don't take this right. Instead reach Phursungi-Saswad Road , and then turn right. (Landmark – HP Petrol Pump).
Climb the Dive Ghat. 3 kms after the end of the ghat you will see signs toward Fort Jadhavgadh on your right. Take the right turn and move in for about 1 km.
Video review of Jadhavgadh Fort Pune
Summary
Reviewer
Review Date
Reviewed Item
Author Rating