Ofcourse you need not forget that it should not be too tiring to reach the sea beach, else most of the energy will be spent travelling rather than relaxation, so here is list of sea beaches near Mumbai for you where you can spend Saturdays and Sundays.
Konkan sea shores are blessed by niche and beautiful sea beaches and I am sure you'll love my list of hidden beaches around Mumbai !
Just let go of all the stress and tension that builds up … feel these gems of hidden beaches around Mumbai …
Beaches near Mumbai for One Day Picnic [NEW 2019 listing]
Kelwa Beach

By Suyogaerospace at English Wikipedia, CC BY 3.0, Link
Mumbai Kelva Distance ~110 kms
How to reach
By train via Kelwa Raod in Mumbai – Ahmedabad Line.
Catch an Auto-rickshaws to get the beach.
By train to Palghar and then take a State Transport bus standing outside the Railway Station to Kelwa beach
One of the few beaches well maintained by the locals, very much clean and safe.
You get splendid sea view, good shallow beach for enjoying fun in water.
Its covered with lot of trees on the beachside… Wow … perfect for stroll or get together party.
Surprisingly the beach is equipped with toilets and life guard by the district administration.
Tips:
You must reach here during the sunrise or sunset to get stunning sea view.
Gorai Beach

By Kensplanet – self-made (Clicked by Me from my cell), CC BY-SA 3.0, Link
Mumbai Gorai Distance ~40 kms from Thane
How to reach
Reach Gorai from Mumbai via the Bhayander road
Gorai beach is a ferry-ride away from Marve beach(Malad West) or Gorai creek (Borivali West), at about 4 kilometres away, and is located to the north of Mumbai
From Malad and Borivali suburban railway stations, a 20 minute drive on buses or autorickshaws take you to Marve beach. From here, you get a 15-minute ferry ride to Gorai beach
Gorai is a small beach with about 3 kms of stretch of brownish wet sand. Well although you can not get breathtaking views, you will surely enjoy this serene clean sea beach
The sea waters here are calm, however we recommend to consult a local first before dive in!
You can enjoy traditional way of spending an evening on sea beach …. so do expect to see man selling Boiled 'chana' or even 'Mhaatariche kes' … Get high tea on sea shore itself ! .. or drink coconut water or even 'taadi'  too 🙂
Tips:
Don't miss horse ride or Ghoda gadi ride on this beach
You can get things like cricket set on hire basis
Koli village: move on to the extreme left end of the beach, to find the fresh catch, we are sure you will get a nice deal here for big prawns at attractive low prices
Many beach side home-stay, resorts, bungalows are available on rent.
The Water Kingdom and Esselworld that can be a part of your excursion to Gorai beach
Kihim Sea Beach

By Ameyness – Own work, CC BY-SA 4.0, Link
Mumbai Kihim Distance ~99 kms
How to reach [Travel by Sea]
Get ferry from Gateway of India to Mandwa [ a/c and Non a/c ferries available ]
Mandwa Jetty, Kolgaon to Kihim Beach by road is 12.7 kms
You can take an auto rickshaw to Kihim beach [ Remember you need to bargain with autowala to get best group deal ]
Kihim is on the Alibaug stretch of beaches which makes it an amazing last-minute-destination on weekends !
Surely the beach is not so crowded even in 2019, you expect some rural crowd too.
Get a short walk away on this beach, play group games, spend evening on a stretch of sand and splashing waves.
There are local guesthouses available about a minute's walk from the beach! Select any simple one, to get some homemade local, fresh, warm and coastal food.
And if you're looking for Beer .. remember that ATM's are not available near to the beach !
Tips:
The prawns and fish are available in typical kokan style
Tent on rent also available on this beach
Water sports are available
You may not be able to swim, the beach is having little dirty kind of water as well as some hard rocks.
Korlai Sea Beach

By Alewis2388 – Own work, CC BY 3.0, Link
Mumbai Korlai Distance ~113.5 kms
How to reach
Korlai beach is located just 20 kms ahead of Alibaug from Mumbai [ask for Revdanda direction]
It is best accessible by your own car since public transport is not available easily
I was lucky to find this beach during my stay at Revdanda. [ Read my blog on Revdanda sea beach ]
This beach is little aloof, quite un-spottable … sitting beside the little village road around the hill which slopes down to this beach.. Korlai is small and serene village with a rocky beach with some white sands.
Tips:
Korlai village is a home for one of the forgotten and dying languages called Creole Konkani. Around 100 inhabitants of this village can still speak Creole language.
Do not forget to visit the lighthouse and the Portuguese fort, giving you mesmerizing sea views!
We suggest to stay in Revdanda village near to this place, this is also an unexplored place so far.
Best idea can be to set tent camp on the Korlai sands!
Diveagar Sea Beach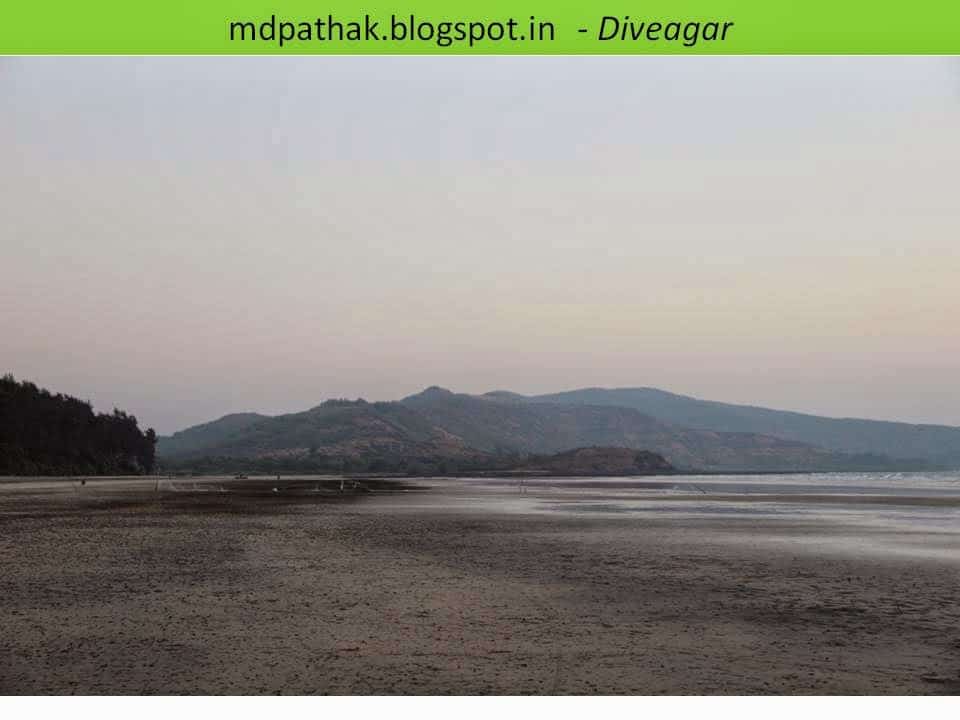 Mumbai Diveagar Distance ~157 kms
How to reach
Get on to the Mumbai-Goa highway and after @130 kms take a turn at Mangaon.
After Mandaon turn, you will reach Diveagar after about 30 kms drive
During my visit to the Golden Ganesh Temple of Diveagar I found this serene sea beach, here is my blog on Diveagar beach stay
This is one of the most peaceful sea beach I have ever seen. The beach has good stretch of about 6-7 kms.
You will find limited homestays or guesthouses between acres of betel and coconut plantations!
Tips:
Watch birds on seashore during evening visit
Sunsets are beautiful on this beach
You need to have your own car to drive down to this village beach
When you are too busy throughout the week and need a relaxing break, best way is to head down to nearest Sea Beach, have tasty & Fresh Konkani Sea Food. And nevertheless have some beer too 🙂