I remember in the year 2015 I first came to know about discovery of over 66 million years old lava caves at Ghorwadeshwar Caves [Ghorawadi] near Dehuroad, you can read more about these caves and location in my previous vlog post. https://trekbook.in/2016/01/ghorwadeshwar-caves.html/
Now coming to my todays trek to Waghjai temple near Hinjewadi where I found similar caves, and since I have seen Ghorwadeshwar caves I can tell you that the caves found on this hill are also Volcanic caves and must be of similar age i.e. over 66 million years … the distance between these two places is not more than 15 kilometers, for your info.
Reference research paper tells that such caves are being formed by draining of a segment of lava tube forming lava distributaries. Since  today I was only with my wife and no others I could not goto the root of the caves. Although the villagers told me that each year during the yearly Puja ceremony, the temple Pujai goes alone to the root of caves and brings Haldi & Kukkum for the Waghajai Mata Puja ! Next time for sure I would like to go to the cave root to see what is kept there and how he gets Haldi Kumkum from there.
I am sure that more such caves must be present in nearby Sahyadri mountain ranges, however someone shall conduct survey to find and document such caves, the one I found I am documenting for the same reason.
[it is called as Lava tube generated because of lava flow under the surface and the same time outer things gets cooled faster causing remaining a tube like cave structure, they can be very big, however the lava tubes found in Maharashtra are smaller in diameters]
The caves are modified over the years due to weathering and solution activity due to water seepage
Volcanic tube caves at Waghjai Mata Mandir Darumbre Hinjewadi
Locals said that once upon a time Tiger used to live in these caves and hence the name Waghjai (Wagh = tiger in Marathi) may be this is one of the possibility too ! who knows.
BTW once you reach the Waghjai temple, the caves are not visible, there is a board "Banned for Women" in Marathi, move to that side, there is railing going to the bottom (nowhere), I thought the railing has ended abruptly somewhere, but that is the way to reach the caves. Way to the caves is slightly difficult, move along the railings (see video which shows way) till you reach end of railings, there you will see these caves.
Video of Volcanic caves
Waghjai Mata Mandir Darumbre वाघजाई माता मंदिर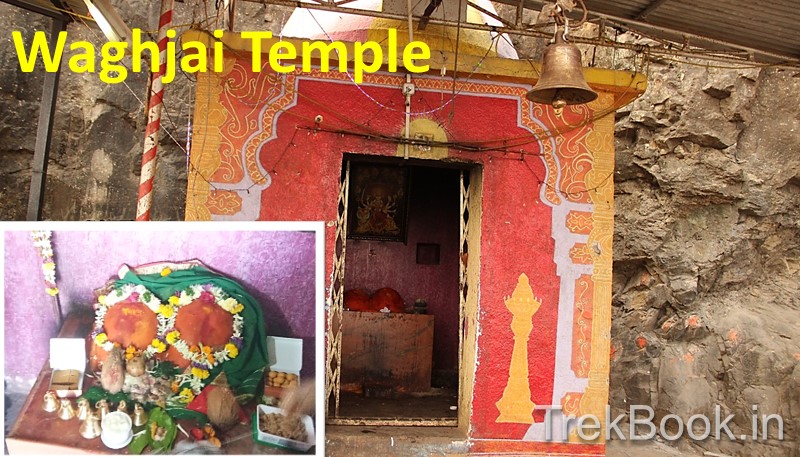 Scenic views of Kasarsai Dam view from top of Waghjai Temple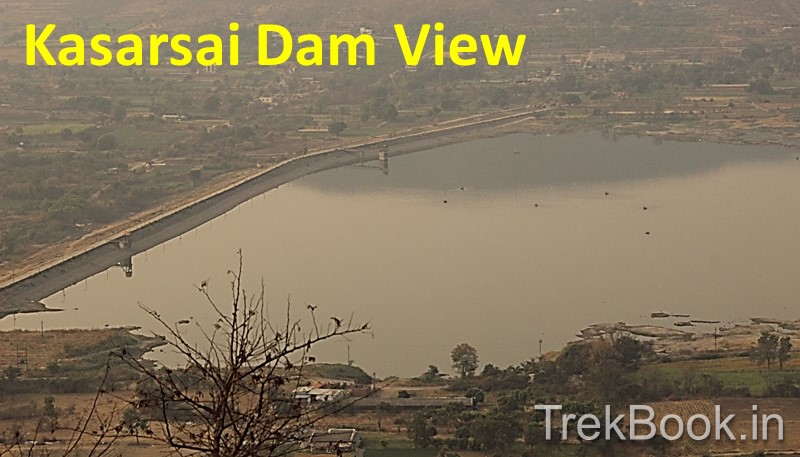 By the way now more information about the trek.
You can refer to the map below where I have shown the trek trail in Yellow dotted lines.
Location: Waghjai Mata Mandir Darumbre (Google Map Link)
Trek Difficulty Level : Easy, suggested for family trek with kids.
Time to reach to the top : 30 minutes
Good time to visit : Monsoon, Winter & Summer, preferably in Summer go early morning or evening after 4 PM. Monsoon would be the best season to visit.
How to reach :
Location is about 10 kms from Mezza9 hotel hinjewadi
From Hinjewadi, move towards Marunji Gaon
You will see Life Republic (Kolte Patil Scheme) on the right hand side
Keep moving till you reach Kasarsai village
Just after the Kasarsai village you will see a hill on left hand side, keep moving till you see a wall compound on left hand side. Park your car aside the compound or inside the compound and walk to the temple
What to see at top :
Waghjai temple
Shiva temple
Scenic views of Kasarsai dam
66 million years old Volcanic Caves
Water availability : Water is available in tank near the temple, however I suggest you carry your own drinking water.
Stay : Not much flat space available on top, all trees are there, so if you want to camp, go to nearby campsite called as RainBow Island.
Night Trek : Possible and will be exiting for sure, its so near to Hinjewadi that you can do this night trek and return back to home or camp at nearby campsite.
Reference Article submitted to International Journal of Speleology
The genesis of a lava cave in the Deccan Volcanic Province (Maharashtra, India)
Map of Waghjai Volcanic Caves Trek from RainBow Island Hinjewadi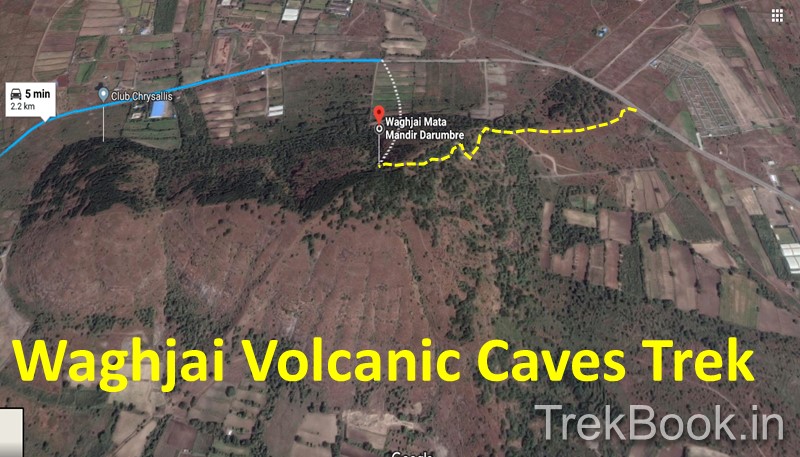 Map of Waghjai Volcanic Caves Trek Kasarsai