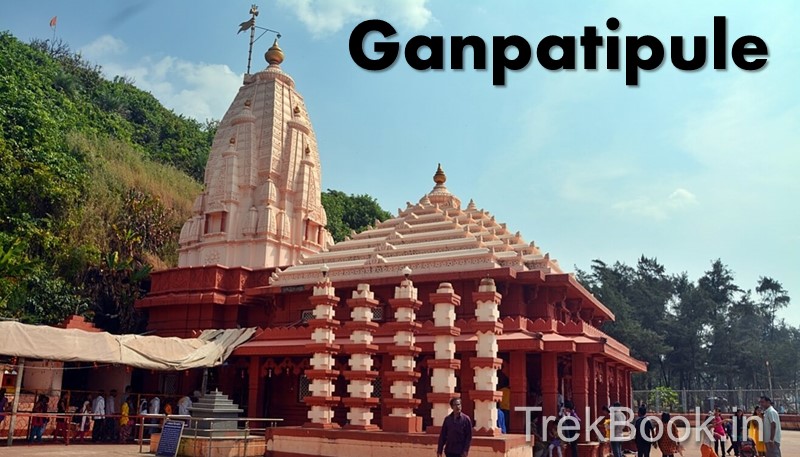 One of the most famous place in Maharashtra is Ganesh Temple at Ganpatipule.
Located in Ratnagiri district of Kokan [~350 kms. from Mumbai]
Lambodara's (Ganesh) temple Also called as "Paschim Dwar-Devata" (Western Sentinal God)
The abode of Ganesh at Ganpatipule is Swayambhoo! (Self incarnated)
Lets look into each detail about this place .. I mean it will be complete guide for you.
Ganpatipule – Places to visit, Food, Bhakta niwas booking
Places In Ganpatipule
The idol of Lord Ganesh.
Huge Temple of Swayambhoo Ganesh.
The Holy -Trunk place (Shundasthan) on the circum navigation path and Shembekar Math.
Tranquil and clean sea-shore.
Holy Tomb of Bhide Guruji.
The Big Entrance and Lord Ganesha's Vehicle – the Mouse.
Chandika Mandir (Village Deity)
Ganpatipule Sea Beach
Places to visit near Ganpatipule
Suggestion : You can book a car for full day for about 2500 Rs with driver for full day and cover most of the places near Ganapatipule as shown in below listing … this will be easiest way to save time searching for directions and places ..
Poet Keshavsoot Memorial

Location : at Malgund
Contains the Library and study room + the collection of famous Marathi poetry by legendary Marathi poets, (articles made up of copper about 100-150 years back.
See below utensils

Panchapale (Special equipment of worship),
Moodpatra (Scoops of boiled rice can be formed with this)

Omkareshwar Temple

Location : about 1 Km far from the Malgund S.T. stand.
Constructed in Hemadpathi style in 1765.
Similar to the Omkareshwar temple, Pune.

Jaygad Fort

Accessible by a four-wheeler till main gate
The out skirts and watch towers of the fort are still intact.
You can see just the ruins of at wostoried construction

Karhateshwar

At the left of the Jaigad fort, you can see Karhateshwar temple and Jaigad light house.
Situated on big rock close to a cliff at the sea-shore.
Visit  'Bobhati Ganga'

Shri-Laxmi-Keshav Temple – Kolisare

Location : Jaigad to Chafe road, 8 Km prior to Chafe diversion, turn left to Kolisare village.
The temple is engulfed with tranquillity and dense forest.
A four armed idol is 5 feet high made of reddish black shaligram stone from the Gandaki river in Nepal

Shri Uma-Maheshwar Mandir – Hedvi

Made at the end of 18th century

Shri Welneshwar Mandir

Location : 5 km far from Hedvi.
This temple has a history of 400 years.

Shrikshetra Parashuram

Location : Mumbai-Goa highway near Chiplun at Pedhe village.
Contains traces of western, Muslim and Hindu architecture at the same time.

Thiba Palace

97 years old palace used for King Thiba imprisonment of 30 years
Visit museum containing various ancient idols found in Konkan + TuTu's photographs, Old wooden chairs and the exhibition of pictures of ancient temples in Kokan.
Museum closed on Monday
Lunch-hour (1 to 1.30pm)
Do not forget to see Sunset from 'Thiba Point' looking over Bhatyeriver, Rajiwada port, infinite ocean and Fort Bhagwati.

Lokmanya Tilak Birthplace

See a Life-size statue of Lokmanya and the Maharashtra State Archeological Preservation Department office.

Ratnadurga Fort

made in 1205 akak Ratnagad or Bhagwati fort.
Its horseshoe shaped fort with area of 120 acres ( length 1300 meters and width 100 meters)

Swatantryaveer Savarkar' Memorial

Location :  close to the Patit-Pawan Mandi
Audio-visual information available in an exhibition titled 'Gatha Balidanachi' (Story of martyrdom)
You have to pay a nominal entry fees
Time : 10 am to 12 noon and 4 pm to 6 pm.

The Savarkar Cell Cubicle (its a national memorial)

Location : at Jayastambh square on the main-road.
This cell holds the memorial of the die-hard devotee of India-Veer Savarkar!
See the very iron shakles and iron shots

Memorial of Labour-power

Location : in front of Ratnagiri Railway station
Formed in the memory of sacrificed lives for the construction of Konkan Railway.

The Highest Railway Bridge in Asia-Panwal

Location : a diversion towards village Panval on Ratnagiri- Hatkhamba road at 9 km from Ratnagiri.
Jeep/sumo can reach up to the bridge
or Walk 3 kms if you go by your car
highest in Asia = 65 meter heigh
View down from the support-pole galleries towards the deep valley, to take breath-talking views.

KARABUDE : Konkan Railway Tunnel

Location : 5 km from Nivadi diversion to Ganpatipule, there is a way-right towards Karabude.
There is a motor-way up to Lajool Grampanchayat from a way left at Ukshi.
20 minutes walk after parking.
The biggest 6 km tunnel in Asia.
You can see the huge turbines running over the tunnel when ones travels towards Ganpatipule.
WARNING : Avoid walking in the tunnel darkness

Shri Swami Swaroopanand Shrine Temple – ("Samadhi Mandir")

Location : 20 km from Ratnagiri.
There is a huge, beautiful and extremely clean temple at the same spot.
The temple has the facility of Bhakt-Niwas and Prasad.

Haraji Bhatkar Chowpaty

The sea-shore at Bhatye-village is known as Harji Bhatkar Chowpaty.
See the infinite ocean and the cut-out of Ratnagiri fort with the light-house.

Shri Zari Vinayak Mandir

Location : Ratnagiri-Pavas Road
See Lord Ganesh Carved out of the rock

Ganeshgule (Agargule)

Location : Pavas-Poorngad road. At about 4 km from the main-road
400 years old temple constructed in jambha rock
See a 70 ft deep well in the temple premises.

Dhoot-papeshwar

Located : 5 km distance from the main market area of Rajapur.
See a specious auditorium, outer altarand inner altar along with Nagarkhana (Place to beat holy drums on special occasions in a temple) and stone-towers far Lamps
See Mrudani River views over a black rock.
See waterfall "koti-teerth"in rainy-season.
See beautiful Ganesh idol carved and of black stone.

Hot water spring – Unhaale

Location : Mumbai-Goa highway – Unhale village.
well-constructed hot water springs.
These the sulfur smelling hot water springs are functioning through out the year said to have the medicinal healing power

Ganga – Teerth – Rajapur

Location : Mumbai-Goa highway, next to Rajapur.
See 14 Kund (Earthen thanks bordered with Jambha rock.
The temperature varies from kund to kund.
You can take bath under the flow of water descending through the Go-mukh in kashi-kund.
the emergence of Ganga at Rajapur takes place after 3 years. In the mean time all the kund are empty waiting for the next emergence of Ganga!

Shri Kanakaditya Mandir

Location : The road past village Gaonkhadi at the 7 km.
See the designs on the pillars, patterns of vines and leaves, carved images of various Gods and Goddesses etc.
See beautiful wooden carving of Gods and Goddesses on the ceiling of the temple.
marvelous work of sculpture made in black stone

Shri Mahakali Mandir

Location : village Adiware on the Ratnagiri Rajapur via pavas road
See the five idols in the temple namely Shri Yogeshwari, Shri Mahakali, Shri Mahalaxmi, Shri Mahasarswati and Shri Ravalnath.

Golwarkar Guruji Memorial
Places to eat in Ganpatipule
Best way is to look for home made food places, ask for Kahawal (A place were people eat daily the home made food)
Mehendales Swaad Dinning
Bhau Joshi Bhojnalay
Aditya Khanawal
Shopping in ganpatipule
kokum and mango products.
Dried kokum (used in Indian dishes)
Kokum sherbet,
Mango pickles,
Aam-papad,
Wooden toys and show-pieces.
Ganpatipule bhakta niwas rate card
Ganpatipule bhakta niwas
Good quality tasty food at low rates (poha/upma 20 Rs, tea 5 Rs, Cofee 10 Rs, unlimited lunch 60 Rs)
Good quality rooms at low rates 50 Rs to 500 Rs
Contact phone number of Bhakta nivas 02357 – 235754 / 235755
भक्त निवास संपर्क – (०२३५७)२३५७५४/२३५७५५
MTDC Beach Resort Ganapatipule
The MTDC resort just overlooks the famous Ganpatipule Beach and the Lord Ganesha temple
The MTDC cottages are located on a hill and you can get stunning sea view
Rooms are available with attached bathrooms facility
AC and non-AC Konkani houses also available for stay (indicative charges for rooms are in the range of 2500 Rupees to 3000 Rs)
Holiday resort, Ganpatipule,post – Ganpatipule Dist Ratnagiri-415615 , 415615
Phone numbers of resort. : 02357-235248/ 235061/235061/ 62
How to reach GANPATIPULE from Ratnagiri Railway station?
You can hire an Auto rikshaw or a cab or get into the ST bus, it will take 45-50 minutes travel.
By all these options you will be able to reach right up to the MTDC resort & Ganesh temple
What is the Best time to visit Ganpatipule ?
Winter season is the best, being sea shore, you will enjoy visit during winter season ..
November till January end
summer seasons are too hot and humid, unless you want to taste Ratnagiri Mango, there is no reason to visit there in such hottest months! (March till May)
Rainy season (monsoon) is totally NO, there will be heavy rainfall, so not recommended at all (June till Oct)