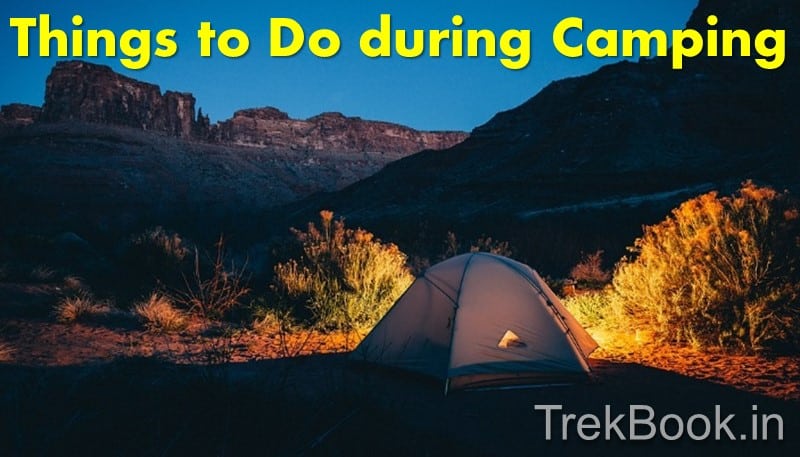 Now that you have decided to spend time with your friends and family and got bored of going inside a hotel !
Then best way is to go for camping, which will be different experience by itself.
Forget about internet, television, movies, whats app, facebook and just be in yourself, at least one night in your life.
Goto a place where you don't get any mobile signals … City noises.. Pollution of lights and gases … Breathe fresh air ..
Feel the Darkness, Quietness, Cold, feel the nature along the lake … See millions of stars .. enjoy cooking on your own .. get to find place to solve issues 😛
Well so here is the list of things you can do during a camping
Tent Stay रात्री तंबू मध्ये राहण्याची मजा तुम्ही अनुभवू शकता
Music – Get with your guitar
Bonfire
Barbecue
Cooking dinner on Chulha
Bird Watching पक्षी निरीक्षण,
Sky gazing आकाश निरीक्षण
Fishing
Swimming
Adventure games
Group Games
Lingorchya लिंगोर्च्या,
Vitti Dandu विट्टी दांडू,
Playing Marbles गोट्या खेळणे,
Talyat Malyat तळ्यात मळ्यात,
Playing cards पत्ते खेळणे
Tent Stay:
Its important to take care that tent is located slightly away from waterbody, this avoids snakes issue
Put in warm matt (normally you get 12 mm thick PU foam sheets in market) inside the tent
Make sure while you sleep, you are well inside the tent cloth, touching body parts may attract snakes or insects due to body heat
Locate tent on plain ground
Fix the tent properly to the ground using pegs
Keep tent net always closed to avoid any insects / snakes going in while you are moving around
If you are camping inside Jungle, prefer to get military colored tents, which will mingle alongwith the environment and does not stand out, this is to avoid disturbance to animals around
Bonfire with Music
Obviously bonfire is main part of any camping, however some precautions need to be taken to avoid accidents
Put stones around the periphery of bonfire, this will prevent things from sleeping outside
while searching wood for bonfire, take care of reptiles around, best way is to carry your own wood for the bonfire
Once your camp is over, carefully shut down the bonfire, don't keep it alive and leave the place, this will avoind fire hazards around the jungle
If you are in jungle, avoid playing loud music, instead use only guitar …
Barbecue during camping
Second attraction after bonfire is food
Barbecue is the most attractive proposal for camping
Best way is to carry your own marinate from home, if you are camping for more than one day, then you may like to prepare it at campsite.
Non-veg barbecue in jungle can attract wild animals, so be careful and take proper care
There are many portable barbecue sets available in market, you can carry one of them for camping
Bird Watching
Get a book along for identification of birds
carry binocular for observations and notes
Best to have DSLR with lens 300 mm or above with stand
best time for bird watching is early morning or late evening (dusk and dawn)
limit your noises so that birds do not get disturbed and you observe them well
Sky Gazing
While you are away from city-lights, sky gazing is the most interesting parts
you get to see millions of stars in sky
best way is to use ready smartphone apps which works on GPS, this helps you learning sky without any expert
You may like to carry a small telescope to see bigger objects like moon
Best if you have sky gazing expert with you to explain the rotating sky throughout night
Fishing & Swimming
if your campsite is located besides lake or river then best way to spend time is fishing and swimming
fishing can be done traditional ways which does not need much material
swimming to be done with extra care since you are not aware of depth of water and any hitches below
best way is to sear life jackets during swimming at unknown campsites
Fishing the traditional way
Play traditional games
Its time to go back to the childhood, play all the games you remember from your childhood.
here is list of what I remember the most
Lingorchya,
Marbles,
Vitti Dandu,
Talyat Malyat
Surparambya
Please feel free to add activities during camping so that others also know and enjoy the camping activity.
Happy camping around Pune and Mumbai
Cheers !!